Blueberry Poke Cake is semi homemade dessert, simple and easy enough to make for any occasion, but also fancy enough to serve at special events. This Blueberry Poke Cake recipe uses boxed white cake mix and Cool Whip topping. But what makes it extra special is creamy and delicious homemade cheesecake blueberry filling.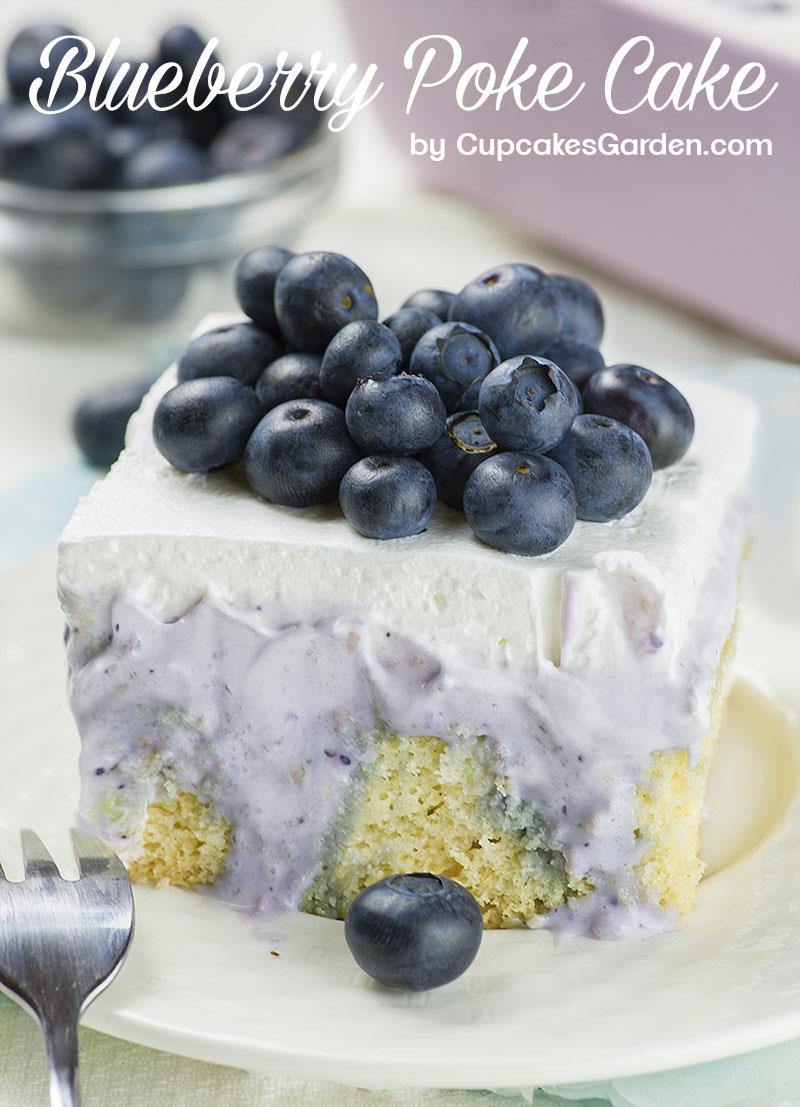 However, I'm totally obsessed with blueberries lately, which you might noticed after my Blueberry Truffles and Lasagna (both made with freeze dried blueberries powder and frozen blueberries) . When I finally got some fresh blueberries I had to figured out what how to use them this time.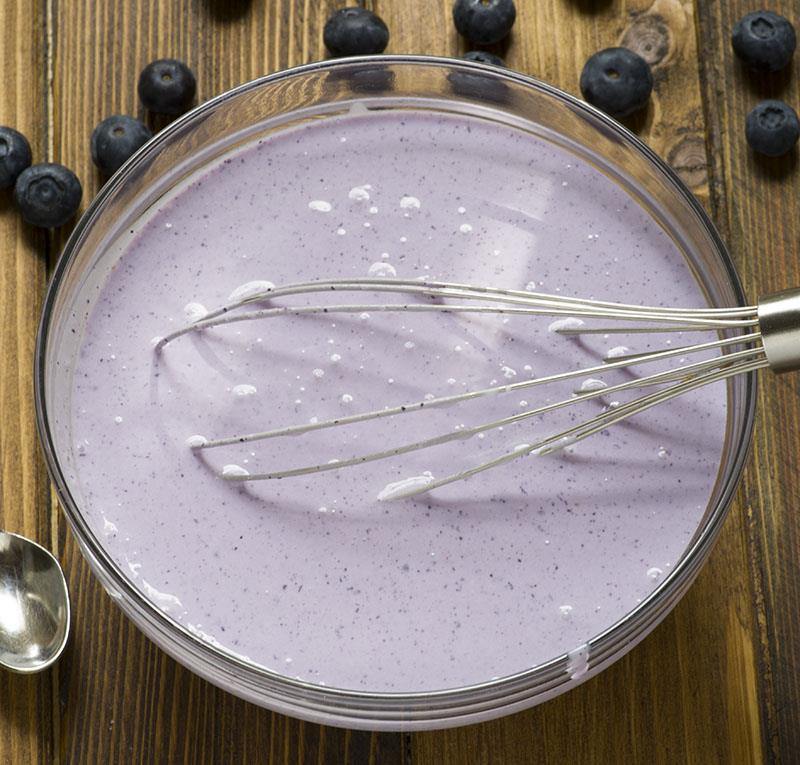 I scrolled a little through my blog and realized that for 3 years of blogging I have only 2 poke cake recipes: Chocolate Poke Cake and Pumpkin Poke Cake. So I came up with this idea, I'll make a blueberry poke cake! And what should I fill the pokes with, instant pudding, sweetened condensed milk, blueberry sauce…? Well, blueberry cheesecake filling sounded great to me!
So I decided to make a little experiment and mix cream cheese, sweetened condensed milk, heavy cream and of course blueberries. I put some blueberries in the freezer so I could crush them in a food processor and add into cheesecake mixture to get nice, purple color and mild blueberry flavor that isn't over powering. Also, I didn't want to add any artificial color or flavor.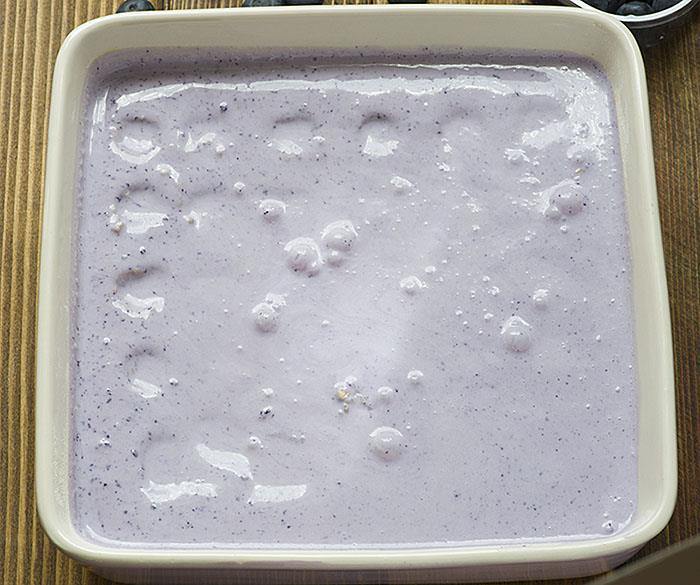 And I used only half boxed white cake mix and baked it in 8×8 inch pan, because I really don't have enough room in my fridge for all that dessert that I had to make for the purpose of blogging. But I overdid it with the filling, and realized that I had enough for whole 9×13 inch cake. After I chilled leftovers of blueberry cheesecake filling in the fridge it was lick the bowl good, so I ain't regretted, I eat it all with a spoon.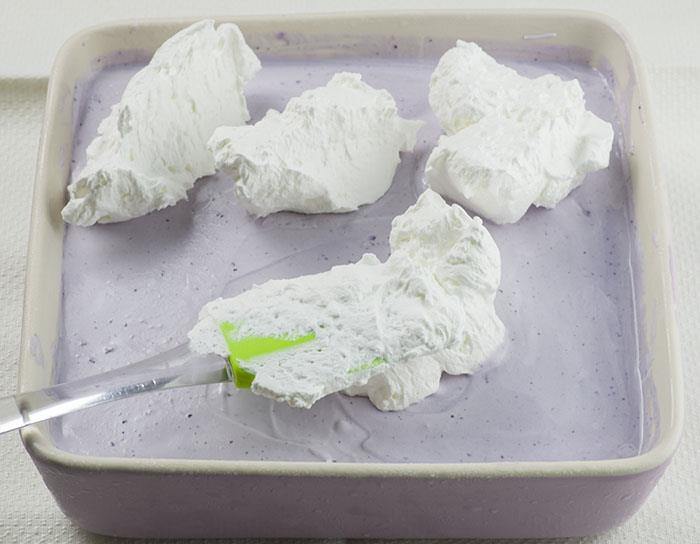 Blueberry Cheesecake filling isn't overpowering with blueberry flavor so when you cut the cake, top each square generously with fresh blueberries and it will taste amazing.
This Blueberry Poke Cake will be perfect, refreshing treat for summer parties or potlucks, and you can make it really quick and easy. No one will even notice that it's just half homemade and that you haven't spent hours in the kitchen.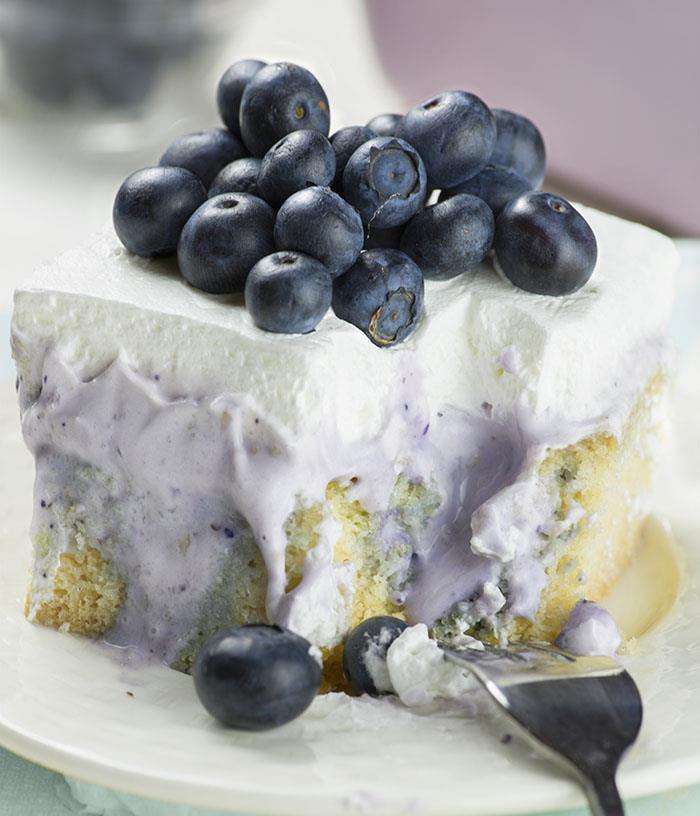 Blueberry Poke Cake recipe:
Print
Blueberry Cheesecake Poke Cake
---
Description
Blueberry Poke Cake is semi homemade dessert, simple and easy enough to make for any occasion, but also fancy enough to serve at special events.
---
Ingredients
For the cake:
1

box white or vanilla cake mix (plus ingredients on the box)
Blueberry cheesecake filling:
1

(14oz.) can Sweetened condensed milk

1 cup

fresh blueberries (freeze them overnight so you could crush them in a food processor)

8 oz

. cream cheese softened

2 tablespoon

fresh lemon juice

1 cup

whipping cream
For topping:
2 cup

s whipped topping (Cool Whip)

2 cup

s fresh blueberries
---
Instructions
Preheat oven to 350°F, spray 9 x 13 inch baking dish with cooking spray and set aside.
Prepare the cake mix according to the ingredients on the box and bake 20-22 minutes or until a toothpick inserted in the center comes out clean.
Cool the cake for 10 minutes than using a wooden spoon poke holes all over the cake but be careful not to poke all the way to the bottom. Set aside to cool completely.
Place frozen blueberries in a food processor and pulse until they crushed completely. If you can't crush the blueberries completely add some of the sweetened condensed milk and pulse until it become smooth, then transfer to a bowl , add the rest of sweetened condensed milk and softened cream cheese and whisk until there are no large lumps.
Add whipping cream and whisk until combined evenly.
Stir in lemon juice and pour over the cake immediately ( lemon juice will thicken it really quickly). Spread it back and forth so it fills the holes. Set in the fridge for couple of hours or overnight to set.
Spread whipped topping, slice and serve. Top each slice with fresh blueberries before serving.
Store in the fridge.