Searching for a perfect festive dessert?! Pecan Pie Cheesecake is perfect Thanksgiving treat. Combo of classic Pecan Pie and delicious cheesecake sound as an interesting twist of two traditional dessert!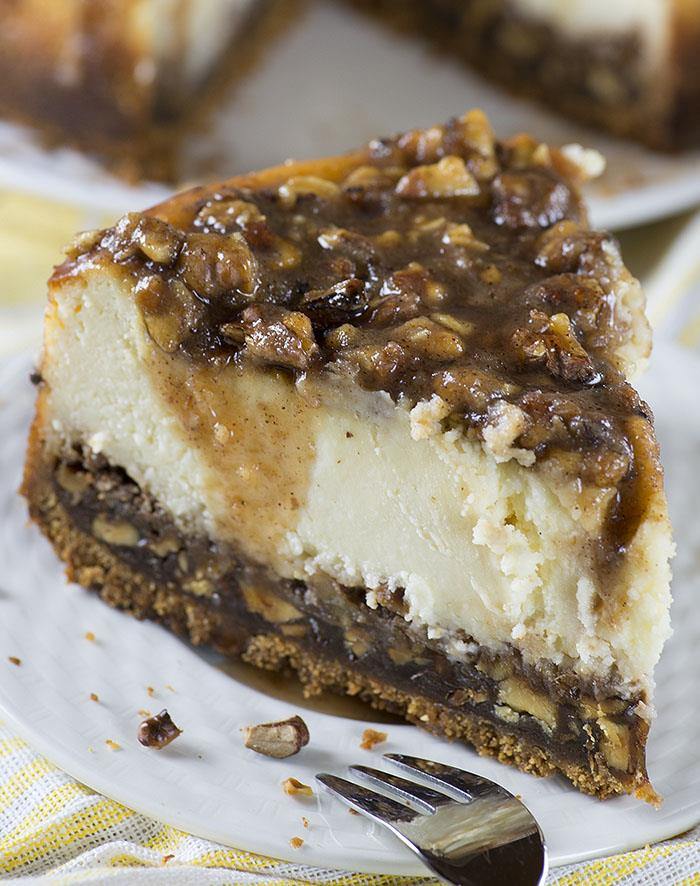 Cheesecake again 🙂 Even though, after the "cheesecake queen episode" (when my husband had a good laugh on my account) I decided not to make a cheesecake in the near future, destiny had other ideas. Kristyn from the LilLuna blog, who was delighted with my cheesecakes, asked me to make my contributor post this time a Thanksgiving version of this great treat. And I had no choice. Even though I thought that would mean a few more days of jokes for my husband, everything in my kitchen was ready for a tasty autumn cheesecake.
Since the Pumpkin version was already on the menu, Pecans were an idea that was simply there for the taking. And so, very quickly, on the table, there was a beautiful Pecan Pie Cheesecake which could easily be number one on your Thanksgiving list of treats. Well, maybe second to my tasty peanut butter cheesecake! 🙂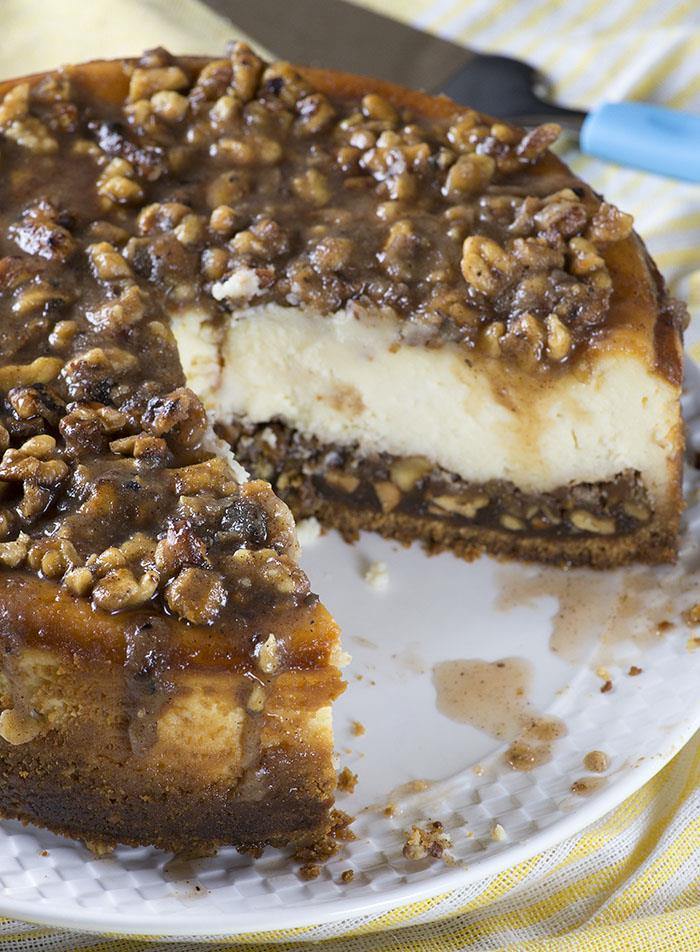 And if this cheesecake is really one of your candidates, I can tell you sincerely that this is one of the best I ever made. With vanilla wafers crust and  Pecan Pie filling, you will get the perfectly balanced taste of Pecan Pie, whose sweetness is eased by this cheesecake layer making this cake a really rich and decadent combination.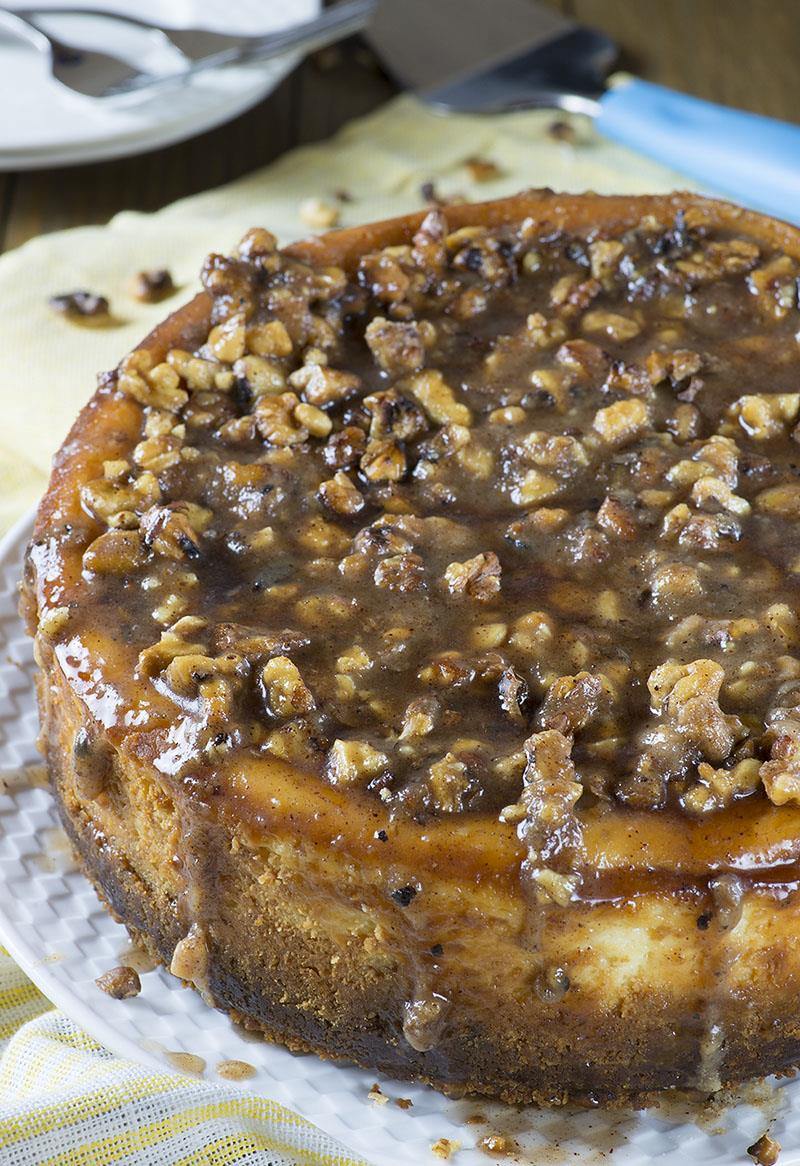 On the other hand, only one look on a cut piece of this salty Pecan Pie Cheesecake, with a threat that he could stay without it, was enough to stop my husband from making his usual "cheesecake queen" jokes.  As a reward, he got this beautiful piece 🙂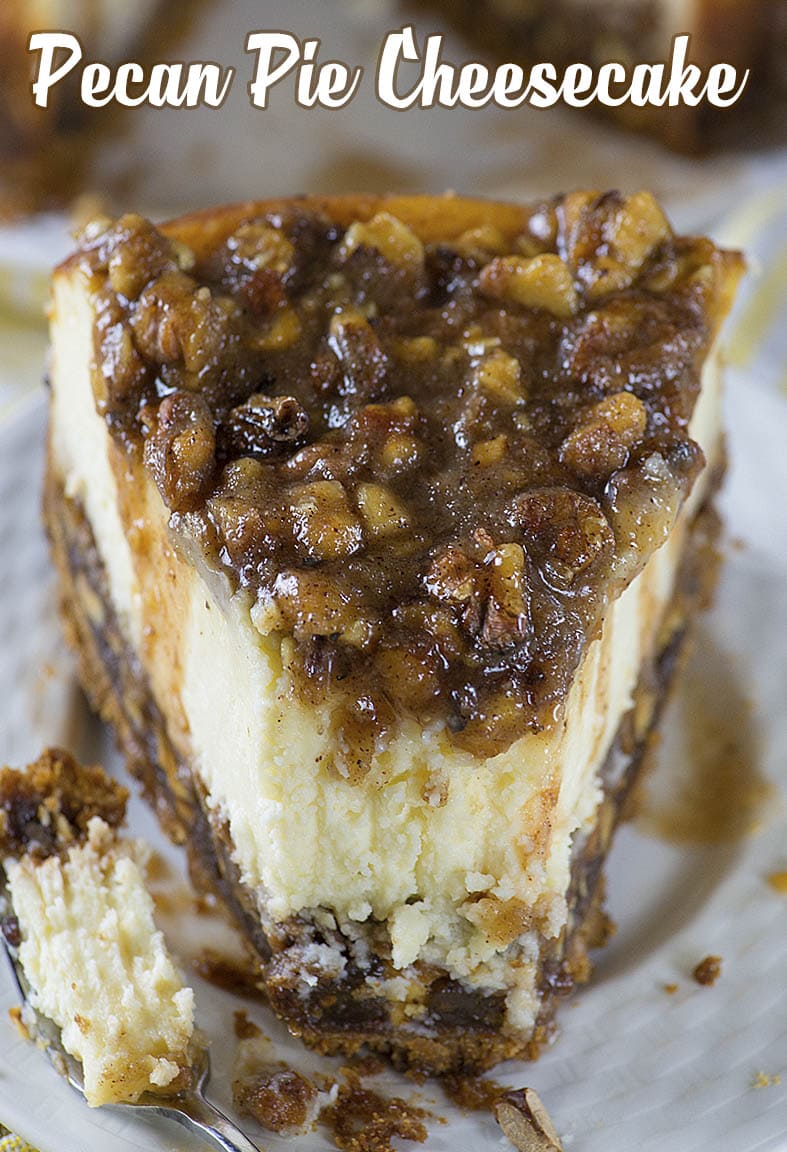 Print
Pecan Pie Cheesecake
---
Category:

Dessert
Description
Pecan Pie Cheesecake is perfect Thanksgiving treat. Combo of classic Pecan Pie and delicious cheesecake sound as an interesting twist of two traditional dessert!
---
Ingredients
For the Crust:
1 and 3/4 cups vanilla wafer crumbs
1/4 cup brown sugar
1/3 cup unsalted butter-melted
Pecan Filling:
1 cup sugar
2/3 cup dark corn syrup
1/3 cup unsalted butter- melted
2 large eggs-lightly beaten
1 and 1/2 cups pecans-chopped
1 teaspoon vanilla extract
For Cheesecake Filling:
24 ounce cream cheese-softened
1 and 1/4 cups light brown sugar
2 tablespoons all-purpose flour
4 large eggs
2/3 cup heavy cream
1 teaspoon vanilla extract
Topping:
3.5 tablespoon unsalted butter-melted
1/2 cup brown sugar
1 teaspoon cinnamon
1/4 cup heavy whipping cream
1 cup toasted pecans-chopped
---
Instructions
To make the Crust:
Line the bottom of 9 inch springform pan with parchment paper and set aside.
Combine vanilla wafer crumbs and brown sugar, stir in melted butter, then press the mixture evenly into bottom and halfway up the side of 9 inch springform pan. Set in the fridge to firm the crust while making the filling.
To make the Pecan Filling:
In a medium saucepan combine sugar, corn syrup, melted butter, eggs, pecans and vanilla and bring to a boil over medium-high heat, stirring constantly. Reduce heat and simmer stirring constantly until thickened, 5-7 minutes. Pour into prepared crust and set aside.
Cheesecake Filing:
Preheat the oven to 350 degrees F.
Beat the cream cheese until creamy, then add brown sugar and flour and beat until fluffy.
Add eggs, one at a time, beating just until combined after each addition. Do not overbeat it!!! Stir in heavy cream and vanilla, then pour cheesecake mixture over pecan filling.
Place springform pan on a cookie sheet, put it in the oven and reduce the heat to 325 F Bake the cake for 60-70 minutes (until toothpick inserted in the center comes out almost clean). Turn off the oven and leave cheesecake in with oven door closed for 1 hour.
Run a knife around edges of cheesecake but don't take out of the pan until completely cooled.
To make the topping:
In a small saucepan combine butter and brown sugar. Cook for 3-5 min or until very bubbly, then stir in cinnamon, heavy whipping cream and chopped pecans. Cool to room temperature.
Release the sides of springform pan and spoon the topping over cooled cheesecake.
Store the cake in the fridge.