Oreo Loaded Cheesecake Brownies are rich and fudgy homemade brownies topped with layer of double stuf Oreos, cheesecake, plus more Oreo cookies on top.  In other word, these could be the best brownies you've ever tasted!!!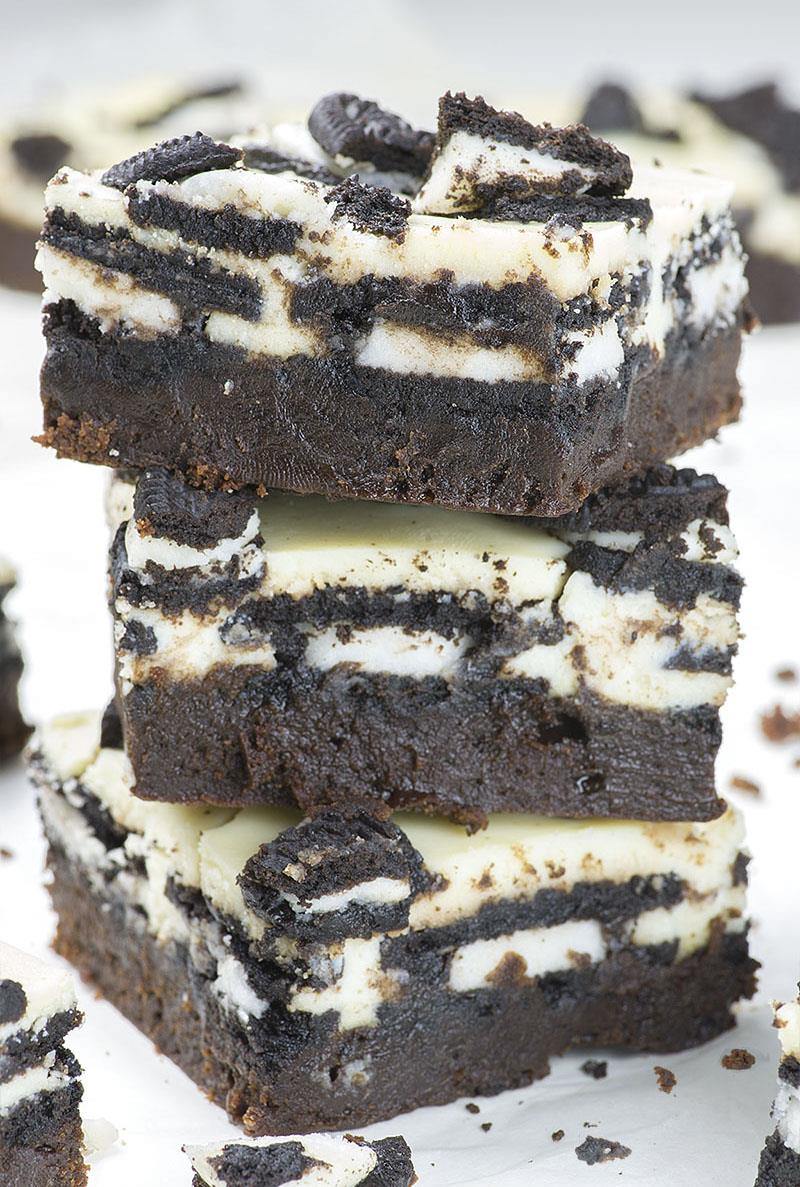 Oreo Loaded Cheesecake Brownies are really over-the-top! They are combo of two best ever desserts: brownie and cheesecake.  If you like your brownies to be ultra fudgy, dense,  chewy and rich, this brownie base is just like that. On the other hand, top layer is light, creamy and smooth cheesecake. But that's not all. With this dessert you'll get your favorite Oreo cookies in every single bite, too. Do you prefer Reese's chocolate instead of Oreos? Check out this Reese's Cheesecake, you'll love it!
Given these facts, you understand why I said that Oreo Loaded Cheesecake Brownies are the best brownies ever.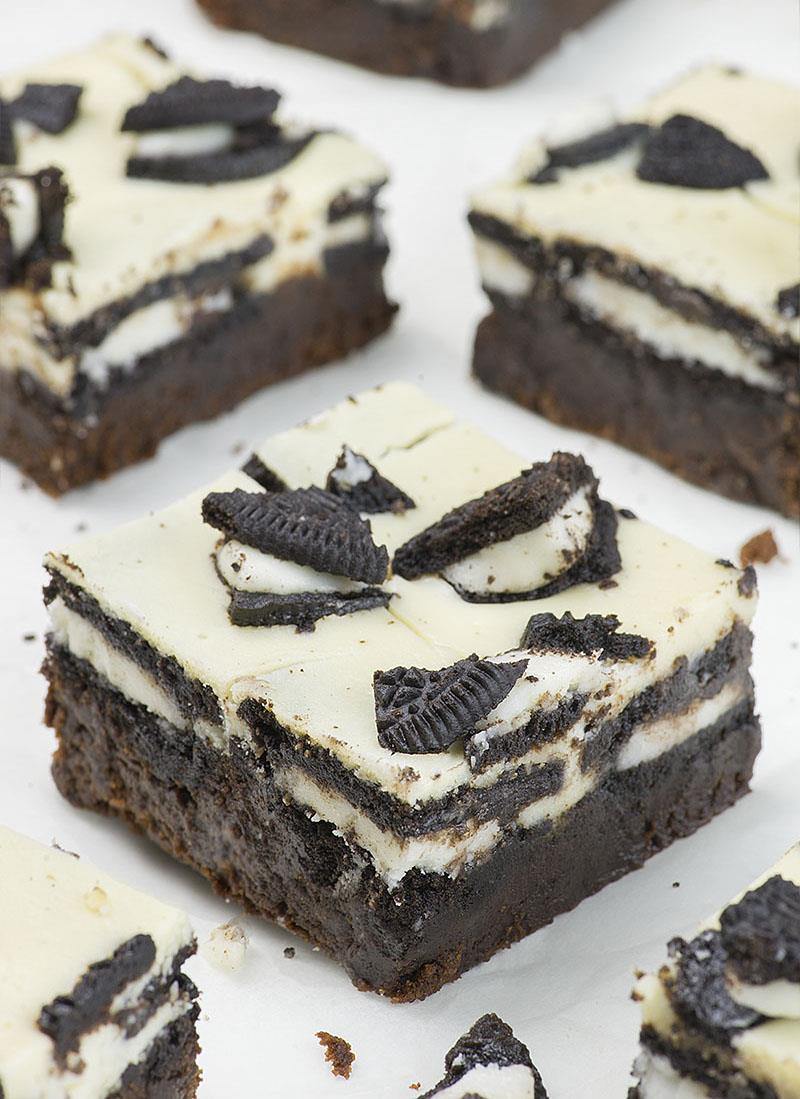 If you love cheesecake, if you love brownies and love Oreo (and who doesn't?!), you'll fall head over heels for these Oreo Loaded Cheesecake Brownies!!!
To get back to the brownie base, it's as rich and decadent as it appear and completely homemade.  Perhaps you're used to buy box brownie mix, but these homemade brownies are much better. You can make them in a short time whisking just a few simple ingredients. NO MIXER REQUIRED FOR THIS RECIPE!!!
This brownie recipe uses butter, chocolate, sugar, eggs, vanilla, flour, cocoa powder and a little salt. I recommend you to use real chocolate, not chocolate chips. Since quality chocolate is the key to the best brownies.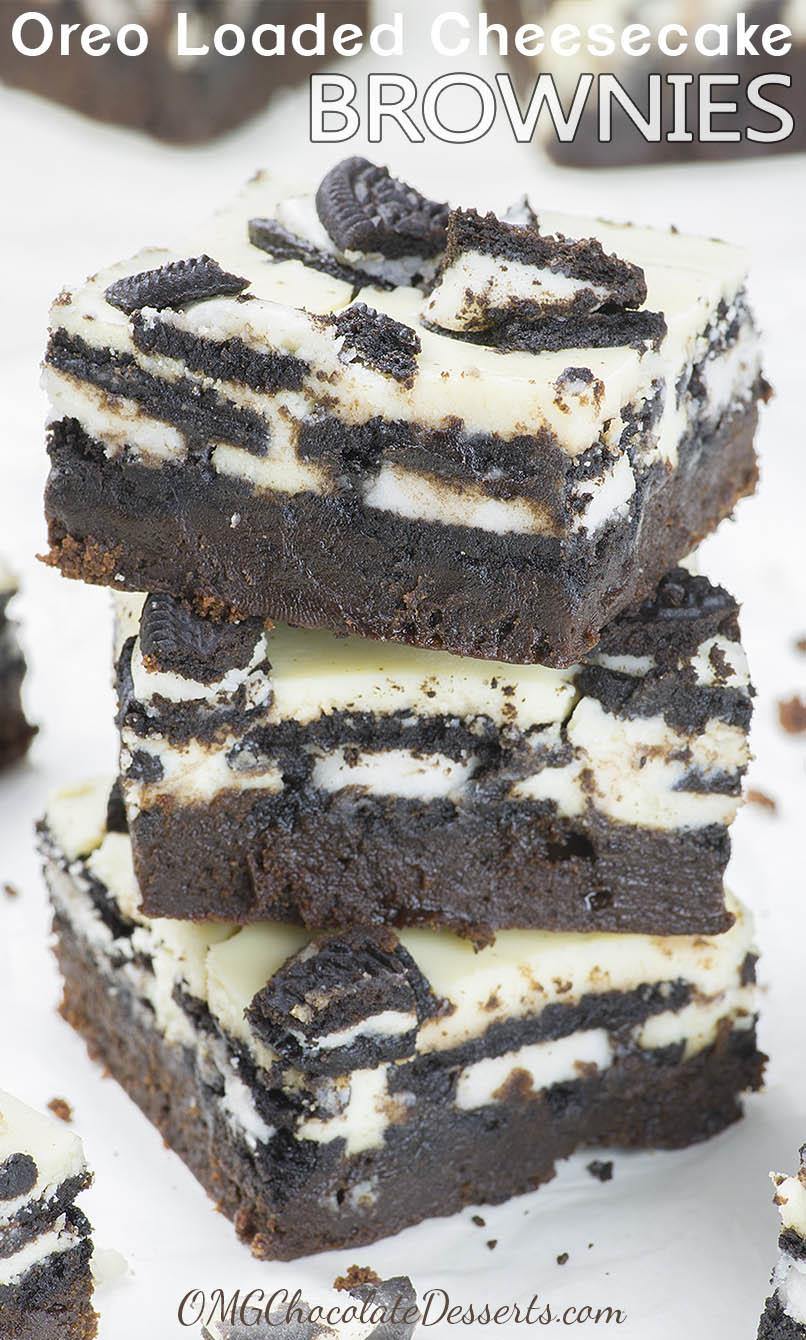 Besides chocolate, I've substitute some flour with cocoa powder for indulgent chocolate taste. In fact this brownie recipe doesn't use much flour at all. That's because too much flour results in a cakey texture and I like my brownies to be fudgy, really fudgy! That's also the reason why I haven't used baking soda or baking powder in this brownie recipe.
Further, there's Oreos inside the brownies. I used Double Stuf Oreos because I like more cream, but regular is good as well. As if there's not enough Oreos inside the brownies I topped cheesecake layer with more crushed Oreos. I want my Oreo Loaded Cheesecake Brownies to be 'overloaded' with Oreos. If you love Oreo as I do, don't skimp.
After all, if you're looking for decadent brownie recipe, look no further! These Oreo Loaded Cheesecake Brownies are the ultimate!

Oreo Loaded Cheesecake Brownies recipe:
Print
Oreo Loaded Cheesecake Brownies
---
Description
Oreo Loaded Cheesecake Brownies are really over-the-top! They are combo of two best ever desserts: brownie and cheesecake.
---
Ingredients
For Brownie Layer:
1/2 cup

unsalted butter

7 oz

. quality semi-sweet chocolate-chopped

¾ cup

granulated sugar

2

large eggs

1 teaspoon

vanilla

½ cup

+

2 Tablespoon

s flour

2 Tablespoon

s unsweetened cocoa powder

¼ teaspoon

salt

20

Double Stuf Oreos
For Cheesecake Layer:
12 oz

. cream cheese-softened

¼ cup

+

2 Tablespoon

s sugar

1 ½ teaspoon

vanilla extract

1

large egg- slightly beaten

5

–

6

Oreo cookies-coarsely chopped
---
Instructions
Preheat oven to 350 F, line the bottom and sides of 9 x 9 inch pan with aluminum foil or baking paper (leaving overhang on all sides so you could easily lift the brownies out of the pan), set aside.
In a medium sauce pan over low-medium heat melt the chopped chocolate and butter, stirring constantly, until smooth. Cool for 10 minutes.
In a small bowl stir together flour, cocoa powder and salt, set aside.
Add ¾ cup of granulated sugar into melted chocolate and whisk until combined.
Add eggs (one at the time) whisking well after each addition. Whisk in vanilla.
Gently fold dry ingredients mixture into chocolate mixture and pour into prepared pan, smooth the top.
Arrange Oreo cookies onto brownie layer. You'll need 16 whole Oreos and 4 cut in half to cover the brownie batter. Since the batter is to thick you can gently press the cookies to sink halfway into the batter.
To make the cheesecake layer in a bowl beat softened cream cheese until smooth and creamy. Beat in ¼ cup+ 2 Tablespoons sugar and vanilla extract. Add beaten egg and stir until evenly combined.
Spoon cheesecake mixture onto Oreo layer and gently smooth the top. Don't spread cheesecake mixture all the way to the edges, leave 1/3-1/2 inch rim, because cheesecake cold burn out easily.
Sprinkle with chopped Oreo and bake 35-40 minutes (until the brownies begin to pull away from the edges of the pan). Cool on a wire rack for 1 hour, then cover and refrigerate at least 2-3 hour.