Today, the world became one Chocolate pound cake fan richer! Yes, our own grandpa! And here is how it happened. Believe it or not, in my short kitchen career, I never tried to make this beautiful chocolate cake. Whenever it was time for desert, everyone was asking for something creamy, with delicious filling or a cheesecake. Nobody wanted good old chocolate cakes anymore! But, looking through various recipes on the Internet, I was always attracted by photos of these plentiful cakes like Tracey's chocolate cake or the delicious cake from Tutti-Dolci. But, for any eventuality, I kept some of these recipes in my bookmarks.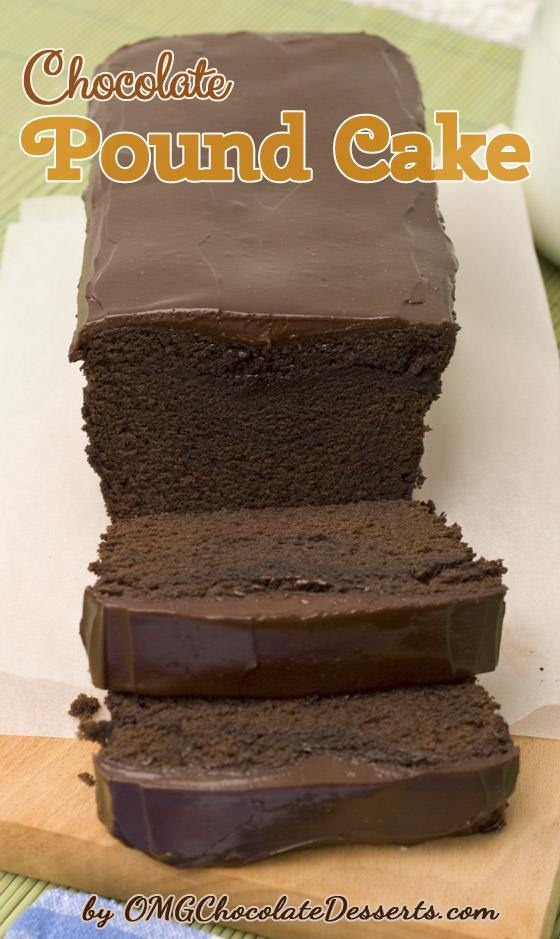 And yesterday was the perfect day for the chocolate pound cake to spread it's aroma in my kitchen. My husband was on a business trip, while my son Marco was at my husband's parents place. Perfect! I was certain that I would not hear something like "Vera, why don't you, nevertheless, make those chocolate cupcakes?" I found some wonderful recipes and decided to take what I like from every one of them. And so, in a very short time, I was taking out a beautiful chocolate cake from a hot oven, and decided to top it all with moist chocolate ganache. When everything cooled off, I cut off a piece. MMMM, just as I thought! A beautiful taste of chocolate cake, which was very moist in places and reminded me of brownies, which I adore!
But, things quickly started changing. My husband, who came back in the late afternoon, was not really overwhelmed with my new chocolate treat. "There's no filling here", he cried and ate a few bites just not to offend me. My son Marco, after coming back from granny and grandpa, also showed no enthusiasm, took a spoon and opened a "Nutella". Hmmm, I was left alone with a huge chunk of chocolate pound cake which I still thought was wonderful!  And then a moment of enlightenment! I remembered another chocolate lover, who enjoyed good old chocolate cakes, our grandpa!
And just as I thought, grandpa was delighted with my new chocolate cake! Cutting it with a fork, he said "Well, this is a real cake, not those stupid creamy scams! Vera, you are a real maestro!
Of course, by saying this, grandpa deserved a big reward, half of the cake that was left, while with the other part, I simply tried to convince the others that they are wrong!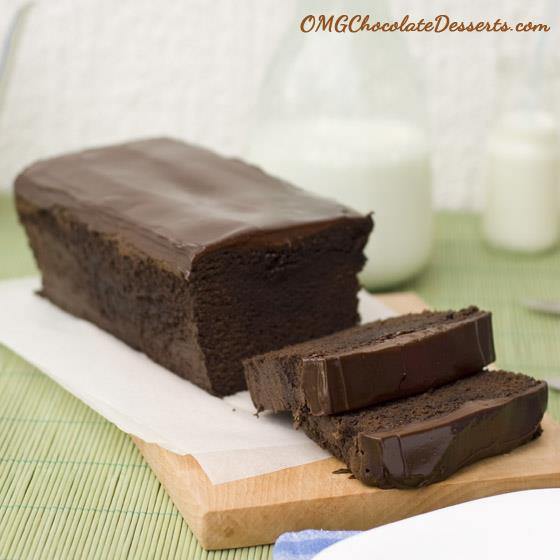 Ingredients
Ingredients for the cake
1 cup flour
1 teaspoon salt
3/4 cup cocoa
2 oz chocolate (chopped)
1/3 cup boiling water
1 cup butter (softened)
1 1/4 cup sugar
5 egg
Ingredients for chocolate ganache
3 oz chocolate (chopped)
1/2 cup heavy whipping cream
Instructions
Grease the 9x5 inch loaf pan and line it with the baking paper
Preheat the oven at 325 degrees F.
In a bowl mix together flour and salt
Place the chopped chocolate in the heatproof bowl and pour boiling water over to melt the chocolate, then stir in the cocoa and set aside to cool for a few minutes
Mix the butter and sugar until it's fluffy, add chocolate and cocoa mixture and mix it well
Eggs add one at a time, and mix well after each addition.
Gradually add the mixture of flour and salt, stir it well.
Spread the batter in the prepared pan, and tap gently the pan a few times on your work surface to eliminate air bubbles.
Bake for 6o-70 minutes, or until a toothpick inserted in the center of the cake comes out clean (be careful not to overdo it, it will become dry)
Let it cool a few minutes in the pan, than turn it out of the pan and allow to cool completely.
Make the chocolate ganache while the cake is cooling. Melt the chocolate and whisk in the heavy whipping cream until become silky. Spread it over the cake
7.6.5
144
https://omgchocolatedesserts.com/chocolate-pound-cake-with-chocolate-ganache/
Show All Comments
Close All Comments