German Chocolate Pie is melt-in-your-mouth dessert with rich and fudgy, flourless chocolate filling and classic coconut – pecan topping. If you need simple and easy recipe for Christmas dessert to make at the last minute, try this German Chocolate Pie and French Silk Pie, too.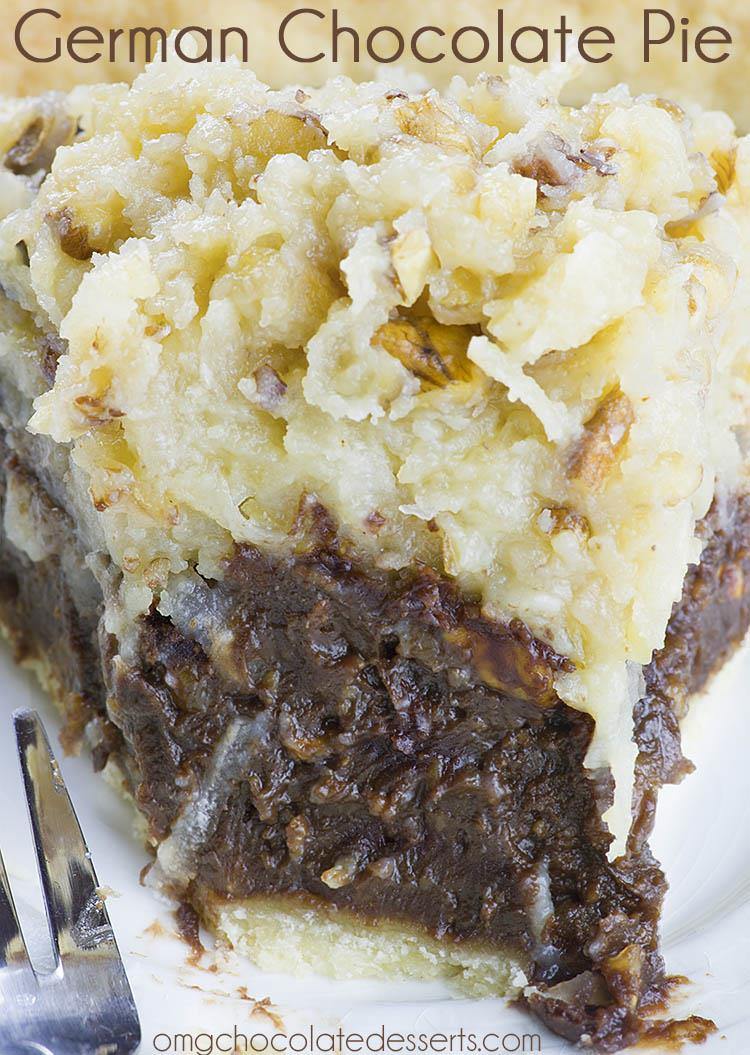 However, I absolutely love this time of the year since Christmas is almost here and decadence of the holiday season is my favorite.
Speaking about decadent and delicious, today I'm sharing my German Chocolate Pie Recipe. If you love classic German chocolate cake you will love this rich and fudgy chocolate pie, too.
Although, my blog started as a collection of decadent chocolate recipes, believe it or not, I shared only two chocolate pie recipes. So far, I made Chocolate Fudge Pie and French Silk Pie.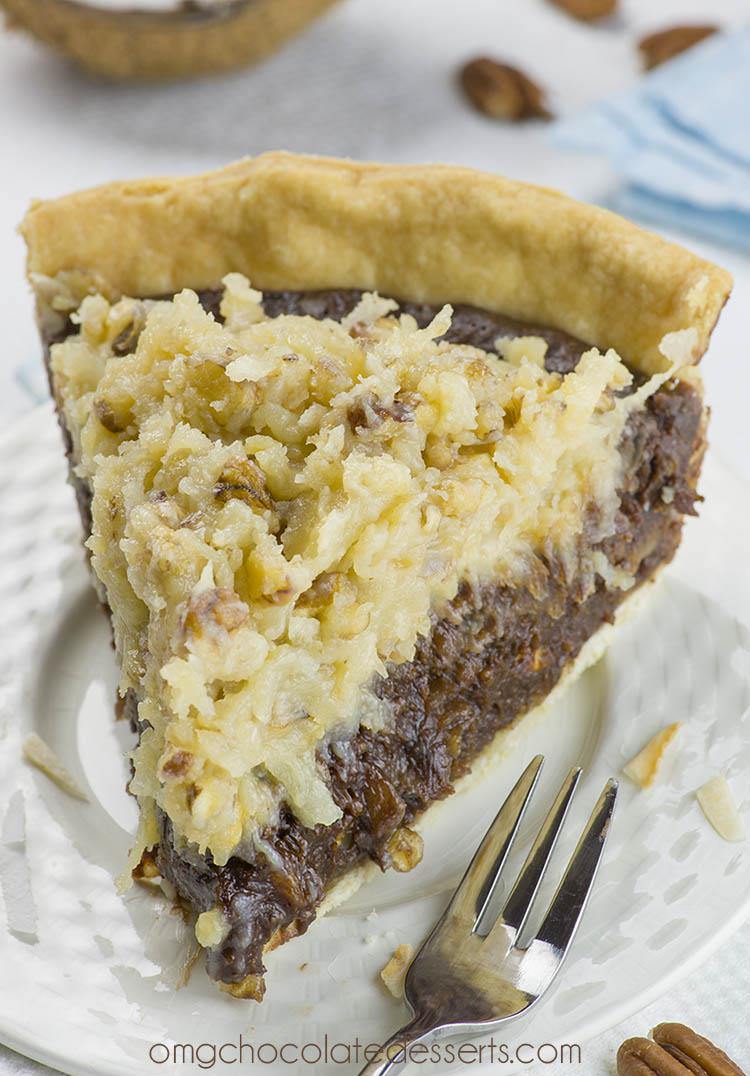 Since we have only a few days till Christmas, it's perfect time to share easy chocolate pie recipe. And If you use store bought crust for this pie you can finish this delicious dessert in a very short time, as well.
This German Chocolate Pie will look great at your Christmas dinner, too. And it's really rich and decadent dessert, perfect for chocolate lovers.  This flourless Chocolate filling is incredibly fudgy and simply melts in your mouth. And it's loaded with chopped pecans, too!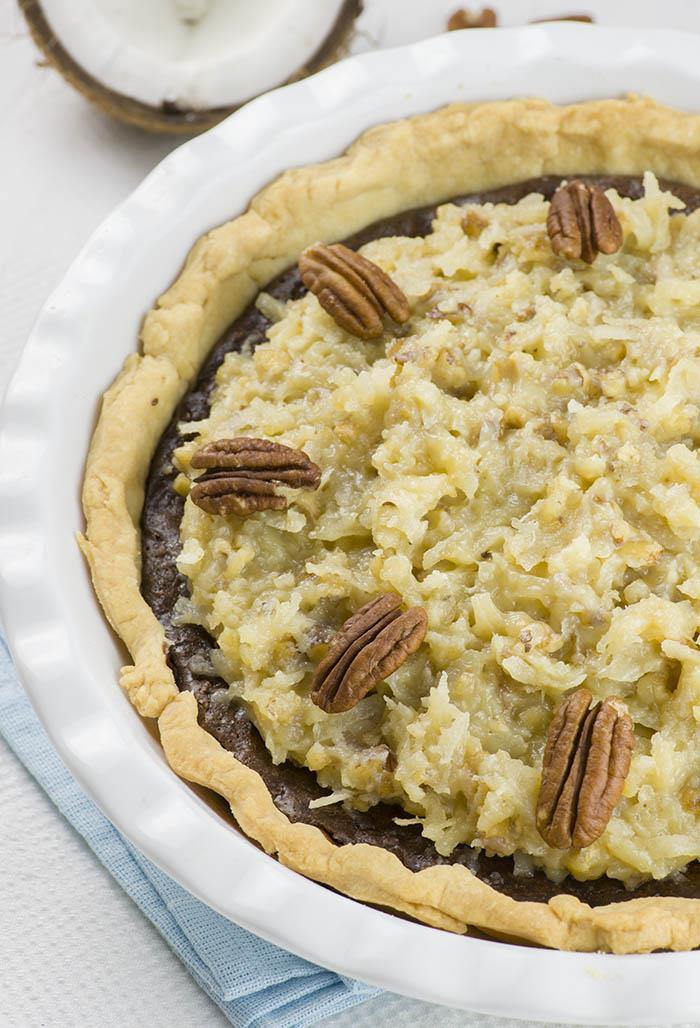 Also, baking classic Pecan Pie for Christmas dinner every year can become boring. For that reason I suggest you to refresh your holiday menu with new dessert- German Chocolate Pie.
Fudge chocolate filling is awesome, but the topping is equally delicious, too. Moreover, pecan and coconut topping is my favorite part of this pie. Also, I love classic German Chocolate Cake topping so much that I even put it on cookies.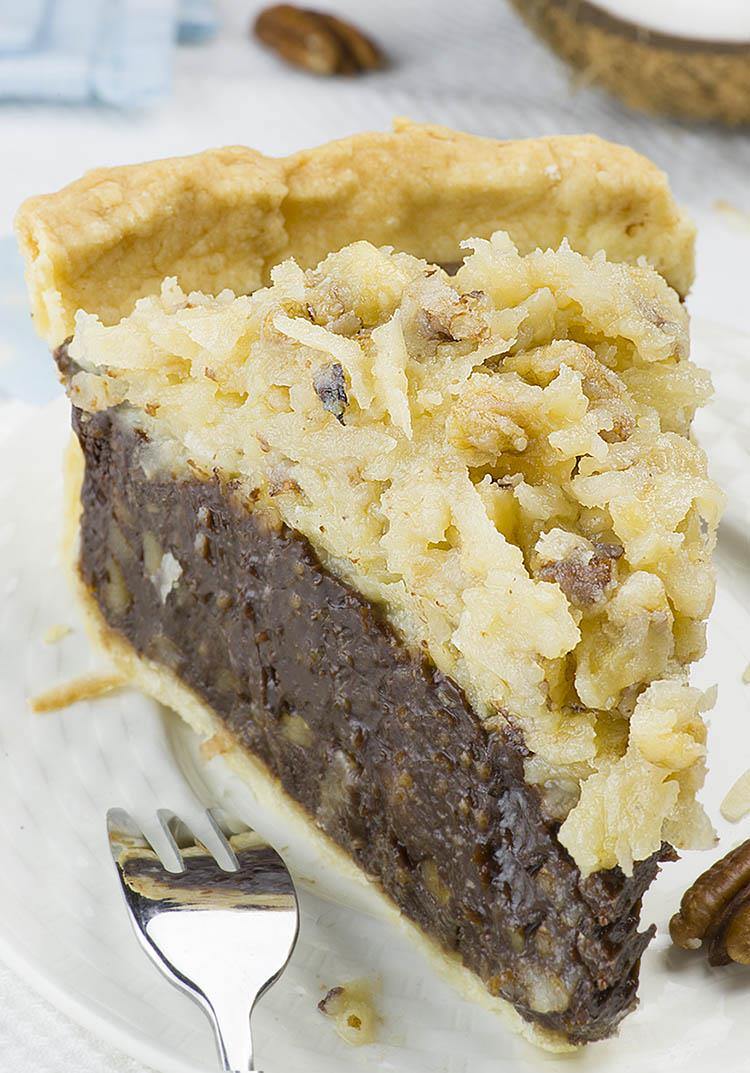 However, have you seen my German Chocolate Cookies?!  And soft and chewy brownie cookies were just a props for a huge pile of coconut pecan topping. If you need delicious cookies to add to your Christmas tray go check that recipe, too.
Finally, you don't have much time for changing your mind. But, if you haven't already picked your Christmas dessert, there is no need to continue searching for perfect recipe. German Chocolate Pie is great and leaves no one disappointed, too.

German Chocolate Pie Recipe:
Print
Description
If you need simple and easy recipe for Christmas dessert to make at the last minute, try this German Chocolate Pie!
---
Ingredients
For the Crust:
1 ¼ cup

all-purpose flour

½ teaspoon

salt

2 teaspoon

s sugar

½ cup

unsalted butter (cold and cut into half inch cubes)

2

–

4

tablespoons cold water
Chocolate Filling:
8 oz

. semi-sweet chocolate-chopped (you can use

4 oz

. sweet and

4 oz

. semisweet chocolate if you like sweeter pie)

¼ cup

unsalted butter

14 oz

. can  of sweetened condensed milk

4

egg yolks-lightly beaten

1 teaspoon

vanilla extract

1 cup

chopped pecans
Coconut-Pecan Topping:
14 oz

. can of sweetened condensed milk

½ cup

unsalted butter

3

egg yolks-lightly beaten

1 teaspoon

vanilla extract

¾ cup

pecans-chopped

1 ½ cup

sweetened flaked coconut
---
Instructions
First make the crust. In a large bowl whisk together flour, sugar and salt, then add pieces of cold butter and press with a fork until it starts to look like a coarse meal. Finally, add 1 tablespoon of water at the time and continue mixing until a dough forms. hen, wrap the dough with the plastic wrap and refrigerate for at least 30 minutes to an hour.
Preheat the oven to 400 F and lightly grease 9-inch pie dish.
Now, take the dough from refrigerator and roll out on a lightly floured work surface into a circle about 1/8 inch thick. Then, transfer the dough to a pie dish and trim excess of dough from edges, crimp the edges and poke the bottom of the crust with a fork. Bake 10-12 minutes, then let it cool while you make chocolate filling.
Now, reduce oven temperature to 350 F.
To make the filling, in a small sauce pan over medium-low heat melt ¼ cup butter and chopped chocolate, stirring constantly until smooth. Then, let it cool to lukewarm.
Next, stir in sweetened condensed milk, egg yolks and vanilla. Then, stir in 1 cup chopped pecans and pour into crust.
Bake at 350 F for 25-30 minutes, until set. Cool completely before add topping.
To make the topping, in a medium saucepan stir together sweetened condensed milk, butter and lightly beaten egg yolks and cook over medium-low heat until thickens, stirring constantly. Then, remove from heat and stir in vanilla, coconut and pecans. Cool 30 minutes, then spread over pie.
Refrigerate the pie at least 3-4 hours before serving and garnish with pecans if desired.