Do you ever have one of those days when you simply have to eat something sweet? If the answer is yes, I might have a perfect thing for you – a chocolate fudge! It's extremely easy to make and so sweet and tasty that just one piece is enough to satisfy the most intense sugar cravings.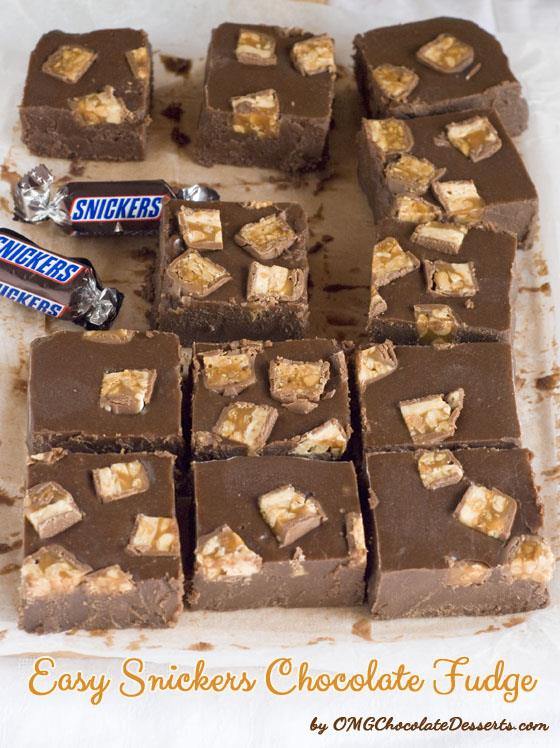 A few days ago my husband went thorugh a similar situation. I don't know if I told you that he practices badminton and that not long ago he became a badminton coach! This would be great news, if it weren't for badminton tournaments he occasionaly attends, which sometimes last all day long. On such days he would usually come home feeling so exhausted that he would go straight to bed. The next day when he woke up the first thing that he would say to me is "Vera, is there anything sugary in the house?" And this is just a beginning of a day of overeating and gobbling  chocolate bars, cookies and anything sweet he can find.
Every time I foresee that this is going to happen, I turn to, as I have already mentioned, chocolate fugde! This time I decided to double the stakes! I added Snickers chunks to a semi-cooled  fudge base and put it in the frigde to cool completely as I waited for Darko to wake up and embark on his usual sweets quest.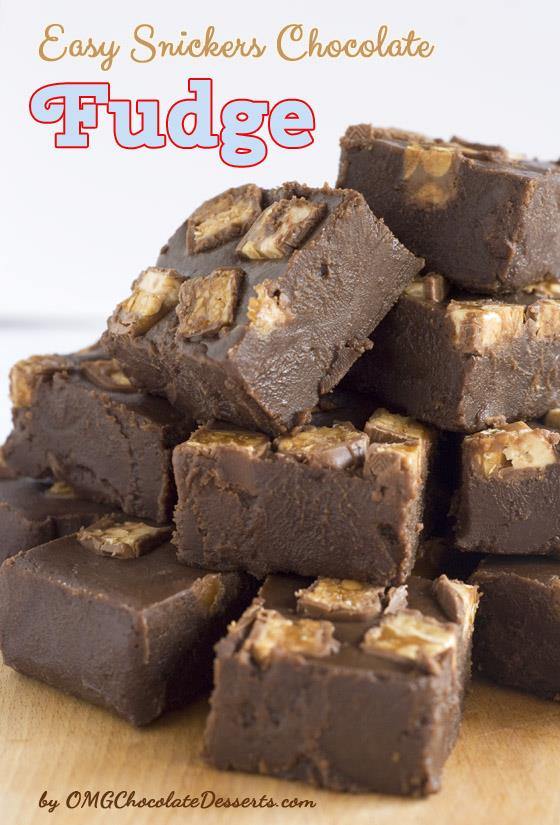 No sooner had I finished cutting the fudge, than my husband appeared on the door uttering his favourite line. Seeing the fudge he grinned with content and stuffed two squares in his mouth. Two hours later it was time for another round! This time he skipped his usual quest and immediately opened the fridge and went for the fudge. A couple of rounds later he concluded that Snickers chocolate fudge is just what he needed to satisfy his sugar cravings on days following the tournament.
To make things even better even my son, Marco, profited from the whole situation, since he managed to keep his candies and sweets that would otherwise vanish into thin air 🙂 .
Print
Easy Snickers Chocolate Fudge
---
Author:

Prep Time:

10 minutes

Cook Time:

15 minutes

Total Time:

25 minutes

Category:

Dessert
Description
Easy chocolate fudge with chopped Snickers.
---
Ingredients
2 cup

sugar

1 cup

milk

2 tablespoon

honey

10 oz

semi-sweet baking chocolate

6 oz

butter

1 teaspoon

vanilla

12

fun-sized Snickers candy bar (each cut up into

three

pieces)
---
Instructions
Line 10×5 inch pan with baking paper (it will be much easier to lift the fudge from the pan)
Combine sugar , milk and honey in a saucepan and bring to boil. Continue to boil, over medium heat, for 5 minutes, stirring constantly.
Add baking chocolate and continue cooking on a low heat for about 5 minutes until the chocolate is melted completely, stirring constantly.
Move from the heat and stir in vanilla and butter until it's evenly combine.
Set aside for about 25 minutes to cool and stir it occasionally.
Pour the mixture into a pan and spread evenly.
Sprinkle the chopped up Snickers on top of the fudge and press it in gently with your hand.
Refrigerate the fudge until it hardens.
Cut into small squares and serve.
Keep them in the refrigerator