What do you think, which dessert have my family and I eaten most times this summer? You will surely think it's some decadent chocolate cake or a beautiful cupcake… But nooo, you could guess 100 times, but I'm sure nobody would get the right answer: Easy Cherry Bars . And when I say that I didn't prepare them myself even once, then this story will become even more of a mystery.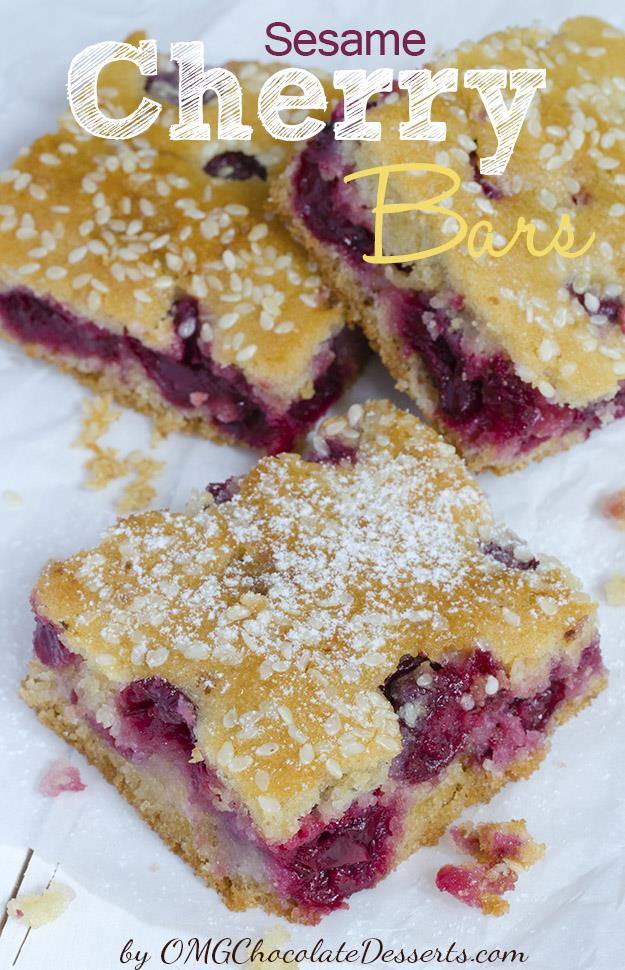 Well, I shouldn't waste your time any more, so I will tell you what's happening. The whole story with these simple Cherry Bars was really started up by mom. When we went to her home a few months ago, mom made this very simple treat for dessert.
"Woow, this is so sweet and refreshing!"  my husband was simply fascinated by this bars while it was unbearably hot outside.
"And this sesame is really great with these bars" he was continuing to give compliments to my mother's cakes.
And so, buoyed by her great success of her simple Cherry Bars, mom promised that she will make them again when my husband and I come by next time.
And she really did so, but the second time, the bars were not so successful and my mother was simply desperate.
"This is a catastrophe. It's the first time they are not successful", my mother was falling into despair, but we didn't really see that much of a difference.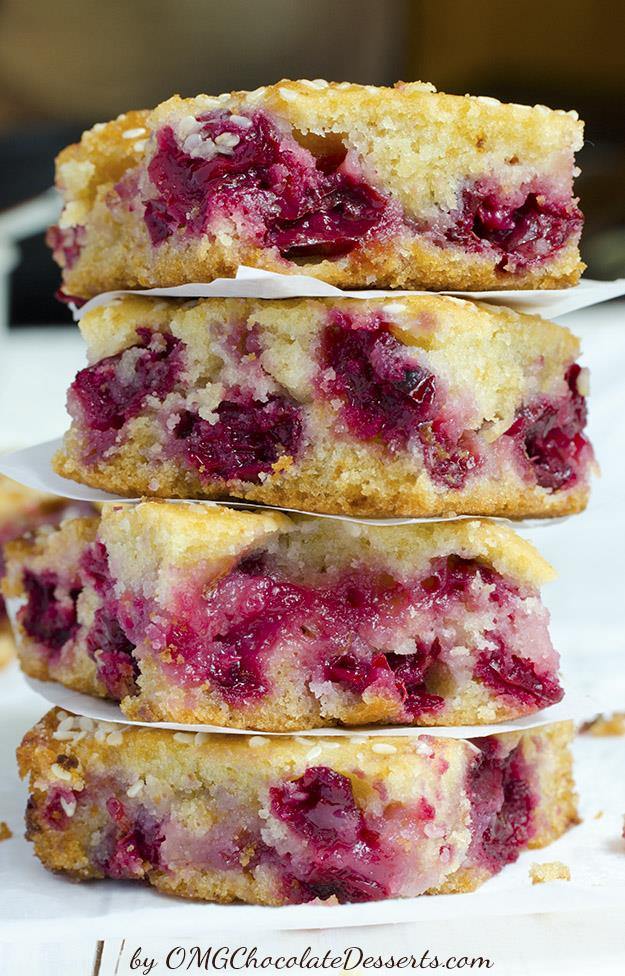 Of course, after this "faliure", she decided to make another round of Cherry Bars just a few days later. This time, they were perfect.
And so, by no fault of ours, in only a few days, Cherry Bars were on our menu three times 🙂
And so, in an effort to preserve this story, I decided to put mom's bars on this blog, but my version of them. Although mine were not so juicy and decadent like mom's, it was worth making them. And if you want a fast and refreshing treat for these hot summer days, these cherry bars could be a really good choice. Just try it !!!
Print
Easy Cherry Bars
---
Author:

Prep Time:

15 minutes

Cook Time:

30 minutes

Total Time:

45 minutes

Category:

Dessert
Description
Easy and refreshing cherry treat for hotsummer days.
---
Ingredients
2

eggs

1 cup

sugar

1 cup

yogurt

1 cup

vegetable oil

1 teaspoon

vanilla

2 cup

all-purpose flour

2 1/2 teaspoon

baking powder

4

lbs cherries- pitted

3

–

4

Tablespoon granulated sugar
Sesame seed and powdered sugar for topping-optional
---
Instructions
Preheat the oven at 420F and grease well with oil 9×15 inch baking pan.
Whisk together eggs and sugar just to combine, then add yogurt, oil and vanilla and whisk well.
Stir in flour and baking powder.
Spread half mixture in the pan and cover with cherries. Sprinkle cherries with 3-4 Tbsp. granulated sugar.
Cover cherries with remaining mixture and sprinkle with sesame seed if desired.
Bake about 25-35 minutes or until the toothpick inserted in the center comes out clean.
Let it cool completely in the pan before you start to cut. Dust with powder sugar before serving