After almost eight months of blogging, I finally came to the decision! Yes, in the future, my blog will not just be a place where you can find sweet treats. Starting today, you can expect some savory recipes! And you can just imagine what was the reason of this decision. Of course, my husband. After more than two months of constant rambling about how he can't take of the six pounds that he put on since I'm blogging intensively, I decided to change the decision which was brought a long time ago. My OMG chocolate little place will not be the holy ground for "chocolate only" desserts and things like that. I hope you have nothing against that 🙂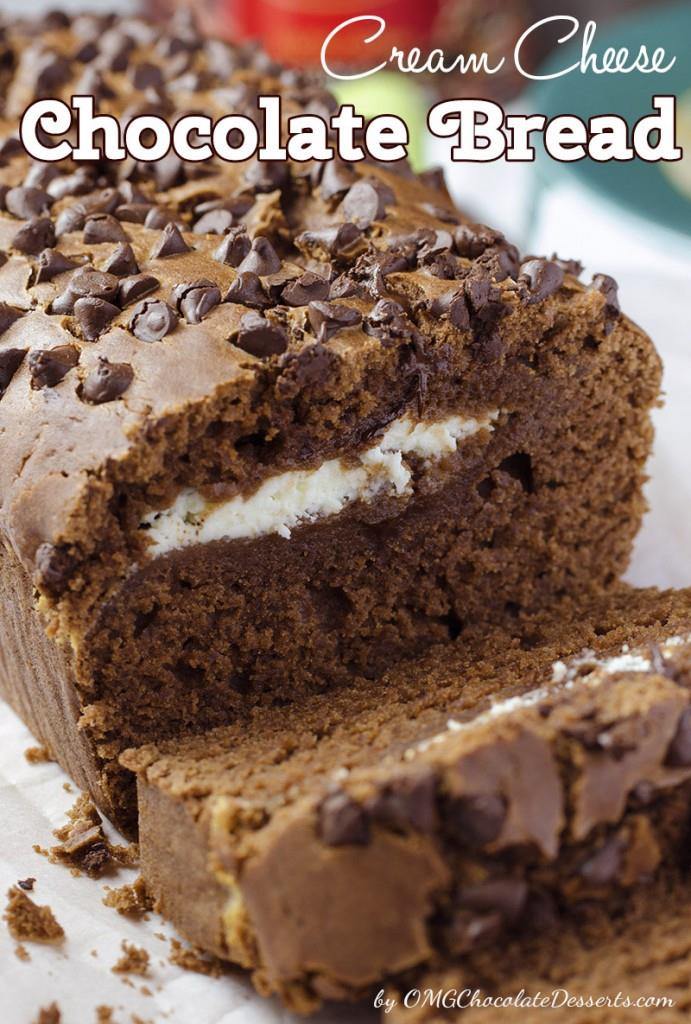 Maybe you were expecting, when I already came to a decision like that, I will give you a salty recipe right away. Well, you are wrong. Just to counter my husband, today we will have another sweet chocolaty recipe – Cream Cheese Chocolate Bread. I know he does not really love sweet breads, so this sweet dessert was only for my breakfast.
And what should you do to get this sweet thing? Nothing complicated. Just make a mix for bread with a little cocoa and sour cream and put it in half a loaf pan. Over that, add a row of sweet cream cheese mix and the rest pour over with another layer of dough for bread. Of course, over all of that, you should put a load of chocolate chips and you are ready for baking.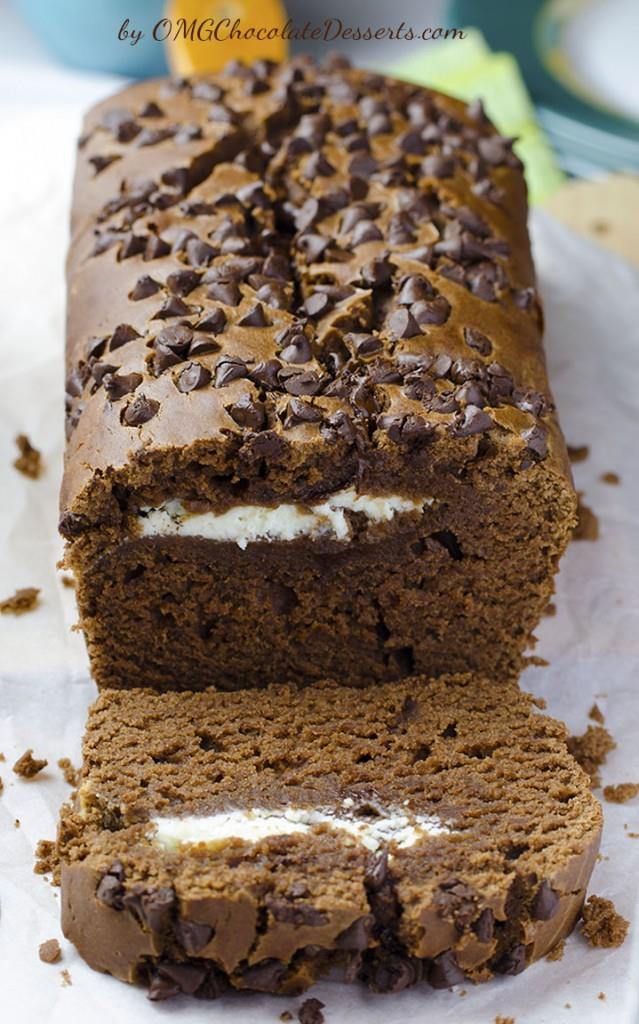 Voilaaaa, the perfect breakfast for those who love chocolate and bread  –  Cream Cheese Chocolate Bread ! And not only for breakfast. I had a few pieces after lunch, a little more before going to sleep, and the next day I had only memories and a few photos of my chocolate bread.
Enjoy and, as commanded by my husband, see you soon in some savory adventure!
Print
Cream Cheese Chocolate Bread
---
Author:

Prep Time:

15 minutes

Cook Time:

55 minutes

Total Time:

1 hour 10 minutes

Category:

Dessert
Ingredients
For Cream Cheese Swirl:
3 oz

cream cheese-softened

1 Tablespoon

sour cream

1 Tablespoon

sugar

1/4 teaspoon

vanilla extract
For Chocolate Batter:
1 1/4 cup

s flour

1/3 cup

unsweetened cocoa

1/2 teaspoon

baking powder

1/4 teaspoon

baking soda

1/4 teaspoon

salt

1/4 cup

unsalted butter- softened

1 cup

sugar

1

egg

1 teaspoon

vanilla extract

1/4 cup

sour cream

3/4 cup

buttermilk

2 tablespoon

mini chocolate chips
---
Instructions
Preheat oven to 350° , spray 8 x 4-inch loaf pan with nonstick spray.
In a food processor combine cream cheese, 1 Tablespoon sour cream, 1 Tablespoon sugar and vanilla, until smooth, set aside.
In a medium bowl whisk together flour, cocoa, baking powder, baking soda, and salt.
In a small bowl combine buttermilk and sour cream.
Beat butter and sugar until light and fluffy, than add in egg and vanilla and beat until combined.
Reduce speed to low and add half of flour mixture and beat to combine.
Add sour cream and buttermilk mixture, beat to combine and then add remaining flour mixture.
First pour just half the batter into pan, than dollop with cream cheese mixture and swirl with a knife , top with remaining chocolate batter and smooth using spatula.
Sprinkle with chocolate chips and bake for 55 minutes or until a toothpick inserted in the center comes out clean.
Cool in pan for 10 minutes, then remove from a pan and cool completely on wire rack.