Do you like Brownies? For me, that is one of the best "simple" desserts in the world! Maybe you are asking yourself what does "simple" even mean. Well, those are the treats about which I don't think too much, I do not weigh the ingredients to the gram and they can be made in the blink of an eye when you want to it something sweet and delicious. For that, Brownies are perfect.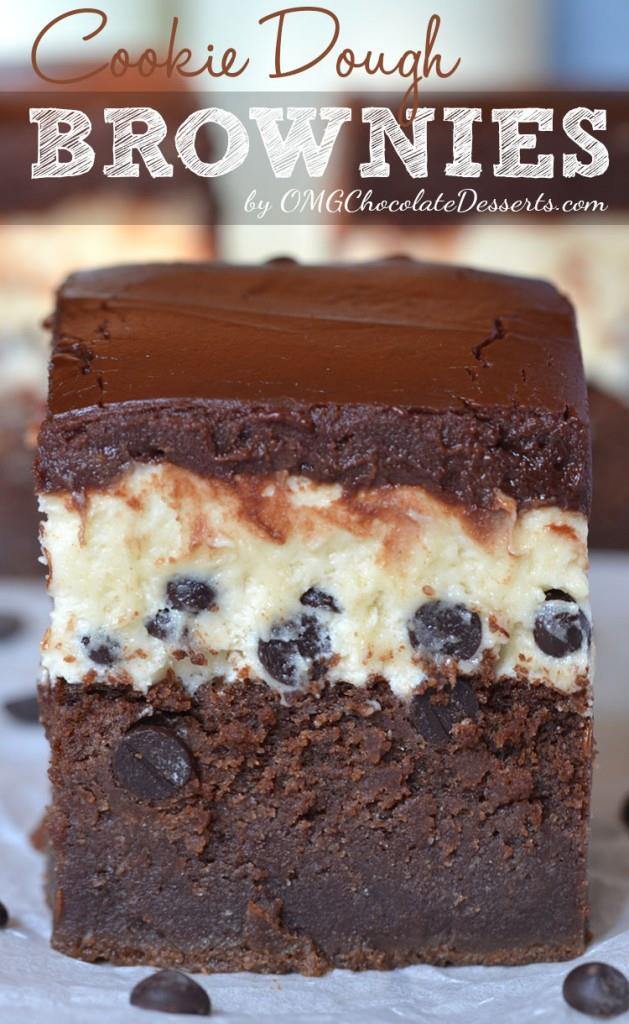 But, since food bloogers (like me) took matters into their own hands, even the simplest brownies are not that simple any more. Just type the word "brownies" into Google or Pinterest and everything will become clear. Buckeye Brownies, Pumpkin Swirl Brownies, M&M Blonde Brownies…  Things are beginning to get sweetly complicated. You almost can't find a simple recipe for good old Brownies.
Now, maybe you are thinking that this long introduction is just to bring the glow back to the good old Brownies. Nooo, just like my friends, the food bloggers, I like to make things a little complicated.  And today I will give my little contribution to further complicating the brownies because I will make decandent Cookie Dough Brownies .
Yummy, just take a look at this photo and everything will become clear. Black layer of brownies mix full of melted chocolate, decadent layer of Cookie Dough in which I threw in chocolate chips, and simple, but always tasty chocolate ganache. But why am I parting them anyway? Simply take a bite and let chocolate heaven melt in your mouth .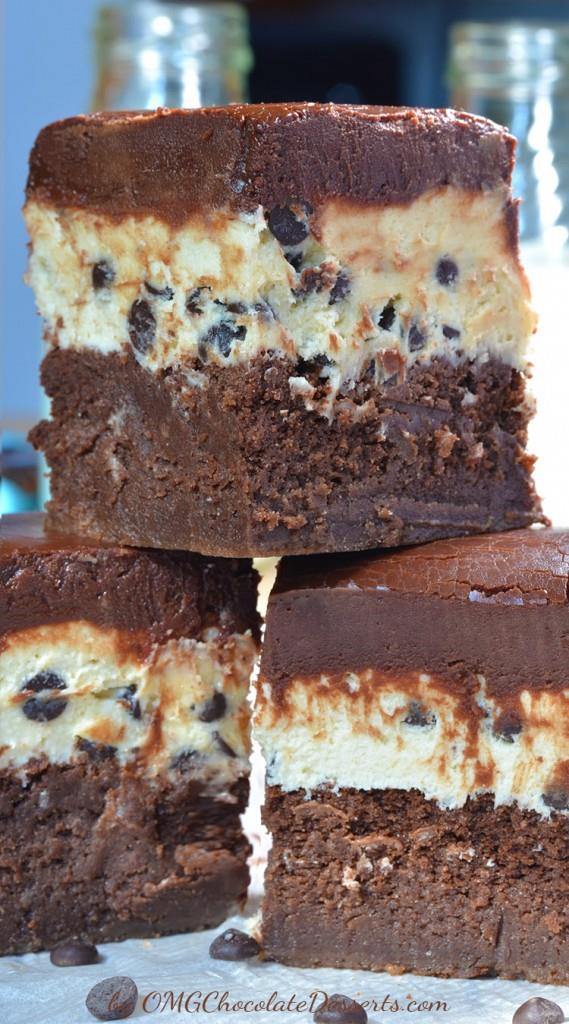 Of course, if you are thinking that you are going too far talking about your recipe, you can offer it to someone for a tryout. And my degustators were of the opinion that today's Cookie Dough Brownies were full on . Well, they didn't really say that because their mouths were full. But instead, the empty plates said the whole story.
Print
Cookie Dough Brownies
---
Author:

Prep Time:

30 minutes

Cook Time:

40 minutes

Total Time:

1 hour 10 minutes

Category:

Dessert
Description
Rich and fudgey brownie topped with chocolate chip cookie dough and thick layer of chocolate ganache.
---
Ingredients
For Brownie Layer:
8.5 oz

. semi-sweet baking chocolate

7/8 cup

softened butter (

1 cup

minus

1 1/2 tablespoon

butter saved for chocolate ganache)

4

eggs

1 1/2 cup

s sugar

2 cup

s milk

1 cup

all-purpose flour

1 1/2 teaspoon

baking powder

2 1/2 Tablespoon

cocoa powder

1/2 teaspoon

salt
For Cookie Dough Layer:
1 cup

butter, softened

1/2 cup

sugar

2/3 cup

brown sugar

4 tablespoon

s milk

1 1/2 cup

flour

1 cup

mini chocolate chips
For Chocolate Ganache:
10 oz

. semi-sweet chocolate chopped into small pieces

1 cup

heavy cream

1 1/2 tablespoon

butter
---
Instructions
To make the brownie layer:
Preheat oven to 350 F, grease a 9×9 pan and line with baking paper.
Melt 8.5 oz. semi-sweet baking chocolate, then combine with softened butter and stir until it's smooth.
In a bowl whisk together 1 cups all-purpose flour, 1 1/2 teaspoon baking powder, 2 1/2 Tablespoon cocoa powder, 1/2 teaspoon salt and set aside.
In a large bowl whisk the eggs and sugar, then add the milk and mix to combine.
Add melted chocolate mixture and mix until it's evenly combine, then gradually add dry ingredients.
Pour into prepared pan and bake about 30-40 minutes or until the toothpick comes out almost clean (do not overbake). Remove from the oven and cool.
To make Cookie Dough Layer:
Mix the butter with white and brown sugar until it's light and fluffy, then mix in milk.
Add in flour a bit at a time until fully incorporated, then stir in chocolate chips with a spoon and spread mixture over cooled brownies.
To make Chocolate Ganache :
Bring heavy cream and butter just to a boil and pour over chopped chocolate and let sit a few minutes without stirring, then stir until it's silky.
Spread over the cookie dough layer ( if you want to keep the ganache shiny then let it cool at room temperature , then refrigerate to set).
Cut in small pieces because they are very rich!!!