These spooky Spider Cookies make the perfect festive Halloween treat! Crunchy chocolate peanut butter spiders have attacked these soft and chewy sugar cookies – and they taste incredible!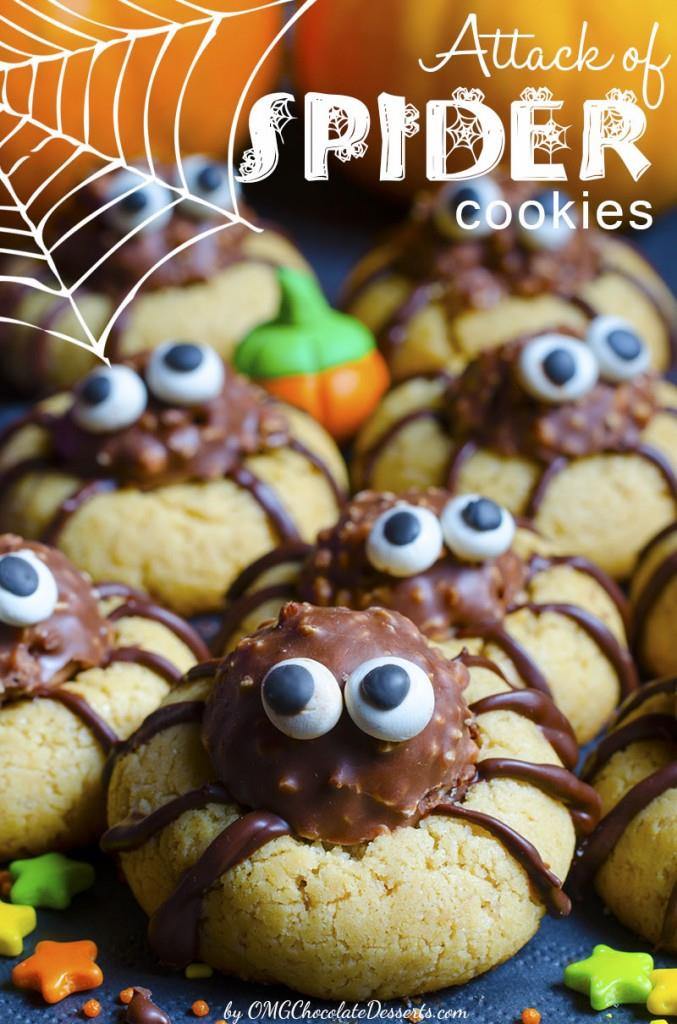 Attack of the Spider Sugar Cookies
Oh, nooo, it's happening again! Always, this time of year, weird things happen. I know, it must be the ghost of some long eaten dessert in my kitchen and now, every year, a few weeks before Halloween, it makes a spooky party on my big kitchen table. You don't believe me? Just remember last year when we woke up and with much difficulty fended of attacks from white chocolate mummies !
And just when I think that things are finally over, everything gets complicated again. This time, my little chocolate ghost made an even bigger surprise. My table saw the sunrise full of huge spiders with big eyes which, as soon as I entered the kitchen, attacked for me!
"Help, help!" I screamed scared with this spooky attack by the weird spiders.
Hearing my voice, my husband was there in a moment.
"What's happening, why are you yelling?" he was looking at me me full of excitement.
"Spiders! Everywhere on the table" I answered scared.
When he saw what happened, Darko stepped bravely towards the table.
"Hmm, something weird is happening, these spiders look a little unusual to me" he began smiling. Obviously, he was aware of what was happening.
"Don't be scared, Vera. I will save you" he said grabbing the nearest spider. He bit it in half and began munching.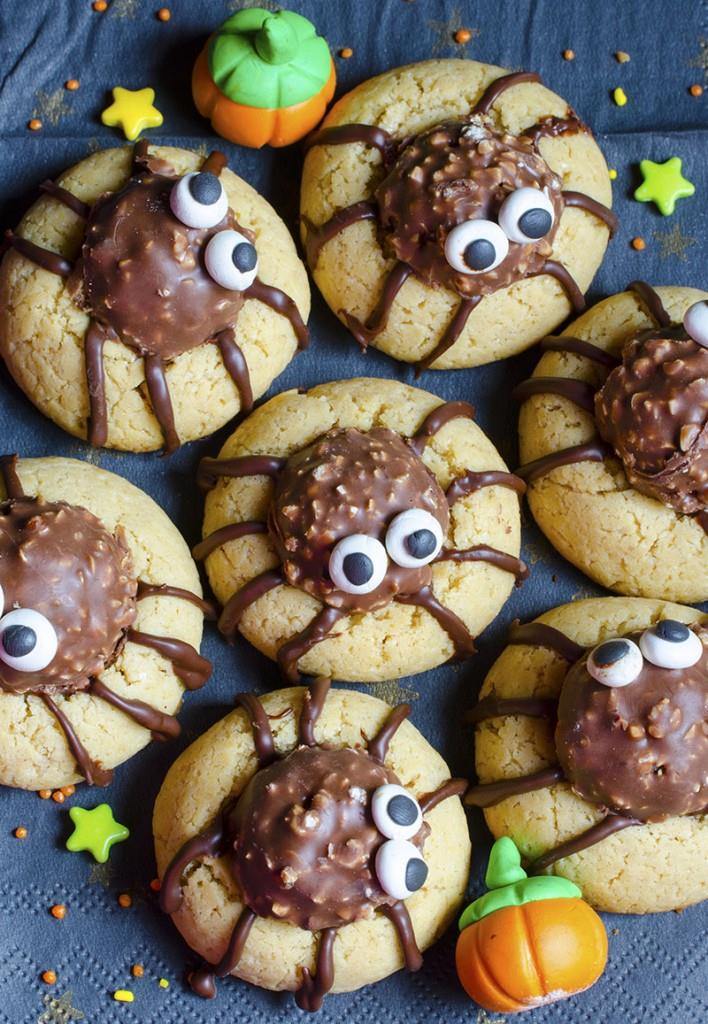 "Mmmm, they are really dangerous" he was mumbling. "You won't disturb my Vera. There!" he said grabbing another spider.
And in a blink of an eye, an army of spiders was very low in numbers and looking at us not at all dangerous and with glaring eyes.
"Not bad, last year mummies and now Spider Cookies. A great idea! This Ferrero Rocher head is a really great solution" concluded my husband, while we were still voraciously eating my Spider Cookies.
Chocolate Truffle Sugar Cookies
And the whole story began when a few days ago, I found this really great idea for Halloween dessert! In a moment, I came to the idea that instead of a chocolate head, I could put half a Ferrero Rocher ball. As for the cookies, you can bake any of them and this time, I chose the simple peanut butter cookies. And only a few legs from chocolate ganache and in the blink of an eye, you have a beautiful treat for the coming holiday.
So, we have survived another spooky kitchen party, this time fighting the dangerous Spider Cookies. But will we have a chocolate ghost next year and what form will it take? We will see 🙂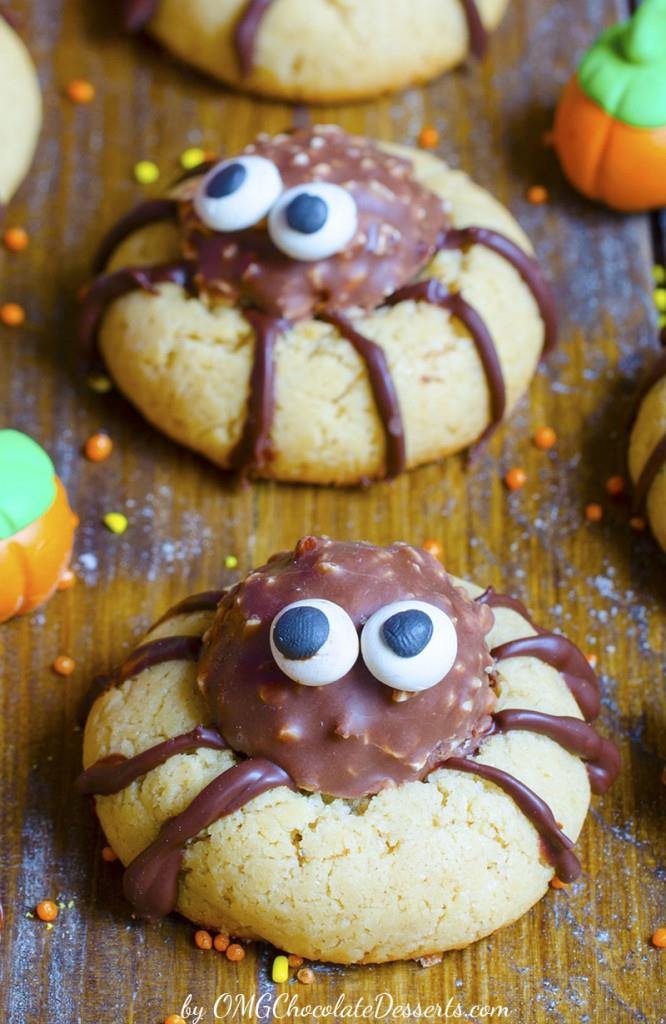 Print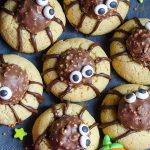 Spider Cookies
---
Author:

Prep Time:

20 minutes

Cook Time:

15 minutes

Total Time:

35 minutes

Yield:

24

cookies

1

x
Category:

Dessert

Method:

Oven

Cuisine:

American
Description
These spooky Spider Cookies make the perfect festive Halloween treat! Crunchy chocolate peanut butter spiders have attacked these soft and chewy sugar cookies – and they taste incredible!
---
Ingredients
3/4 cup

peanut butter

1/2 cup

unsalted butter-softened

1/2 cup

granulated sugar

1/3 cup

brown sugar

1 teaspoon

vanilla extract

1

large egg

1 1/4 cup

all-purpose flour

3/4 teaspoon

baking powder

1/4 teaspoon

baking soda

1 teaspoon

salt

12

Ferrero Rocher truffles (keep a few more if you need them)

3/4 cup

semisweet chocolate chips

48

candy eyes
---
Instructions
Preheat the oven to 350 degrees F and line two baking sheets with parchment paper.
In a bowl mix together flour, baking powder, baking soda and salt together, set aside.
Beat both butter and peanut butter until fluffy, then add sugar and brown sugar and mix again until fluffy, mix in vanilla and egg.
On a low speed mix dry ingredients in butter mixture.
Roll 1 1/2 tablespoon cookie dough into balls( it should be 24 balls) and place 12 out on each cookie sheet.
Bake cookies for 8- 10 minutes, then remove from the oven and using a pestle press a cavity in the middle of each cookie and place back in the oven and bake another 5-8 minutes, until golden( they will crack when you press them but that's OK)
Unwrap Ferrero Rocher chocolate truffles and carefully cut each in half.
Melt chocolate chip, transfer to a zip bag and cut off a small corner to make a hole. Pipe 8 leg on each cookies and place halved truffle in cavity before the chocolate is harden.
Use remaining melted chocolate to glue the eyes.