Chocolate Turtle Clusters are delicious homemade candies with walnuts, caramel and chocolate. These sweet and salty treats satisfy every craving!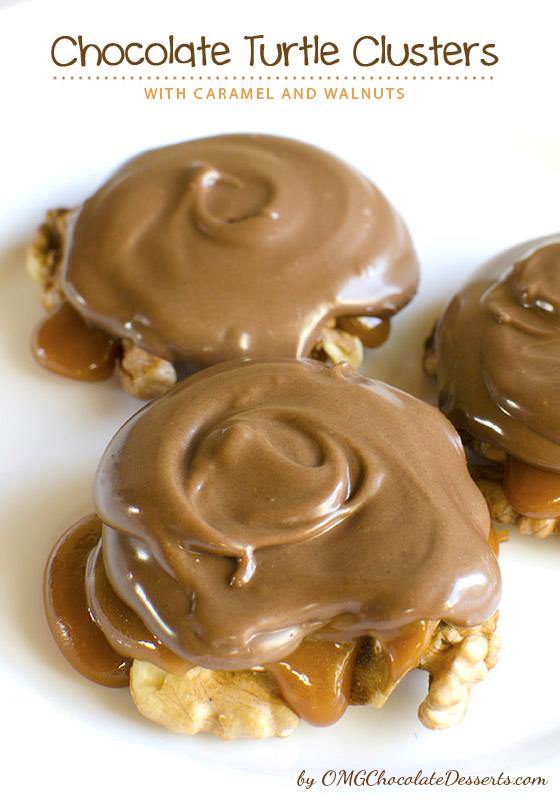 As much as I love Christmas and the New Year, one thing always drives me nuts when these magic moments go into the past: a look at my weight. I presume that most of you have the same problem, because who can refuse the sweet magic that is literally in front of you all the time during these ten days? And if you are a real fan of sweets – you have got yourself a problem This year, the holiday challenges were really serious. And how to keep your ideal weight when, day after day, you have treats like this on the table? First the beautiful Snowball Cookies , and after that the devine chocolate baklava from my good friend, and then Cannoli Cream Puffs for New Years Eve …and to end it all… Eclairs. Mission impossible!
Somebody had To pay the price and this time it happened to be my favorite jeans. "Vera, what is happening, why are we so tight?" shouted my poor jeans when I tried to put them on the other day. Of course, what I was most afraid of, was slowly starting to happen.
My darkest fears had come true. The beam scale was showing that I have 1.5 kilos more then my ideal number. Oh, the misery! So, this meant that in the next month, I will have rigorous control of all the beautiful things that I could have eaten had I not been so greedy in the last few weeks.
And so, after the decision was made, I had to say a festive "good bye" to my favorite treats. How? Well, of course with a sweet little desert which will not make much more damage, but will give me at least some form of satisfaction before I start the big battle.
Hmmm what could it be? Of course, it had to have chocolate, so the search began from my chocolate Pinterest table. I quickly found a desert which fulfilled all my criteria! It was sweet, chocolaty and simple – Walnut Caramel Chocolate Turtle Clusters. Hmmm the only problem was that I had no Pecan in my pantry. Well, all right, it will not be much of a difference if we replace them with already prepared Walnuts.
And in the blink of an eye, I had a great caramel mixture cooking, and at the same time, had a fight with my son who was making his own figures from the nuts that I had already prepared. And when the caramel was poured over the nuts and cooled off, the last step was pouring beautiful warm chocolate over all of that.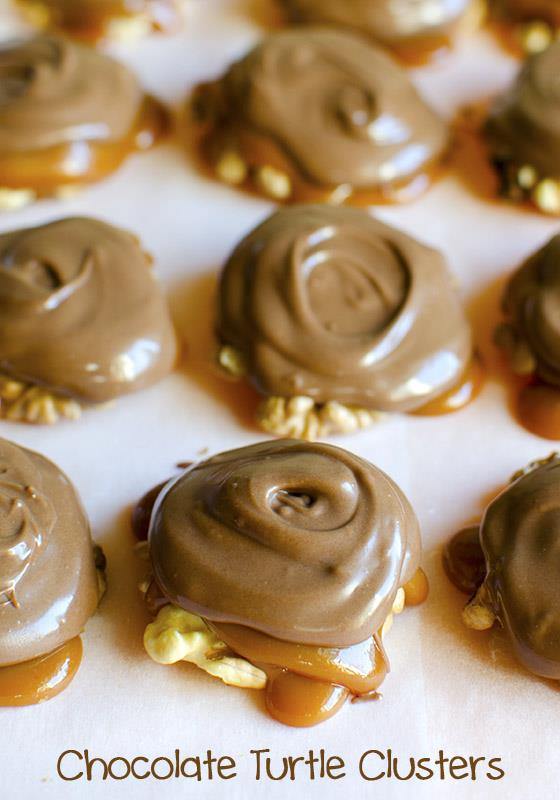 "Good bye, my sweet treats" I was saying while I was munching the beautiful mixture of nuts, caramel and chocolate with my son and husband. "Does that mean that you will stop making sweet things for us" asked my husband laughing and looking at my son Marko, who was also munching a peace of chocolate. These chocoholics are surely not going on a diet, so they agreed to share my part of the treats that you make and at the same time help my diet.
Print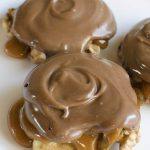 Chocolate Turtle Clusters
---
Author:

Prep Time:

15 minutes

Cook Time:

30 minutes

Total Time:

45 minutes

Yield:

35

-

40

clusters

1

x
Category:

Dessert

Method:

Stove

Cuisine:

American
Description
Chocolate Turtle Clusters are delicious homemade candies with walnuts, caramel and chocolate. These sweet and salty treats satisfy every craving!
---
Ingredients
2 1/2 cup

walnuts

12 oz

milk chocolate(or chocolate chips)

1/2 teaspoon

shortening
For caramel:
1/2 cup

salted butter

1 cup

brown sugar

1/2 cup

light corn syrup (I use honey instead)

7 oz

sweetened condensed milk

1/2 teaspoon

vanilla
---
Instructions
In a large skillet toast walnuts over medium high heat, stirring occasionally, until they have darkened just a bit. It takes a few minutes.
Prepare 2 large cookie sheets lined with parchment paper and spray with cooking spray.
Arrange walnuts into clusters (about three in a group) and leave an inch space between each cluster.
To make the caramel, into a medium-sized sauce pan melt 1/2 cup butter over medium high heat.
Add 1 cup brown sugar and stir it until it dissolves.
Add 7 ounces sweetened condensed milk, stir it and add 1/2 cup light corn syrup (or honey).
While stirring over medium heat bring the mixture to a boil. Stirring is very important, don't stop stirring. (The mixture will need to boil for 20-30 minutes or until the temperature on your candy thermometer reaches between 235-240).
Remove from the heat and stir in 1/2 teaspoon vanilla.
Drizzle about 1 1/2 teaspoons of caramel over each nut cluster quickly, because the caramel will begin to set up and make sure the caramel top all walnuts in each cluster because it need to stick the nuts together.
In a microwave safe bowl heat 12 ounces of milk chocolate chips in the microwave for 30 seconds at a time, stirring after each cooking interval until it's smooth.
Add 1/2 teaspoon of shortening in the melted chocolate and leave for couple of minutes to melt it, stir well.
Top the caramel and nuts with about 1 1/2 teaspoons of melted chocolate and swirl it around.
Let them cool completely and when the chocolate is harden you can serve them, or store in the air tight container.