"Do we have something sweet in the house?" That is a very common fraise in my home. Of course, two most common persons you will hear this question from are my husband and my grandpa. The first one (my husband), who often has "seizures" of eating too much candy after his exhausting badminton tournaments (you already read about this in my post on Chocolate Fudge) and the other person (grandpa) has a habit of eating something sweet every time after I take a photo of all of my deserts which I prepare for this blog.
Because of that, I am constantly in search of some new recipes which make the answer to their question – "Not at this moment, but wait for 15 minutes and I will fix something up". I even made my little cookbook with recipes only for things that can be prepared in 15-20 minutes – Quick Recipes.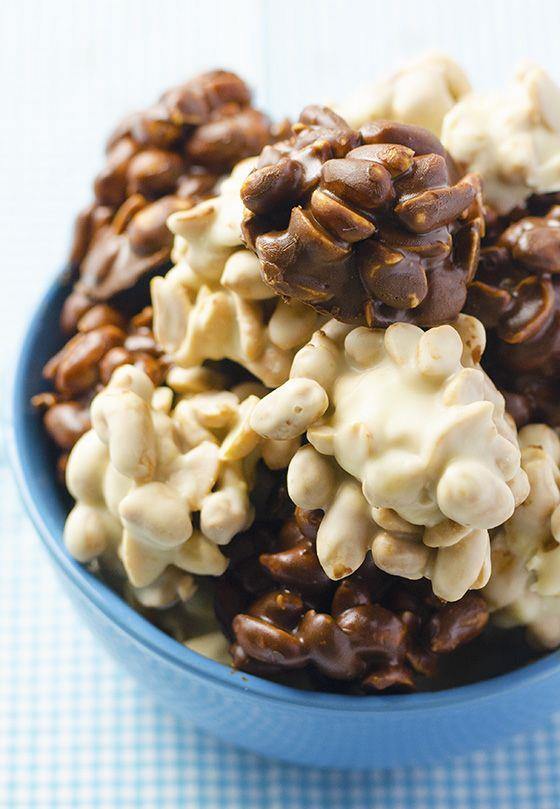 I found just that kind of recipe on my favorite blog: Averie Cooks – White Chocolate Peanut Butter Cookie Clusters. Mmmm, really attractive. But no, this time I will not make this kind of desert. It just gave me an idea for something much simpler, and something that could solve the biggest sugar crisis 🙂 . Since my husband is a big fan a peanuts, the solution is just to dip the peanuts into the melted chocolate and that is it. Or just simply bake one of our favorites: the peanut butter cheesecake!
Maybe you will think that something so simple cannot be that delicious, but after 15 minutes, we were all munching beautiful peanut chocolate chunks and enjoying them. Only grandpa was watching us with sadness and probably kicking himself because he has not made artificial teeth yet 🙂 .  And if you have a minute or two more to throw away, melt some white chocolate and you will have a beautiful contrast of white and black chocolate chunks! Try it!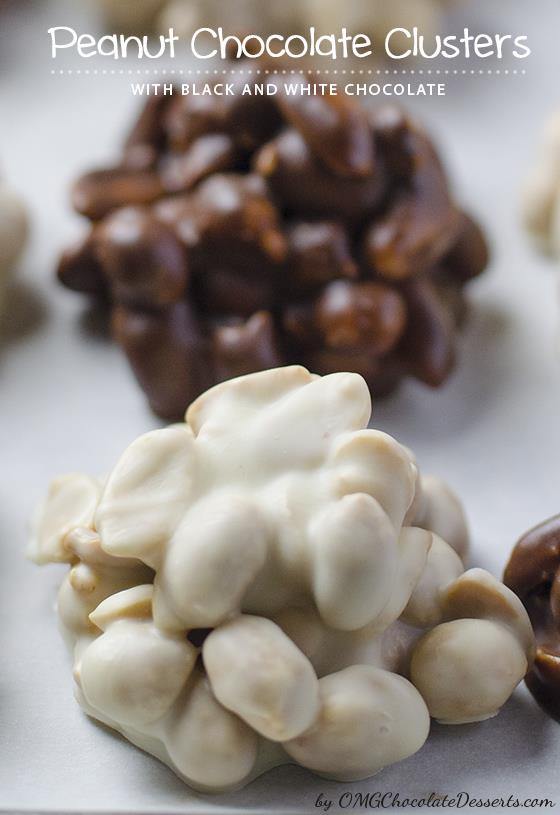 Print
Black & White Peanut Chocolate Clusters
---
Author:

Prep Time:

10 minutes

Cook Time:

10 minutes

Total Time:

20 minutes

Category:

Dessert
Description
Quick and easy recipe for really addictive snacks-sweet and salty chocolate peanuts candies.
---
Ingredients
8

–

10

oz dry roasted peanuts ( I use salted, but if you don't like sweet and salty combo, use unsalted peanuts)

10 oz

chocolate of your choice (I use half white chocolate and half sweet baking chocolate)
---
Instructions
Line baking sheets with parchment paper
Melt the chocolate
Stir in peanuts into melted chocolate
Spoon chocolate covered peanuts on parchment paper and let cool completely