Cheesecake Cupcakes (Oreo) With Chocolate Ganache
The first time I made these delicious Oreo cheesecake cupcakes, I realized it was a bad, bad idea! The thing is that my husband, who by the way has a sweet tooth, went completely crazy about these cute cupcakes. I have to admit that even I'm not indifferent towards this heavenly treats. But to make it every ten days is no pleasure at all!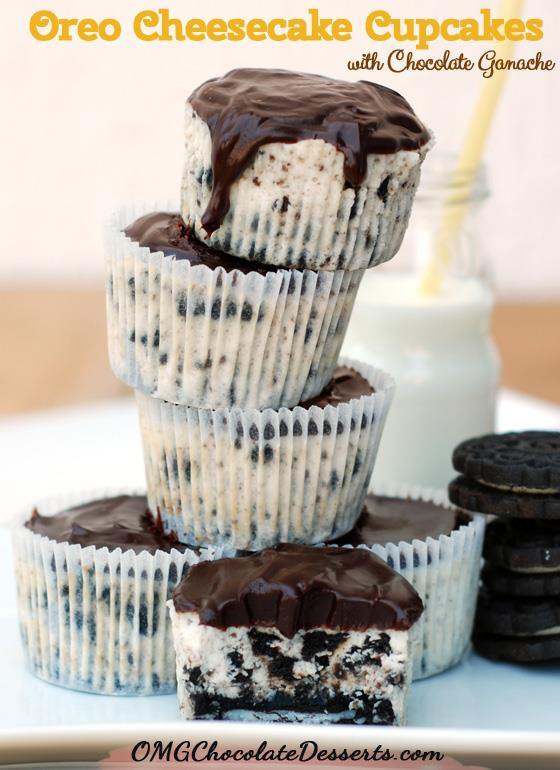 A few days ago, after no more than two weeks since the last time I made these cupcakes I heard the hackneyed phrase:  "Vera, when are you planning on making those little, white cupcake goodies?" What was I supposed to do? Nevertheless, in order to avoid turning this activity into a run-of-the-mill job, I decided to spicy it up a bit. If you want to turn something already tasty into something even more delicious, chocolate and Oreo cookies are a perfect choice. So, before baking them, I placed one Oreo cookie at the bottom of each cupcake and added some crushed cookies to the cheesecake base, mixing everything together. Finally, I topped this fantastic delicacy with perfect chocolate ganache.
Can you imagine what the reaction to these little Oreo- cheesecake cupcakes was! "OMG, this is absolutely fantastic!"  In a blink of an eye, a plate with 12 cupcakes was already empty.
So if you are in need of a quick and simple treat for your guests, who are about to arrive, or you just want to sweeten your day, remember- cheesecake and chocolate and Oreo are a perfect combination. But be prepared that you'll be asked  to make them again in no time!
Oreo Cheesecake Cupcakes with Chocolate Ganache
Author:
OMGChocolateDesserts.com
Prep time:
Cook time:
Total time:
These mini sized Oreo cheesecakes are combination of creamy cheesecake filling with Oreo chunks, trapped between an Oreo cookie at the bottom and generous layer of silky chocolate ganache on top.
Ingredients
20 Oreo cookies ( 12 left whole for the bottom of cupcakes and 8 chopped for the filling)
¾ cup powdered sugar
1 lbs cream cheese
2 egg whites
pinch of salt
¼ cup heavy cream
¼ cup chocolate chips
Instructions
Preheat oven to 300 F. Line standard muffin tins with paper liners and place 1 whole Oreo cookie in the bottom of each cup.
Beat together cream cheese and powdered sugar until it's smooth.
Add eggs whites one at a time and mix until combined but use medium speed and do not over mix it.
Add pinch of salt and mix.
Fold in coarsely chopped Oreo cookies
Fill each cup over the Oreo cookie , almost to the top
Bake for about 25 minutes (untill the centers apear set and the toothpick inserted in the center comes out clean).
To make chocolate ganache, melt the chocolate and stir in the heavy cream until combine evenly.
With a spoon spread the ganache over the cooled cupcakes and let them cool completely at room temperature before store them in the fridge.
143 responses to "
Cheesecake Cupcakes (Oreo) With Chocolate Ganache

"
Dear Mallory, I use semi-sweet chocolate,because the cupcakes are already sweet enough by them selves, but you could use milk chocolate either if you prefer.
Have a nice weekend!
All the best

Vera, I just made these cupcakes & they look delicious, but I have not been able to put the ganache on top because I have not been able to get it right. I melted the chocolate & added the cream, mixed it & it just wont mix right. Its got chunks of chocolate & wont smoothe out. What have I done wrong?

Hi Cindy, you probably didn't melted chocolate completely if you got chunks.You can bring it back in medium sauce pan and melt it together with heavy cream on low-medium heat(stiring constantly), then remove from the heat and let it cool to room temperature before spreading over cupcakes. I hope this will help.

Those that are having issues with the ganache….if you boil the cream first and pour it OVER the chocolate it will melt smoother and faster. You only bring the cream to a boil than take it off. your chocolate will be in a bowl and just boil the cream over, give it a few seconds and start stirring, you will see how quickly the melting happens.
Hi Samantha,
Pack them in the fridge and you can keep them for a few days.
Hi Julia,
I use only egg whites for these cheesecakes cupcakes because I want them to stay white. When you add egg yolks cheesecake might turns out a bit yellow, and I want to keep the white color as a contrast to Oreo. I've never try to add beaten eggs in cream cheese filling, so I don't how it would works.
Best regards, and thanks for stopping by 😉

When you use the over beaten egg whites (Like for a margarine for example) It causes your cheesecake to fall apart during the baking process, and the egg yolks make the baking inconsistent through out the cupcake. Picture a hard boiled egg, or even a fried egg, the yolk always comes away thicker then the whites, because of the protein within the yolk.

Your always best using the egg whites only, and do not beat them into peaks, mix them with the cheesecake mix to ensure the smoothest cheesecake possible. (This is the same for both Large Cheesecakes (Which I am hoping to make a large base cake with this receipt idea) or mini/muffin cheese cakes.

I hope this helps! 😉
Thanks a lot Cathy, I'm so happy about that!
Have a nice weekend!

I hope you will like them .

They were yummy but this time am going to try 1/2 of cookie on bottom!

Hi Janet, I'm sure that they still be great
I've never tried but I think that it could work as well.
Let me know when you try.
Hi Tae, yes I ment the chocolate chips, and Oreo stays at the bottom of the cupcake so you could see it.
Hi Fareeba,you can use ricotta cheese.
Valerie, I didn't have trouble with that, when the cheesecake were cooled I peeled them easy, maybe just a few crumb stay on the paper.
Hi Shay, you can use ricotta cheese, and double cream but be careful it is more dense than heavy whipping cream.
I realy don't know what went wrong with your cheesecakes, maybe you mixed the cream cheese and eggs more than it shoud and the batter become too thin.

I had to cook mine for 40-50 mom before they set… ?
Hi Anastasya, you need about 100 grams powdered sugar, 450 grams cream cheese, 60 ml heavy whipping cream, 45 grams chocolate chips plus other ingredients in the recipe.
Thanks Sharon. Have a nice weekend
Hi Alissa,
1 lbs is 16 oz. or 450 grams
Hi Eli, you neeed white powdered(confectioners) sugar

ooohhhh btw,can i use all-purpose cream than heavy cream?

Hi Eli,
I can't answer you that because I've never tried it.
Hi Janna, they shoud apear set, or the toothpick came out almost clean.
So, I made these and I will make another batch as soon as someone responds but the ganache turned out runny – are you supposed to beat the cream into a whipped topping first

Hi Silka,you don't have to beat the cream first, just stir it well in melted chocolate, and ganache will thicken when it's cooled. Probably you melted chocolate in a very high temperature, and it turns out runny. Before you start spreding it over the cupcakes let it cool, stiring occasionaly, until it starts to thicken.If this did not help, then try the next time to use more chocolate and less heavy cream and do not overheat the chocolate.

Yes it's 1 lb of cream cheese or 16 ounces.

Thanks Tracey
Hi Clinton, white chocolate sounds as a great idea for this recipe.I did not understand do you ask why is heavy cream used, or you are not clear the method how it is made. It is used because it's (at least to my taste) ganache tastier than pure melted chocolate. I melt the chocolate and then stir in heavy cream, because the cream cools the chocolate and make ganache thicker and easier to work with.
Hi Melanie,
I'm not sure but I think it will takes at least 50-60 minutes
Hi Genevieve, I suppose it could, but I never tried so I can not guarantee
Hi Crystal,I have never tried, as for the vanilla think it is not necessary because they already have a pronounced taste thanks Oreo and chocolate ganache, but you could add it it would be Ok too, and I like the texture and taste of these cheesecakes so I would not add sour cream. If you try let me know how wit turns out.
Hi Mackenzie,
keep them in the fridge.
Hi Mary, it's something in between,it doesn't stay completely crunchy, but it's not too soft.

Hi Jason, you can melt the chocolate using a double boiler.
Hi Valhalla, baking does soften bottom cookie a bit.
Hi Chasity,I'm sorry you do not like them, but it is a matter of taste
Hi Ash, the batter doesn't need to be liquid, it shoul be thick but not too thick (not like cookie dough).
Thanks Lise
Hi Heidi,you'll need cupcake or muffin pan.
HI Danette, you can bake this as mini cheesecakes, but I suggest regular muffin tin(not mini). I can tell you how long to bake them, but if you use mini muffin tin, star checking them after 10 mins.
Hi Batel, you should melt chocolate chips and combine it with heavy cream to make the ganache.
Hi Rebekah, I'm sorry but I think you can't do it with this recipe
Hi Taylor, I didn't spray the cupcake paper.
Thank you Winnie,

this is common on Pinterest. I am glad you liked the recipe.

All the best
Hi Jen, you can try that or use maybe try to place hlved mini oreo on the bottom.
Hi Cathy, you should put both filling and cookie part in the cheesecake mix.
Hi Myra, yes it's confectioners sugar, it gives slightly different texture to the cheesecake filling than granulated sugar.
Hi Janet, they should taste like cheesecake filling not like the cake, and they are flat not puffed like cupcake.
Hi Jill, you can use foil cups.
Hi Paula, 1 pound is 450 grams or 16 oz.
You can use white chocolate chips
Hi Carrie, I haven't but that sounds yummy! I should try it that way
Hi Jen,I haven't tried but if you do,please let me know.
leave a comment