White Chocolate Pumpkin Truffles in the middle of winter? Surely, you will think that I must have something completely wrong, or that I have the wrong calendar. But if you have read some of my earlier kitchen stories, you have probably noticed that things like this are a common occurrence in my case. For instance, in the middle of the summer, when everything is full of fresh fruit and ice cream, I make sweet black-white chocolate fudge! And in the autumn, when all chefs are preparing autumn treats with pumpkins, on my table, you can find refreshing strawberry cupcakes!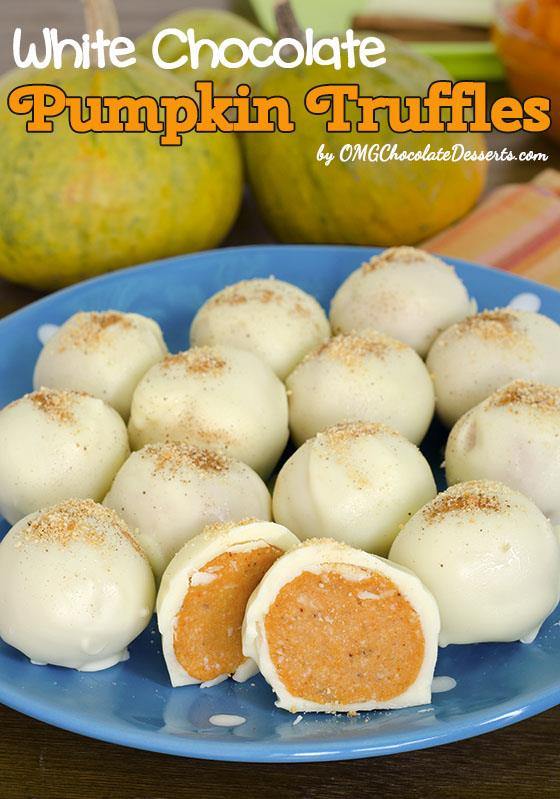 Well, OK, nobody is perfect, but this time, I didn't make this mistake on purpose. The secret is that these beautiful Pumpkin Truffles were prepared and photographed about a month ago, but because I had so much to do, I had no time to post them earlier. Well, now that I have confessed everything, I hope that you will understand me and on the other hand, it is not too late for pumpkin deserts if you love them. Hell, the winter has just begun 🙂
And everything began the day when I decided to make peace with pumpkins (who were starting to become boring to me) and prepared fantastic Pumpkin Pie Cupcakes. Of course, there was much more of the pumpkin then I needed for the cupcakes. I was left with the question what to do with these leftovers of pumpkins which were spreading a beautiful aroma all through the kitchen? Well, of course, pumpkin truffles! An ideal solution when you don't know what to do with leftovers of a great desert.
And as soon as this great idea came to my mind, the ingredients sorted themselves out: grounded Speculoos cookies, white chocolate, and cinnamon, and as a contrast to the beautiful orange color of the pumpkin, I couldn't think of anything other than melted white chocolate. And so, in a very short time, beautiful little pumpkin balls were cooling before the last step: being dipped into white chocolate.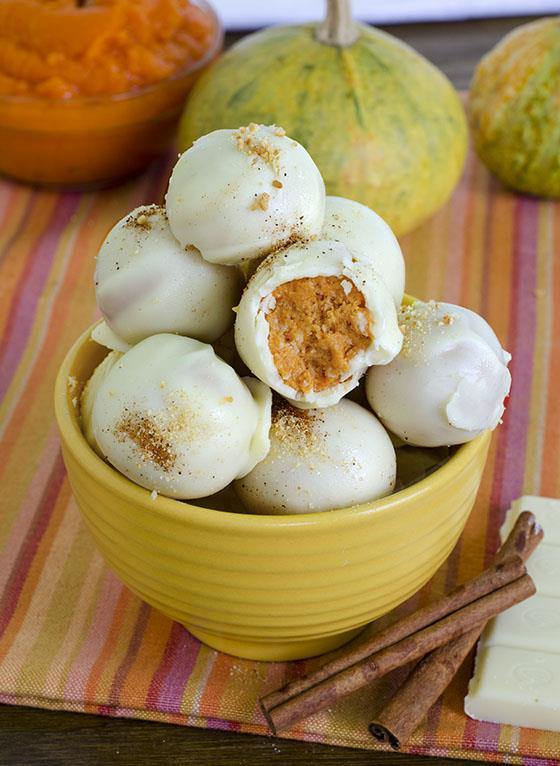 In the blink of an eye, I had two great deserts in the fridge – pumpkin pie cupcakes and pumpkin truffles and now, I had a new problem: which one of them to eat first? 🙂 Of course, there was not too much thinking, we tried both at once. I have to admit, the truffles were a shade more delicious because of the beautiful white chocolate.
Anyway, whatever you decide to do, you will not be wrong, both deserts are a great choice for your autumn treat. Ooops, it's almost winter. OK, OK, if you don't want pumpkin in the winter, keep this recipe for next autumn. Cheers 🙂
Print
White Chocolate Pumpkin Truffles
---
Author:

Prep Time:

45 minutes

Total Time:

45 minutes

Category:

Dessert
Description
Pumpkin cream cheese truffle with white chocolate.
---
Ingredients
2/3 cup

finely grounded Speculoos cookies (or graham crackers)

1/3 cup

pumpkin puree

2 oz

white chocolate- melted

2 oz

cream cheese-softened

1/4 tsp

cinnamon (or pumpkin spice)

5

,5 oz white chocolate for coating
---
Instructions
In a bowl mix cream cheese, pumpkin puree, cinnamon (or pumpkin pie spice) and melted white chocolate. Stir in grounded cookies and set in the fridge for half an hour.
Roll 1 inch balls and place them on parchment paper. Freeze them at least half an hour before coating with chocolate.
Melt white chocolate and drop one by one frozen ball in the melted chocolate. Using a fork transfer them onto parchment paper(gently tap off excess chocolate), then put them back in the freezer for 10 mins.