Strawberry Chocolate Cheesecake is the best combination of chocolate and strawberries ever! This cake is made with a chocolate graham cracker crust, milk chocolate cheesecake filling, and strawberry topping. This dessert is like chocolate-covered strawberries turned into a melt-in-your-mouth cheesecake. If you like it, check my Strawberry Chocolate Mousse Cake, too!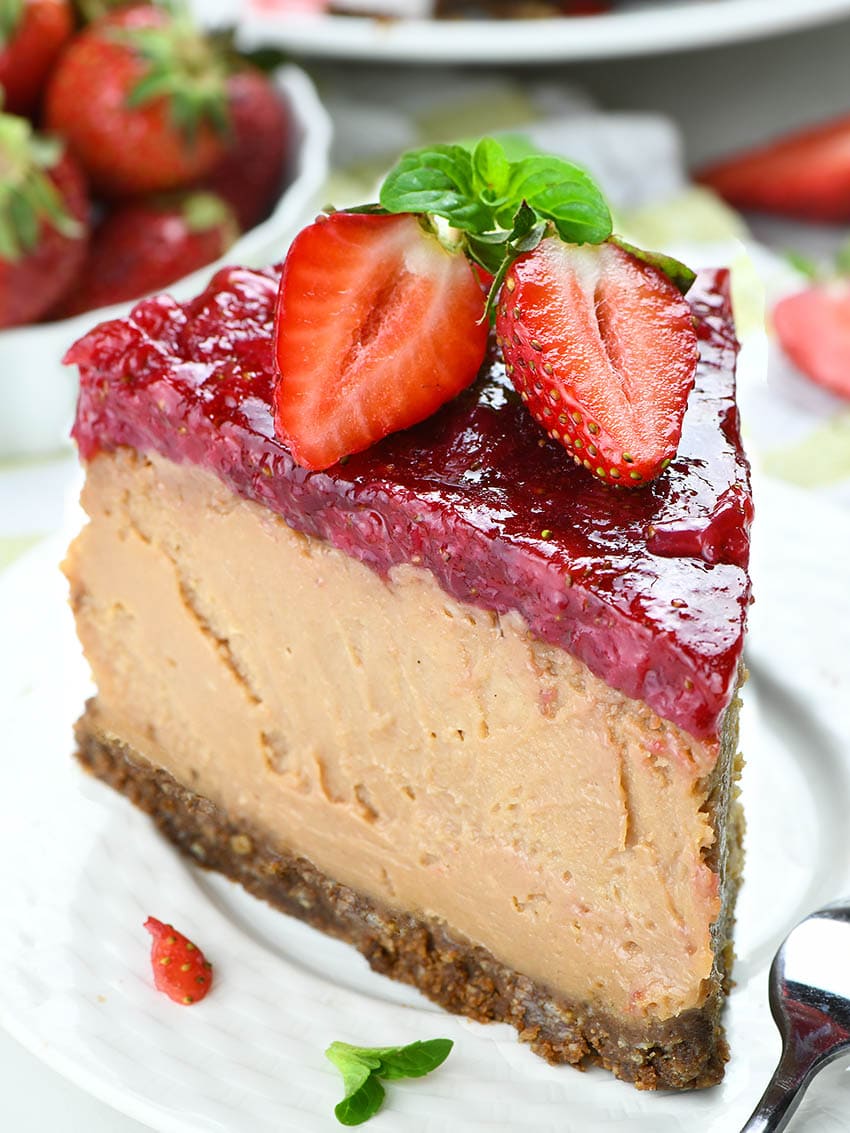 Strawberry Chocolate Cheesecake
Strawberries and chocolate are definitely one of the best flavor combos! Milk chocolate cheesecake and strawberry topping compliments each other well, without either overpowering the other. If you are a cheesecake lover, you will defiantly love this cake.
However, I used my ultimate cheesecake recipe here which is really simple and doesn't require any professional skills. I turned it into a smooth and creamy milk chocolate cheesecake. Then, I made a super easy strawberry topping. Not to mention the beauty and refreshment added by sweet and juicy strawberries.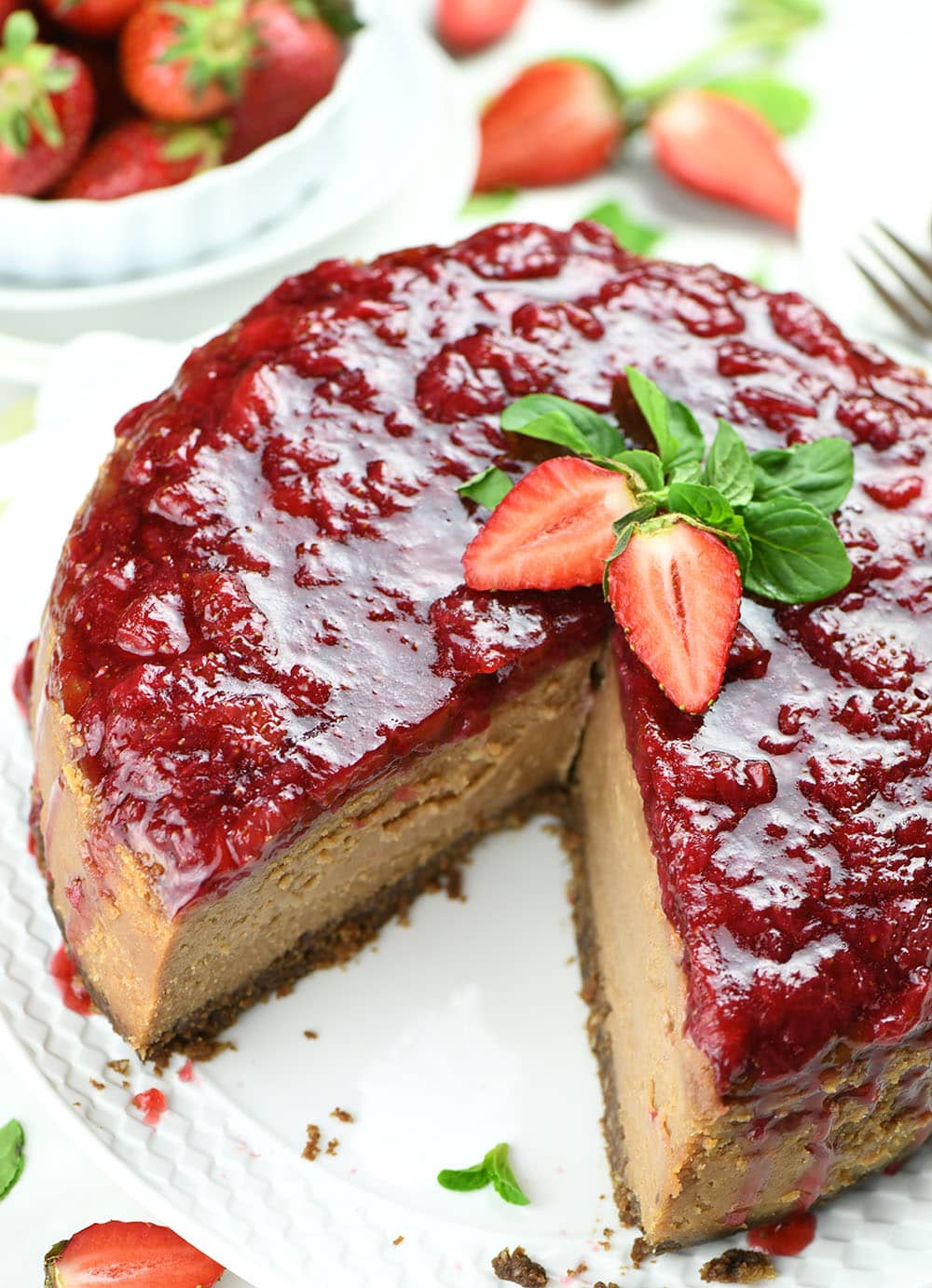 Usually, I top my cheesecakes with chocolate ganache. If you are not a true chocoholic, chocolate cheesecake topped with chocolate ganache can be a little overpowering. Since, it's springtime, I wanted to add some refreshments. That's why I decided to use fruit topping, instead of chocolate ganache.
I made strawberry topping and serve this cake topped with fresh, juicy strawberries. The topping is made with fresh strawberries, but you can make it with frozen strawberries, when fresh are not in the season.
This cheesecake recipe is a perfect dessert for summer dinner parties, birthday cake, and fancy enough for holidays or any other occasion.
Strawberry Chocolate Cheesecake recipe is very simple to make. It does not require a lot of active time, but it needs a few hours to cool, so plan ahead when you make this cake. You can make it a day or two in advance before you need it to be served.
If you love strawberry and chocolate combo, then you should try this recipe. It's a very refreshing and really satisfying treat, at the same time.
Enjoy!

Print
Strawberry Chocolate Cheesecake
---
Author:

Prep Time:

45 minutes

Cook Time:

1 hour 10 minutes

Total Time:

6 hours

Yield:

1

2

1

x
Category:

desserts

Method:

bake

Cuisine:

American
Description
Strawberry Chocolate Cheesecake is the best combination of chocolate and strawberries ever!
---
Ingredients
Graham Cracker Crust:
2 cups

chocolate graham cracker crumbs

5 Tablespoons

unsalted butter-melted
Milk Chocolate Cheesecake:
32 oz

. cream cheese-softened

1 cup

sugar

1 teaspoon

vanilla

4

eggs

8 oz

. milk chocolate(or milk chocolate chips)-melted
Strawberry Topping:
12 oz

. fresh strawberries-chopped

1 Tablespoon

fresh lemon juice

½ cup

sugar

1 ½ teaspoons

vanilla

2 teaspoons

gelatin

2 ½ Tablespoons

water
---
Instructions
Preheat the oven to 350 F and place the rack in the lower third.
Line bottom of your 9 -inch springform pan with parchment paper, then place a double layer of extra-large aluminum foil under the pan and cover the bottom and sides of the pan, wrap it tightly around the sides to make sure no water gets in during baking in a water bath.
To make the crust stir together chocolate graham cracker crumbs and melted butter. Press the mixture into the bottom of the springform pan and place it in the fridge to firm while you are making the filling.
Melt milk chocolate and set aside to cool slightly.
To make the filling beat softened cream cheese and vanilla until smooth and creamy.  Gradually beat in sugar until light and fluffy.
Beat in eggs one at a time running your mixer on low speed and just slowly combine ingredients until smooth. You don't want to incorporate a lot of air into the batter or the cake will crack during the baking. Finally, pour in melted chocolate and mix just to combine.
Place springform pan into a roasting pan. Pour the batter into the springform pan and smooth the top. Pour boiling water in roasting pan halfway up the side of the springform pan make sure no water drip on the batter.
Place in the oven and bake 70-80 minutes (until the center has set). If it starts browning too much tent the top with aluminum foil.
Remove the cheesecake from the water bath, dry the bottom of the pan, run a thin knife around the edges to loosen the cake and let it cool to room temperature. When the cake is cooled, run a thin knife around the cake and release the ring from the springform pan. Transfer the cake onto the serving plate.
Strawberry Topping:
Dissolve gelatin in cold water and set aside to bloom.
In a saucepan combine strawberries, sugar, and lemon juice. Stirring constantly, cook over medium heat about 10-12 minutes. Add dissolved gelatin and cook for 2-3 minutes until gelatin melted completely.
Remove from the heat and stir in vanilla. Cool to room temperature (stirring occasionally), then spread over the cake. If the topping is still runny, place it in the fridge for 15 minutes, just be careful it has gelatin and it will set if it sits in the fridge too long.
Place the cake with topping in the fridge for 3-4 hours or overnight.
Garnish with fresh strawberries if desired.
Notes
This recipe requires a lot of cooling time so plan ahead.