If you love banana bread but blondies as well, you must try this easy Banana Bread Blondies recipe. This simple one bowl recipe makes the best, moist and fudgy, banana blondies with brown sugar and cinnamon. And with sweet browned butter frosting they are over the top!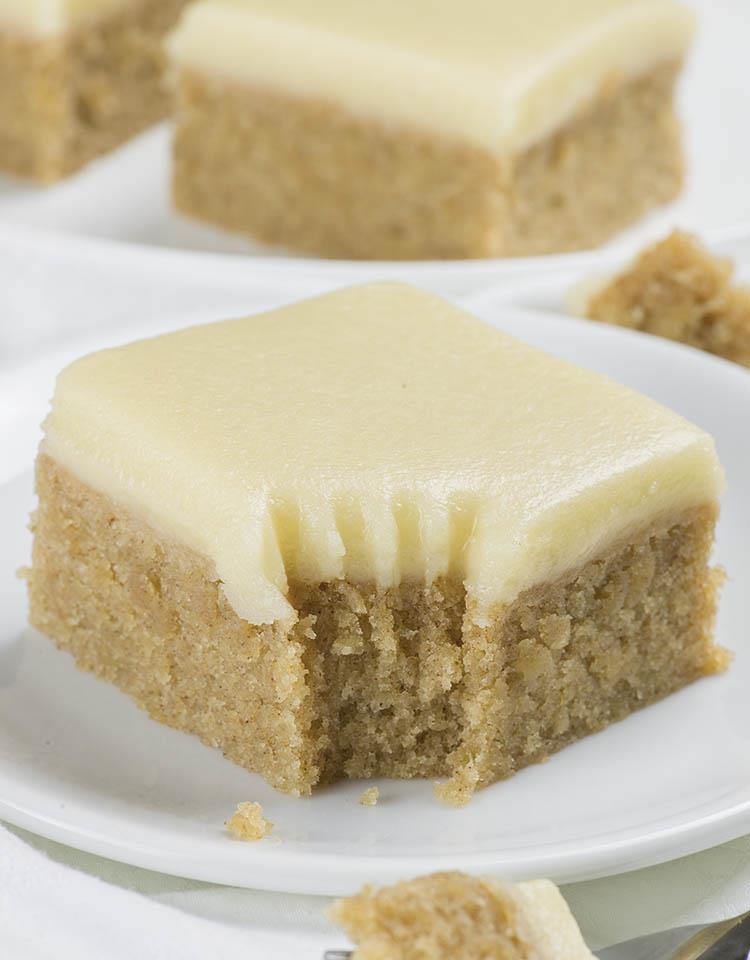 Banana Bread Blondies are delicious snack, lunchbox treat and the easiest and the tastiest dessert ever.
I thought combing two of my favorite treat, banana bread and blondies, would be great. And guess what! I was right, it turned out better than I expected!
Banana Bread Blondies have rich and sweet flavor of banana bread but with fudgy, moist, rich and dense texture. If you are looking for some cakiness of banana bread, you won't find it here.
So technically, these yummy bars are more like traditional blondie base just with banana mix in. But I called them "bread' anyway. It's because of the flavor.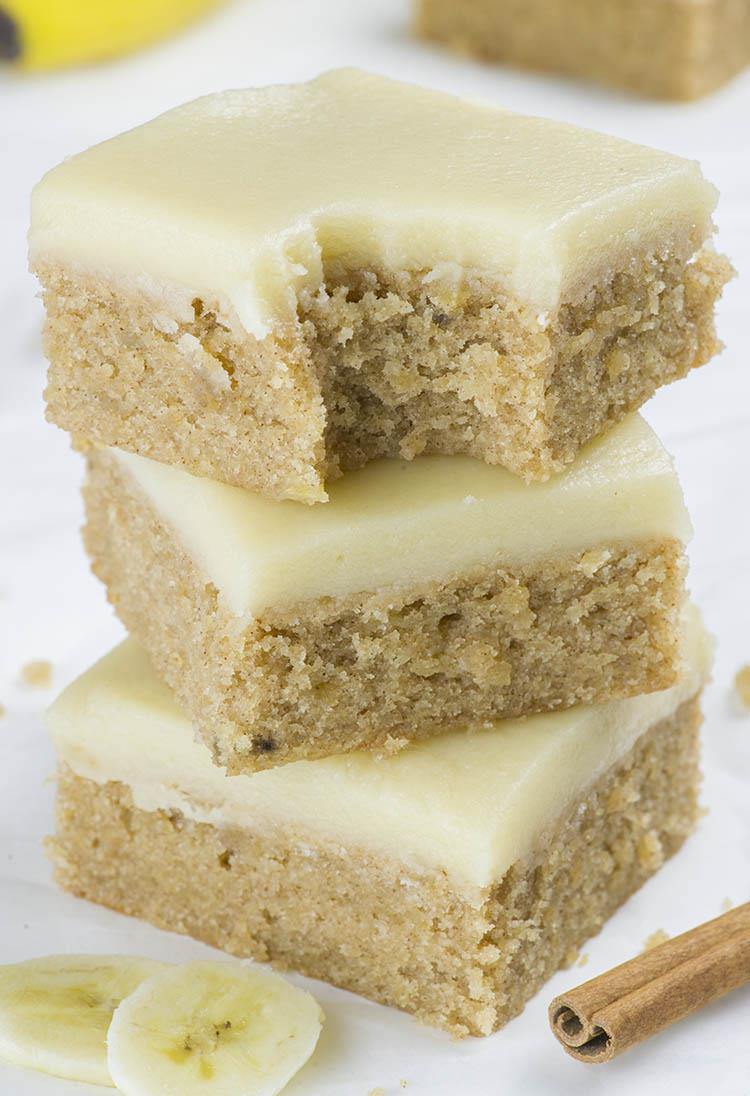 And since I called them 'bread' I don't see why these blondies couldn't be a breakfast, too?! They are perfectly suitable breakfast in my opinion.
I know that a lot of sugar is not quite healthy breakfast, but I can't resist. So sue me! I like to eat them for breakfast! You can make them without the glaze if you'll feel less guilty about it.
Actually these Banana Bread Blondies are great on their own, even without the brown butter frosting. They are already sweet and flavorful. They have amazing, rich flavor  combo of banana, brown sugar, cinnamon and vanilla.
Sometime I like to make them without the topping, especially when I need quick and easy snack or dessert. But I like to add a glaze to make them look fancy for some special occasion or a party.
To tell the truth, I became a little obsessed with banana baked goods lately. So if you want more ides go and check!
Easy Banana Recipes
Skinny Banana Chocolate Chip Muffins 

Banana Bread Blondies Recipe
Banana Bread Blondies
---
If you love banana bread but blondies as well, you must try this easy Banana Bread Blondies recipe. With sweet browned butter frosting they are over the top!
Ingredients
For Blondies:
½ cup unsalted butter-melted
1 cup light brown sugar
¼ teaspoon salt
1 large egg
2 teaspoon vanilla
1 ½ -2 teaspoon cinnamon (to taste)
1 cup flour
½ cup mashed banana (one medium-large banana)
For Frosting:
¼ cup butter
6 Tablespoons light brown sugar
2 Tablespoons milk
Dash of salt
1 teaspoon vanilla
1 cup powdered sugar
Instructions
Preheat oven to 350 F and line 8 x 8 inch baking pan with aluminum foil (leaving an overhang on the sides to lift the finished blondies out) and spray with cooking spray , set aside.
To make the blondie batter, in a medium bowl mix together melted butter, sugar and salt. Add egg vanilla and cinnamon and mix until well combined. Add mashed banana and mix to combine.
Add flour and mix until combined and smooth. Pour the batter into prepared pan, smooth the top and bake for 25-30 minutes, or until center has set. Remove from the oven and allow to cool to room temperature.
To make the frosting in a medium sauce pan melt the butter and continue cooking over medium heat until reach nice amber color, stirring constantly(be careful not to burn it). Add brown sugar, milk and a dash of salt, stir and bring to boil. Remove from heat and cool for 10-15 minutes.
Whisk in vanilla and powdered sugar. Spread over the blondies. Allow frosting to set before slicing and serving.
7.6.4
335
https://omgchocolatedesserts.com/banana-bread-blondies/
Show All Comments
Close All Comments