Banana Bread Cheesecake is melt-in-your-mouth, delicious combo of smooth and creamy vanilla cheesecake and the moistest chocolate chip banana bread. You get two delicious treats in one! And if that's not enough for you, there is cream cheese buttercream frosting on top of this unique delicacy. This double dessert would be perfect to make for Easter brunch!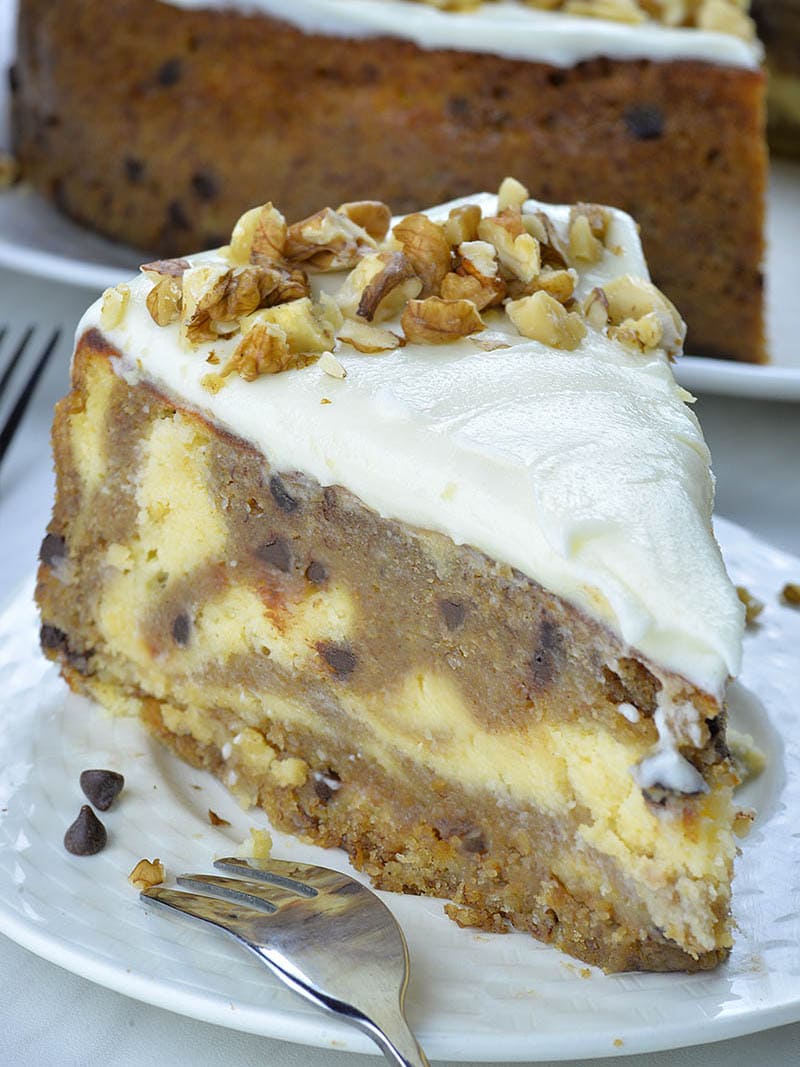 Banana Bread Cheesecake
Banana Bread Cheesecake is one of the best desserts I've ever made. Why? You get two in one. For this unique dessert I combined my favorite one-bowl Chocolate Chip Banana Bread recipe and my New York Style Cheesecake.
Chocolate Chip Banana Bread is simple, quick and easy recipe for super moist and flavorful homemade banana bread with just a few simple ingredients and a five minutes of prep time!!! Classic New York Style Cheesecake is rich and dense, but creamy and smooth at the same time.
But, this combo of banana bread and vanilla cheesecake turned out absolutely delicious!!!

MY LATEST VIDEOS
A few days ago scrolled trough my Easter recipes  and found my Carrot Cake Cheesecake, that I completely forgot. And that's how I came up with the idea for this recipe. So, I thought, why won't I try something similar this Easter, but this time with banana bread. And will be great for Easter brunch.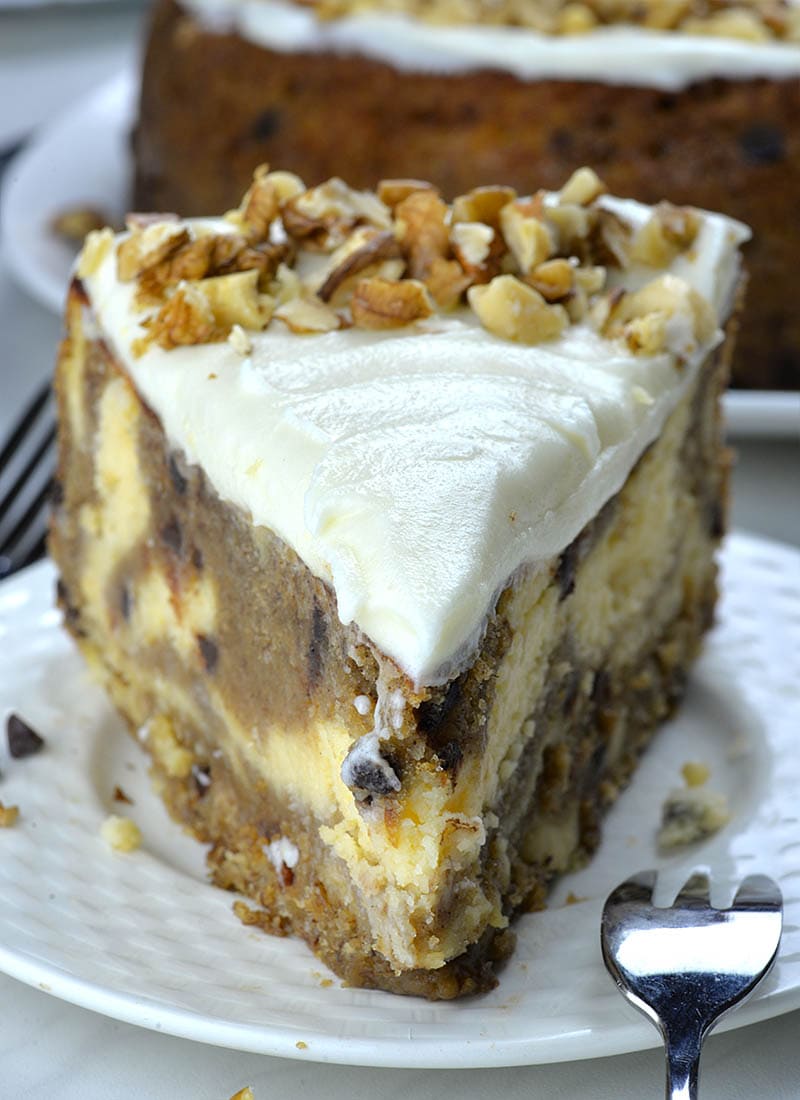 However, I really like to have cream cheese swirls in my breads  and coffee cakes, but sometimes just a swirl or thin layer of cheesecake is not enough for me. So, I decided to try to make a dessert that would have equal part of bread and cheesecake batter.
Therefore, I made two batters. First one is my chocolate chip banana bread and the other is vanilla cheesecake. Then I layered them random by the large spoonful into the springform pan and didn't swirl the batter with a knife. I let them swirl by themselves as they bake. Randomness adds to its charm!
This Banana Bead Cheesecake is such a fun alternative to traditional cheesecake and banana bread. And this two delicacies baked together makes one show-stopper dessert! It's the ultimate spring dessert, perfect for Easter table. Everyone will be impressed!

Craving for more banana recipes? Check these :
Banana Upside Down Cake is incredibly moist and flavorful dessert, but it could be great breakfast or snack, too.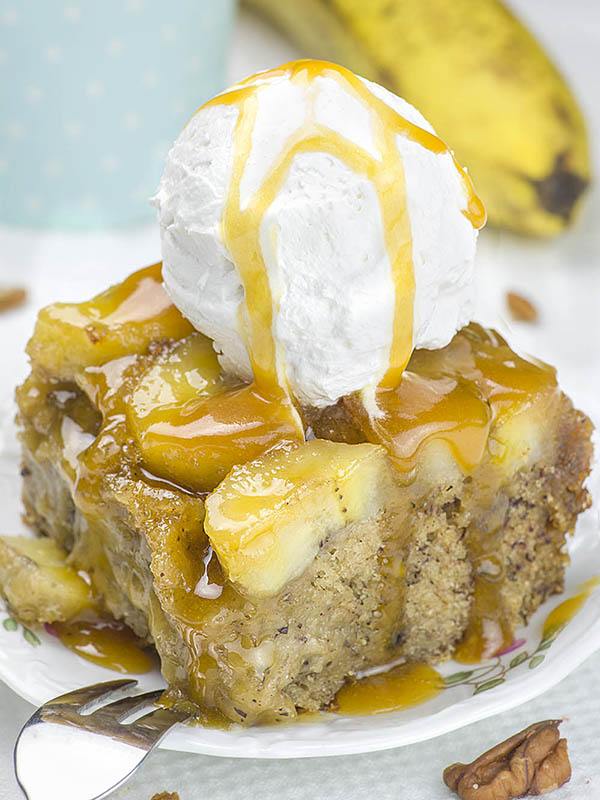 If you love banana bread but blondies as well, you must try this easy Banana Bread Blondies recipe. This simple one bowl recipe makes the best, moist and fudgy, banana blondies with brown sugar and cinnamon.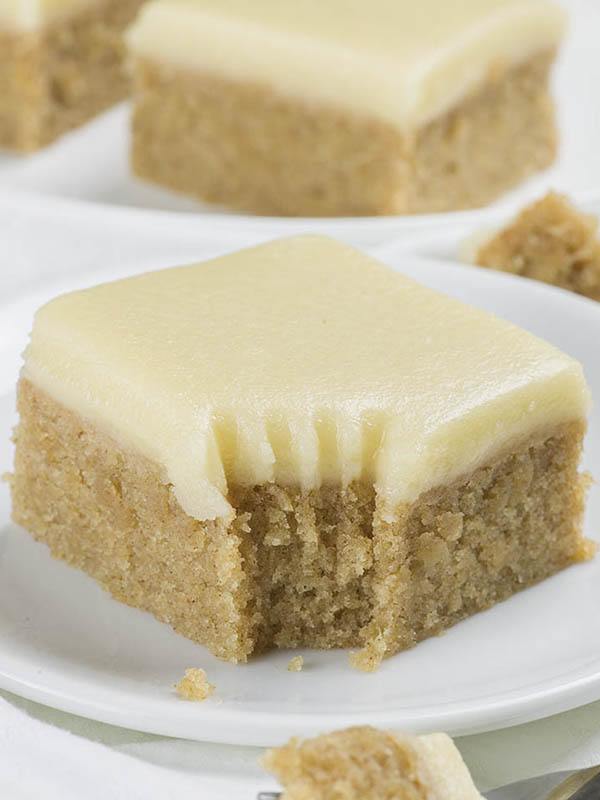 Print
Banana Bread Cheesecake
---
Author:

Prep Time:

30

Cook Time:

90

Total Time:

120

Yield:

12

Category:

dessert

Method:

bake

Cuisine:

American
Description
Banana Bread Cheesecake is melt-in-your-mouth, delicious combo of sooth and creamy vanilla cheesecake and the moistiest chocolate chip banana bread. You get two delicious treats in one!
---
Ingredients
Cheesecake:
16 oz. full-fat cream cheese-softened to room temperature
1/4 cup sour cream
3/4 cup sugar
1 teaspoon vanilla extract
1 Tablespoon all-purpose flour
2 eggs + 1 egg white
Banana Bread:
½ cup vegetable oil
½ cup sugar
6 Tablespoons brown sugar
1 egg+ 1 egg yolk
1 teaspoon vanilla extract
2 large or 3 small bananas-mashed(about 1 ¼ cups )
1 ½ cups all-purpose flour
1 teaspoon baking powder
½ teaspoon baking soda
¼ teaspoon salt
1 ½- 2 teaspoons ground cinnamon (to taste)
½ cup miniature chocolate chips
Cream Cheese Frosting:
3 oz. full-fat cream cheese-softened to room temperature
3 Tablespoons unsalted butter-softened to room temperature
2 cups powdered sugar- sifted
1 teaspoon vanilla extract
1/8 teaspoon salt
1-2 Tablespoons sour cream
1/3 cup chopped walnuts-for garnish
---
Instructions
Preheat the oven to 350 F and line the bottom of a 9-inch springform pan with parchment paper, then grease bottom and sides with nonstick cooking spray. Wrap springform pan in 2 layers of aluminum foil on the bottom and tightly around the outside walls of the springform pan to prevent the water leak in the pan while baking in water bath. Set aside.
Cheesecake:
To make the cheesecake beat the cream cheese and granulated sugar together on medium speed in a large bowl until the mixture is smooth and creamy.
Then add sour cream, vanilla and flour and beat until combined.
On low speed, add the eggs and beat until combined ( do not overmix the batter!!!) and set aside.
Banana Bread:
To make banana bread stir together dry ingredients: flour, baking powder, baking soda, salt and cinnamon, then set aside.
In a medium bowl, mix the oil, brown sugar, sugar, eggs and vanilla until sugar dissolves. Add mashed banana and mix to combine. Add dry ingredients and mix just until combined. Stir in chocolate chips.
Spread 1 and 1/2 cups of banana bread batter over bottom of prepared pan. Drop large spoonfuls of the cheesecake batter on top of banana bread batter. Top with large spoonfuls of banana bread batter. Repeat with remaining cheesecake mixture and finish with remaining banana bread batter. Do not swirl!!!
Place the springform pan into a large roasting pan, fill with about 1 inch of hot water and place in the oven.
Bake for 75-90 minutes or until the center is set. If it starts browning too much, loosely top with aluminum foil. When toothpick inserted in the center comes out almost clean with a few moist crumbs attached, turn the oven off and open the door slightly. Let the cheesecake sit in the oven for 1 hour.
Remove from the oven and cool completely at room temperature, then refrigerate for 5- 6 hours or overnight (preferred). When the banana bread cheesecake is completely cooled, loosen from the ring of the pan and remove the ring.
Frosting:
To make the cream cheese frosting, beat the cream cheese and butter together on medium-high speed in a medium bowl until smooth and creamy.  Then gradually add the powdered sugar, vanilla and salt. Beat on high speed until smooth and creamy.
Beat in 1-2 Tablespoons of sour cream, depending how thick or thin you want the frosting. Spread onto chilled cheesecake. Garnish with chopped walnuts, if desired.
Cut into slices and serve chilled. Store leftover covered in the refrigerator for up to 3-4 days.