If I told you the recipe for this beautiful Truffle cake was published two years ago, you will surely ask yourself "how come I didn't see these beautiful photos on Pinterest, Facebook or some other place like that?" OK, I don't want to keep you waiting for long, so I will give the secret away immediately! It is a recipe from a wonderful Serbian food blog under the name "La Cuisine Creative". And since the probability of you understanding Serbian is very small, everything is very clear.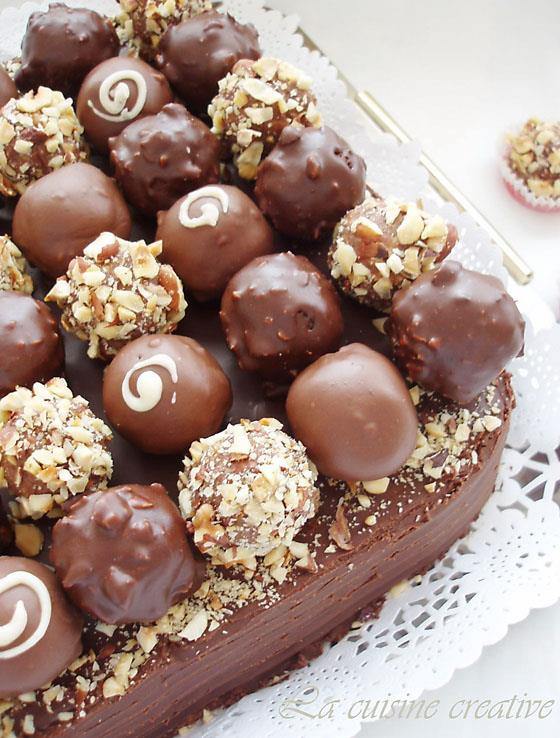 Since Serbian is my native language, I like to take a look at some fantastic food blogs from time to time. Reading recipes and watching photos of masterpieces like this Truffle cake, I often feel sorry that these recipes are not available in English.
And Just like that, I decided to try and fix the situation as much as I can and share some of these divine recipes with people who like good food all over the world. Without thinking, I went to one of my favorite Serbian blogs "La Cusine Creative". Just by looking at the photos, without reading the recipes, you will conclude that Lana, the author of the blog, is really an artist at making various delicious dishes. I especially like the part with Lana's deserts, which are extremely delicious and also extremely beautifully decorated.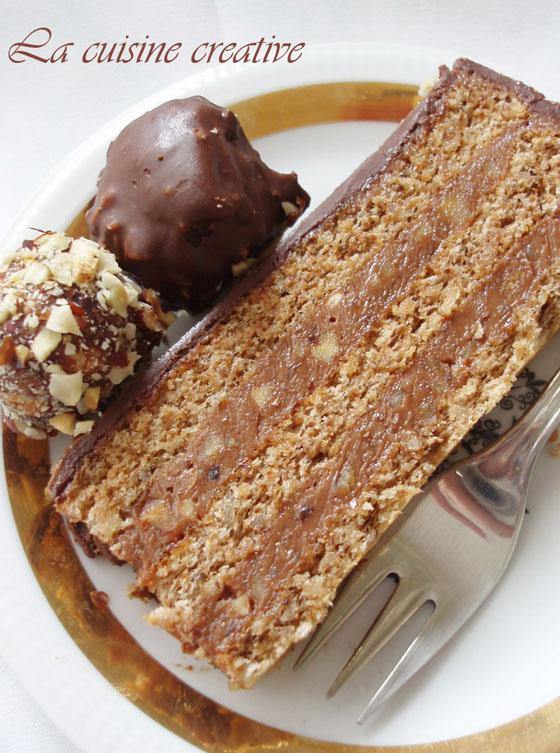 And since I'm in contact with Lana for some time now, my proposal to translate some of the recipes into English was duly accepted. There was only one problem left: decide which recipe to translate. After some debate, the decision was made to introduce to you this Truffle cake which Lana made for her father's birthday. This is one of my favorite recipes from her blog and I really hope you will like it too. Here are the instructions. Enjoy!
Print
Truffle Cake
---
Author:

Prep Time:

1 hour 30 minutes

Cook Time:

25 minutes

Total Time:

1 hour 55 minutes

Category:

Dessert
Ingredients
For the cake:
8

eggs,

8 tablespoon

sugar,

16 tablespoon

grounded walnut,

2 tablespoon

flour
For the frosting:
4

eggs,

8 tablespoon

sugar,

1 teaspoon

vanilla,

3

,5 oz chocolate-chopped,

3

,5 oz walnuts-toasted and chopped,

2

stick butter
For the Truffle :
1

//2 cup heavy cream ,

1

stick butter,

9 oz

chocolate-chopped,

3

,5 oz hazelnut,
grated orange zest

3

,5 oz chocolate melted with 3 tablespoon oil for coating
---
Instructions
For the cake:
Preheat the oven at 390 F and line large jelly roll pan with baking paper.
Beat the egg whites until the stiff peaks form. Add sugar, one teaspoon at the time and continue mixing.
Add yolks, one by one while mixing.
Stir in flour and grounded walnuts.
Pour the mixture in the prepared pan and bake for about 20-25 minutes.
To make the frosting;
Beat the eggs with sugar well, than cook in double boiler over medium heat, stirring frequently until mixture start to thicken, add chopped chocolate and mix until it's melted completely.
Set aside to cool at room temperature.
In cooled mixture add softened butter and mix well.
Separate a small amount of the frosting to coat the cake and in the rest of the frosting mix in toasted,chopped hazelnuts.
Cut the cake in three rectangles, drizzled each rectangle with a little cooked sugar syrup and fill the cake.
Frost the cake and set it in the fridge for a few hours.
When it's cooled completely cover the cake with melted chocolate on top, sprinkled rims with chopped toasted hazelnut and garnished with the truffles on top.
Take the cake out of the fridge half an hour before serving to make it easier to cut and chocolate glaze wouldn't crack .
To make the truffle
Melt over low heat butter and whipped cream, then increase the heat bring the mixture to boiling, remove from the heat.
Add chopped chocolate and stir until chocolate is completely melted.
Divide the mixture into 3 parts and in the first one add 1.8 oz ground roasted hazelnuts, in the second part add a little grated orange zest, and in third add 1 tablespoon of coffee liqueur or 1 teaspoon capuccinno powder.
Set in the fridge for a few hour to harden, than roll in the balls ( make about 40 truffle)
Roll the truffle in chopped roasted hazelnuts or cocoa powder, and drizzle with melted chocolate.
Dip some truffle into melted chocolate to make the chocolate coating.