These pudding filled snickerdoodle poppers are so delicious and addicting! Easy to make, these treats are perfect for parties and gatherings.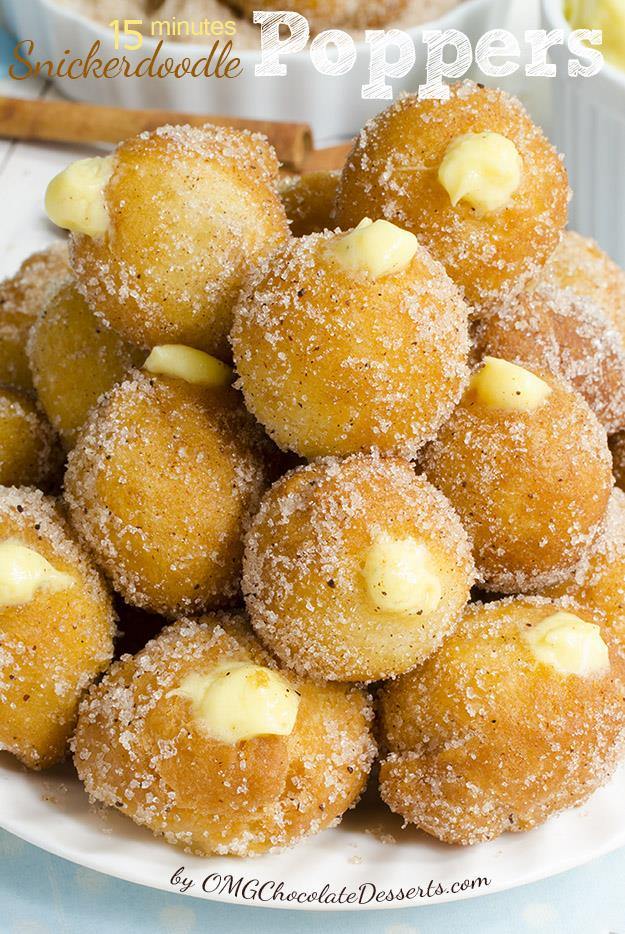 Snickerdoodle Poppers
"Me or your blog. Choose! I really don't have the strength to fight the diet when you talk all the time about the treats you have to try" my husband was decisive a few days ago.
I really made a mistake. If you read my post about Chocolate Peanut Butter Parfait, then you know the story behind my husband's diet. Oh, if I had a dollar for each of them 😕 Three days of rigorous eating and then the fourth day, everything falls apart in a pile of chocolate and candy. This morning, it was day 10 and Darko had broken none of the rules.
But, my blog couldn't stand still because of his diet. The solution was a quick dessert which is prepared in 15 minutes and eaten even quicker than that. My husband will only be able to view the photos on my blog and shed tears because of the heaven he missed.
And this time the solution was 15 minutes Snickerdoodle Poppers which I had not made until now. The plan was perfect: 5 minutes to prepare the kitchen, 15 minutes for baking the Snickerdoodle Poppers, 20 minutes of taking photos and 15 minutes for getting the kitchen back in the old state 😕  After that, an escape to my friend, where we will hide the last traces of Poppers enjoying them with coffee. All in all, two hours, which is exactly the amount of time my husband spends on a badminton training session.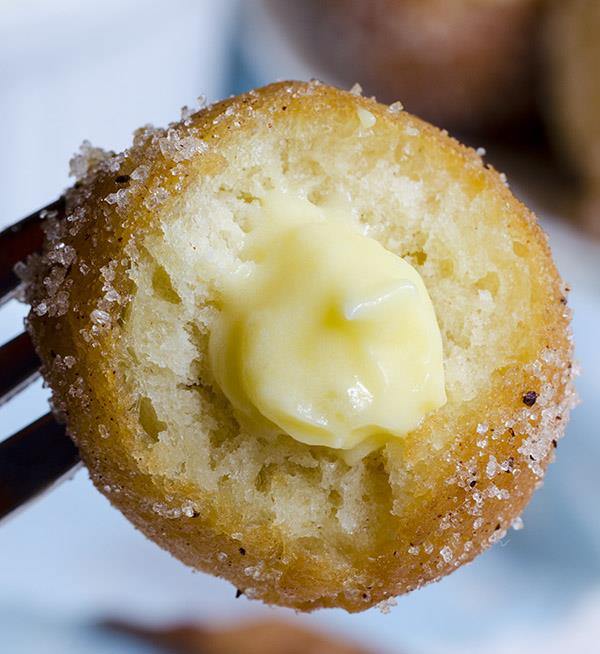 Done and done 😕 As soon as Darko closed the door, everything started to go to plan so the prepared paste for the Snickerdoodle Poppers was quickly filling the kitchen. As soon as the baking was over, the next step was to roll them in cinnamon and sugar. The first ones were already cool and ready to for a beautiful filling with chocolate and vanilla pudding .
Another look at the clock. It's 25 minutes! Everything was still according to plan. A few photos and in no time I was at my friends place with the poppers, and she was already waiting with hot coffee.
"Mmmmmmm, these Snickerdoodle Poppers are beautiful. I simply wish your husband was on a diet for a few more weeks" my friend was joking around. Tanya and I were munching the poppers and sipping the coffee with huge enjoyment.
A few hours later, my husband remembered the blog in a conversation!
"Vera, thanks for making a break in the blog for a few days, it's really hard when you make your treats and I'm on a diet. I hope that your blogging friends won't be mad at me" said Darko.
"It doesn't matter! We'll find a solution. It's good that the diet is going to plan. The blog can wait" I answered laughing inside myself and thinking of the expression on his face when he reads this post about 15 minutes Snickerdoodle Poppers 😉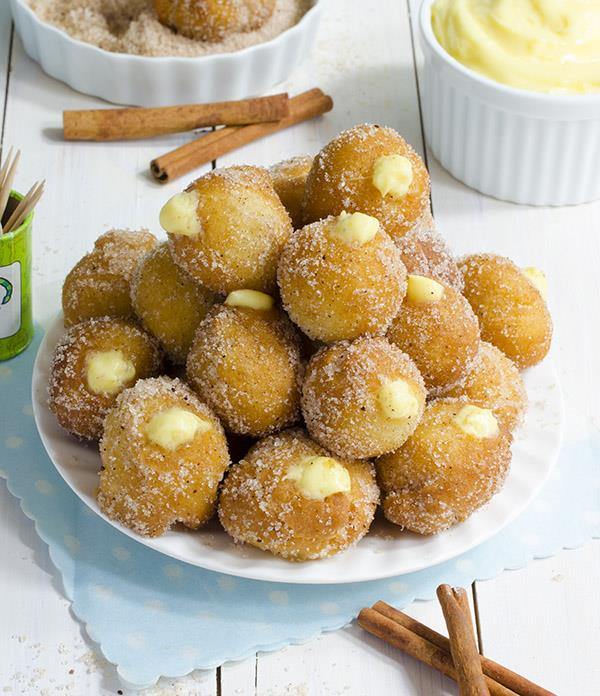 Print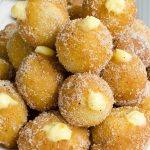 Snickerdoodle Poppers
---
Author:

Prep Time:

5 minutes

Cook Time:

15 minutes

Total Time:

20 minutes

Yield:

30

poppers

1

x
Category:

Dessert

Method:

Stove

Cuisine:

American
Description
These pudding filled snickerdoodle poppers are so delicious and addicting! Easy to make, these treats are perfect for parties and gatherings.
---
Ingredients
1 1/4 cups

all-purpose flour

2 teaspoon

baking powder

1/4

tespoon salt

1/4 cup

milk(room temperature)

1/4 cup

plain yogurt (room temperature)

1/4 cup

granulated sugar

3 tablespoon

butter (melted)
vegetable oil (for frying)
For coating:
2/3 cup

granulated sugar

1 1/2

–

2

teaspoon cinnamon
For filling:
1

box of instant vanilla JELLO

4oz

. white chocolate
---
Instructions
Combine 2/3 cup sugar and cinnamon and set aside.
In a small bowl whisk together flour, baking powder and salt.
In a medium mixing bowl whisk together milk, plain yogurt, sugar and melted butter. Stir in dry ingredients and mix just until combine.
In a medium pot heat about 2" vegetable oil at 350 F.
Roll out about 1/2 tablespoonfuls dough into ball with your hands (roll it gently) Place dough ball into oil and fry until golden brown ( flip the ball when it's golden brown to cook evenly both sides). Work in small batches because you have to work fast.
Transfer baked balls onto a paper towel lined plate to drain, then roll in cinnamon sugar mixture. Repeat this process with remaining dough.
Prepared instant jello and mix in melted white chocolate. Transfer it into a pastry bag with filling tip.
Using a filling tip, poke the poppers going about halfway in and then squeeze the filling.