Have you ever met penguin cupcakes family? No? Then let me introduce you young penguin couple with their cute son 🙂 They decided to jump on our kitchen table directly from South Pole.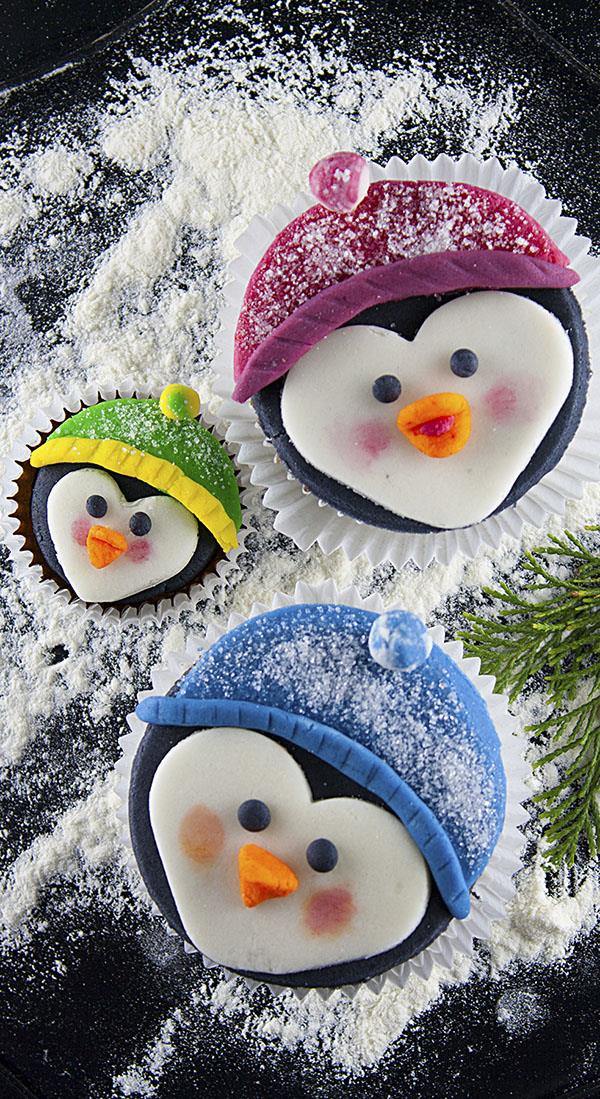 A few days ago, looking through some files on my hard disk, I found a folder with my first "attempts" of food photography. It was soooo fun watching the bad attempts maid by my old compact camera in a badly lit kitchen. I have really gone a long way in these three years.
Yes, maybe you didn't know that my first blogging attempt was with a blog on which I wanted only to give out cupcakes recipes almost three years ago. In those days, I loved cupcakes and was delighted by the fantastic posts on the Your Cup of Cakes blog. But, after some 10-15 recipes,  figured out that my photos are not on the level of that great blog and a few others that I loved reading at that time. I wanted to give up on blogging.
But, my husband gave me a push, he gave me wings and so here I am in a new blogging story which you are reading at this very moment. But this time, with a new camera, and a much better lens along with a ton of articles on photography, blogging and similar things that I have read.
Looking at my old photos, I still found one really beautiful. Maybe the quality was not too great, but the idea looked to me as it looks now – very interesting. It were beautiful chocolate cupcakes which I made in honour of the coming winter and new year festivities. They were made of fondant and I garnished them so they would look like a family of penguins. My sweet little family was made of mom, dad, and a little "son" Penguin Cupcakes . Really sweet. I remember that these cupcakes stood for a long time as a decoration in the kitchen and were simply never eaten.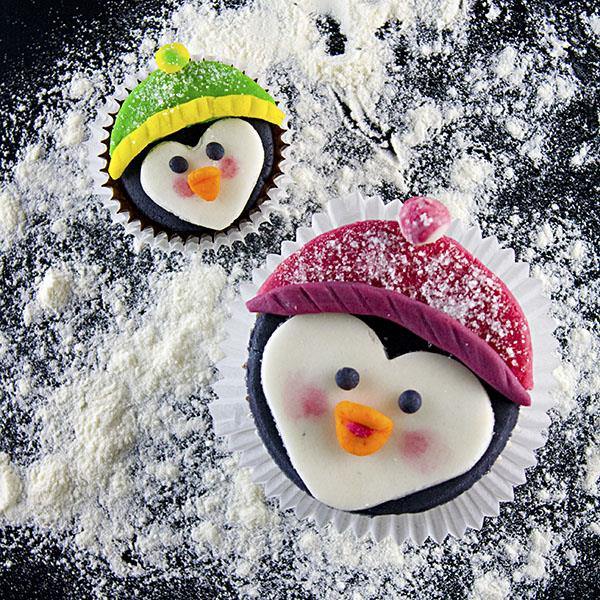 Since this post is not on the internet for a long time, I decided to revive my sweet little family of Penguin Cupcakes and post this ancient photo in honour of the coming winter holidays as well as in honour of my whole blogging story.
Of course, for all of you that like this, the instructions are here and I hope that my little family of penguins will decorate many kitchens this winter. Enjoy!!!
Print
Penguine Cupcakes
---
Author:

Category:

Desserts
Description
Have you ever met penguin cupcakes family? No? Then let me introduce you young penguin couple with their cute son 🙂 They decided to jump on our kitchen table directly from South Pole.
---
Ingredients
For the Chocolate Stuffed Cupcakes:
2 1/2 cup

s all-purpose flour

1 1/2 cup

s sugar

1 teaspoon

baking powder

1 teaspoon

fine salt

3 tablespoon

of cocoa

1 1/2 cup

s vegetable oil

1 cup

milk

2

large eggs

1 teaspoon

white distilled vinegar

1 teaspoon

vanilla extract
the finest white chocolate bar
[br]
For the Chocolate Buttercream:
1/4 cup

butter

1 cup

icing sugar

1 teaspoon

cocoa powder

1 teaspoon

vanilla
For Decoration:
fondant
food colors
sanding sugar
---
Instructions
For the Chocolate Stuffed Cupcakes:
Preheat the oven to 350 degrees F, and line your cupcake pans with your liners. Use regular sized cupcake pans and mini sized if you want to make some mini sized Penguins Cupcakes
In a large bowl, mixed together flour, sugar, cocoa, baking powder and salt.
With electric mixer beat together egg, oil, milk, vinegar and vanilla.
Add the dry ingredients into the wet ingredients and mix well just until evenly combine.
Cut the white chocolate bar into pieces; place a square into each cup (and 1/2 of the square for mini sized cupcakes)
Fill cupcake liners about 2/3 full.
Bake until a toothpick inserted in the center of a cupcake comes out clean (it takes about 20 minutes)
Wait the cupcakes cool completely before icing.[br]
For the Chocolate Buttercream:
Mix the butter in a bowl, gradually add icing sugar and cocoa until desired consistency is reached, add the vanilla and mix well.
Spread the thin layer of the buttercream over each cooled cupcake to get the smooth surface in order to be able to place the fondant on it.[br]
Assembled the Penguins:
Color some fondant in black, rolled it out and cut out the circles large enough to cover the cupcakes, then placed it onto the buttercream covered cupcake and press it gently to lie down nice over the cupcake.
Rolled out white fondant and cut out hearts. Using the brush wet a little bit the white fondant over the bottom side and stick it on the black fondant, press gently, then cut the excess of white fondant
Roll tinny black balls of black fondant, press them into the circle and using wet brush stick them to be the eyes of the penguin
Color a little fondant in orange and shape the beaks, stick them with wet bush on the penguins face
Make rosy cheeks with paint brush and pink food color
Make the hat of the colored fondant (use any colors you like: blue, green, red…). Cut the circle than chopped the tops and stick above the penguin's face.
Wet the hats and sprinkle some crystal sugar to get the snowy effect. Pick the small part of toothpick on top of the hat and put the small balls of fondant to make the pompon, or add any other fashion details to decorate the hats.