Old Fashioned Coconut Cream Pie is fluffy and creamy homemade pie, loaded with coconut flavor, like your grandmas used to make.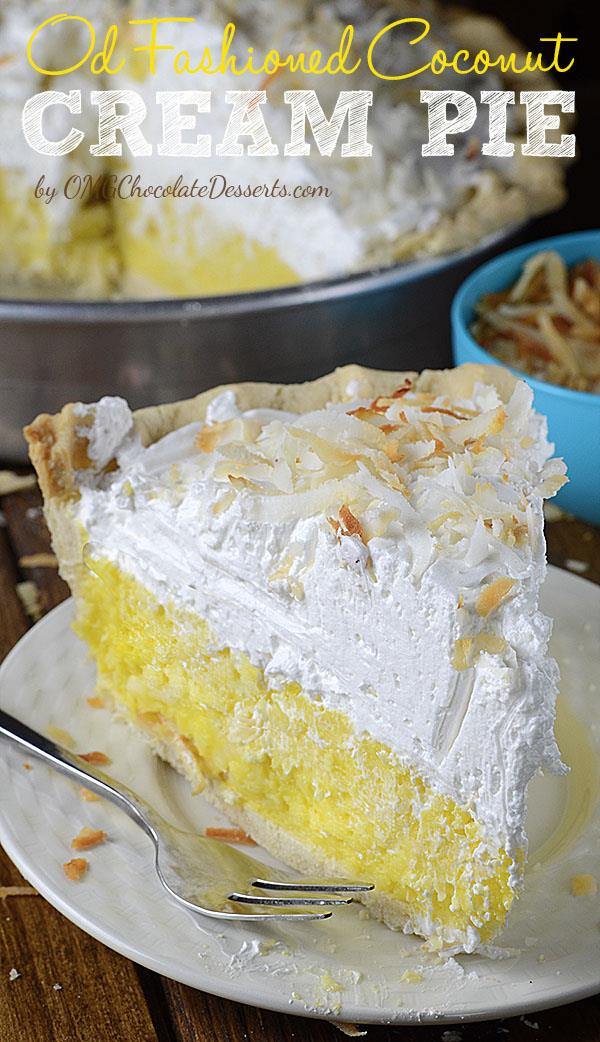 Sometimes, it's nice to treat yourself with a homemade dessert just like our moms and grandmas used to make. And if you are not really experienced in the kitchen, don't  be afraid, the recipe is not really complicated. All you need is a little effort and patience for everything to cool down and you will have a delicious pie on the table, just like the one you used to eat as a child 🙂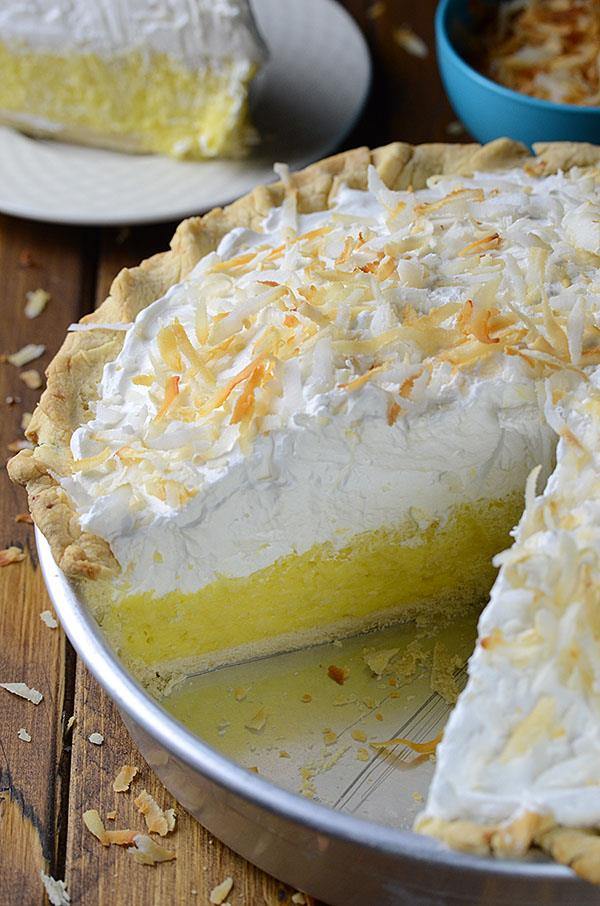 If you don't have much time, you can even use a few shortcuts. You can buy a pie shell and cover the pie with frozen whipped topping. But, if you prefer to do everything by yourself, it's really not that hard and nothing can compare with the aroma of the crispy, freshly baked crust that spread trough your home. To keep the pie shell crispy, cool it well before you pour the coconut filling on it. Custard also must be cool enough, but don't chill it all the way to set, it should be barely warm, but still pourable, when you transfer it in the crust.
If you are like me and love the taste of coconut but hate it's stringy texture, there is a solution for that. Instead of regular sweetened flaked coconut, just use the finely shredded unsweetened coconut which is cut in really small pices. But if you don't have it, try putting the flaked coconut through the food processor to break it up into finer pieces and then reduce the amount of sugar in the pie.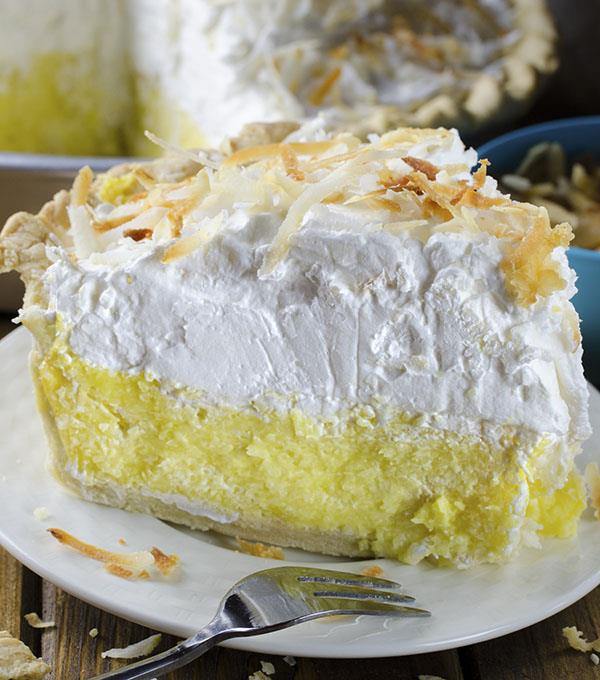 Use the flaked coconut just for the topping, but toast it for a few minutes before that in the oven. It should get a nice golden – brown color and a crispy texture. While you bake the coconuts, keep an eye on it because it could easily happen that you get a pile of burnt coconuts (like it happened to me a few times).
After all, it is up to you weather to make the crust by yourself, mix the whip cream, bake the coconuts, or simply buy all the ingredients ready to use. Because, when you put it all together with this tasty, creamy coconut custard filling, your Old-fashioned coconut cream pie will definitely be heavenly 🙂

Print
Old Fashioned Coconut Cream Pie
---
Author:

Category:

Dessert
Ingredients
For Pie Crust:
1 1/2 cup

all-purpose flour

1/4 teaspoon

fine salt

1 teaspoon

sugar

1/2 cup

unsalted butter- cold and cut into small cubes

3

–

5

Teaspoon cold water
(or 1 baked 9 or 10″ pie shell)
For Coconut Custard Filling:
4

egg yolks

1/4 cup

+

2 Tablespoon

cornstarch

3 cup

s half-and-half

3/4

c +

1 Tablespoon

sugar

1/2 teaspoon

salt

2 teaspoon

vanilla

1 cup

unsweetened finely ground coconut (if you use sweetened flaked coconut cut the sugar to

1/2 cup

and process the coconut in a food processor to make it fine instead of stringy)
For Topping:
1/2 cup

toasted sweetened flaked coconut

1 1/3 cup

s heavy whipping cream

3 Tablespoon

powdered sugar(or more, to taste)
---
Instructions
To make the crust:
In a large bowl whisk together flour, sugar and salt.
Add butter and mix with a fork until it starts to look like a coarse meal.
Add 1 tablespoon of water at the time and continue mixing until a dough forms.
Shape it into a disk, wrap with the plastic wrap and refrigerate for 30 minutes or more.
Lightly greased 9-inch pie plate and preheat oven to 375 F.
Take the dough from refrigerator and roll out on a lightly floured work surface into a circle about 1/8 inch thick.
Transfer the dough to a pie plate and trim excess of a dough from edges, poke the crust with the fork so that it doesn't puff up while cooking and bake about 20-30 minutes at 375 F (until become golden-brown), set aside to cool.
To make the custard:
Whisk the yolks in a bowl, set aside
In a medium saucepan stir together cornstarch, sugar and salt. Add the half-and-half and stir well. Use a spatula to scrap all dry ingredients from the bottom to avoid lumps. Stir in egg yolks. Bring to a boil over low heat, stirring constantly!!! When it starts to thicken remove the pan from the heat and stir in 1 cup unsweetened finely ground coconut t and the vanilla extract.
Let the filling cool slightly,about 30 minutes(stir occasionally while it's coolong) and pour into a baked and cooled pie shell. Cover with plastic wrap and refrigerate for 2 hours until set.
To make the topping:
Preheat the oven to 325 F, spread sweetened flaked coconut coconut on a baking sheet and bake it until golden brown, about 5 minutes (stirring from time to time),set aside to cool.
Beat heavy whipping cream and powdered sugar together until soft peaks form, spread over the pie and sprinkle with toasted coconut. Store in the fridge.