Caramel Apple Jello Shots are super fun twist on Halloween party staples- Caramel Apples and Jell-O Shooters! Boozy caramel apples are easy to make, taste great and they will be a huge hit at every party!!! Non-alcoholic- kids friendly recipe included!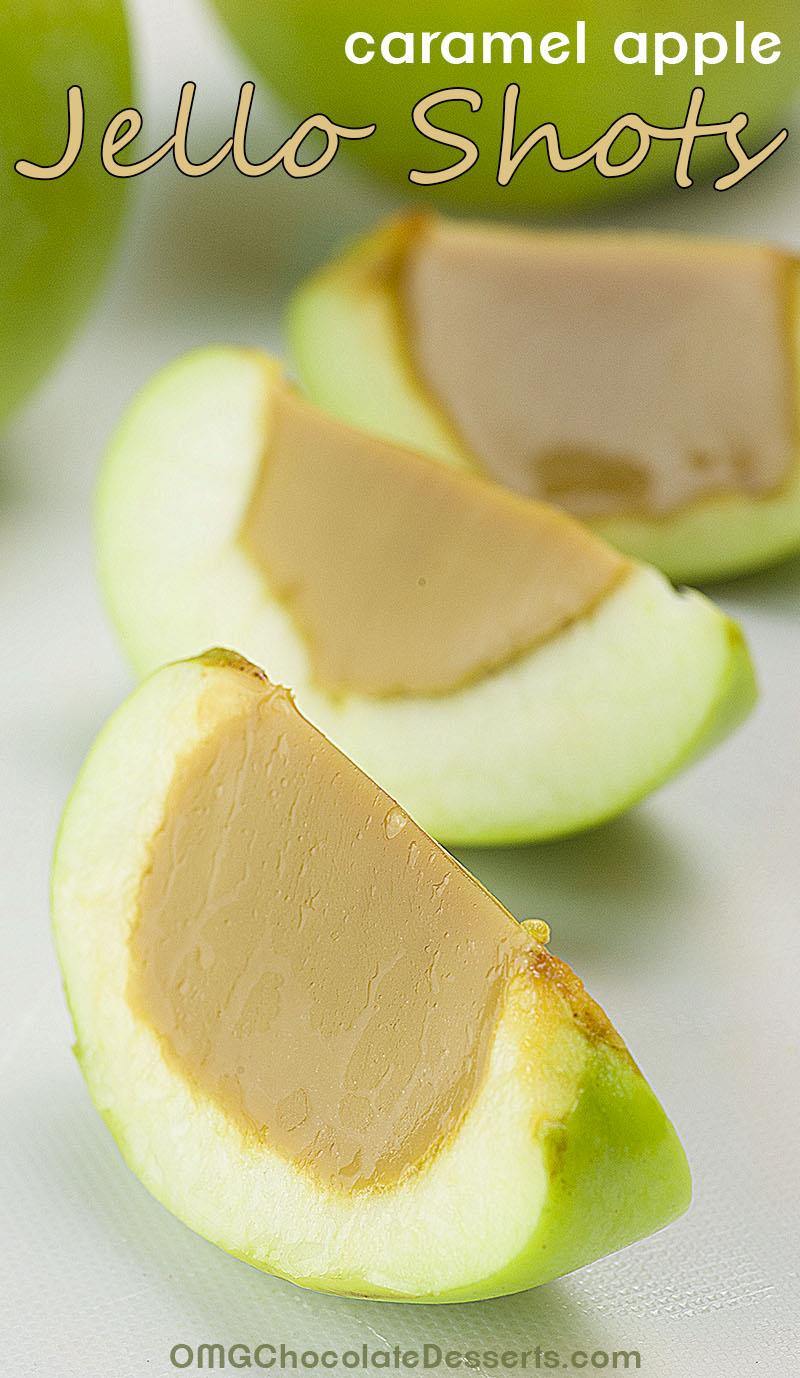 This awesome twists on Halloween classics is  much easier to make. With these boozy little treats you'll have delicious and sweet Caramel Apples and popular Jell-O Shooters, all packed in one bite.
I made mine Caramel Apple Jello Shots with Vodka, but you could easily adapt this recipe and you can spike them with your favorite liquor. Vodka and butterscotch schnapps are the most popular options but anything is possible! You can change alcohol content by using different alcoholic drink or you could substitute with part of water.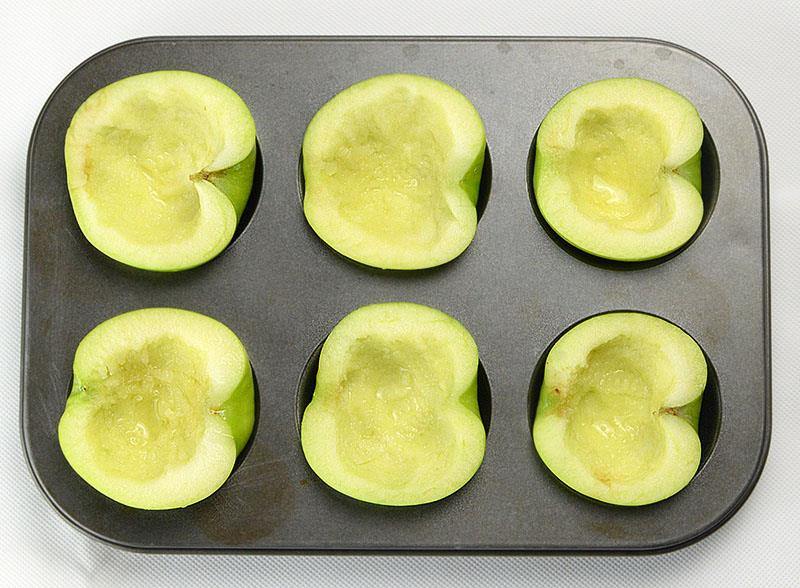 If you don't want to get boozed or you need a KIDS FRIENDLY TREAT you can use just water instead of liquor!!!
Caramel Apple Jello Shots are so fun to serve and eat but they are also as much fun to make because the recipe is super simple.
Just cut the apples in half, scoop out the inside, brush with lemon juice to prevent browning, arrange them on a muffin tin, and pour simple, boozy caramel jello filling. After a few hours of chilling (until the jello has set) you can slice them and serve! The real party starts here!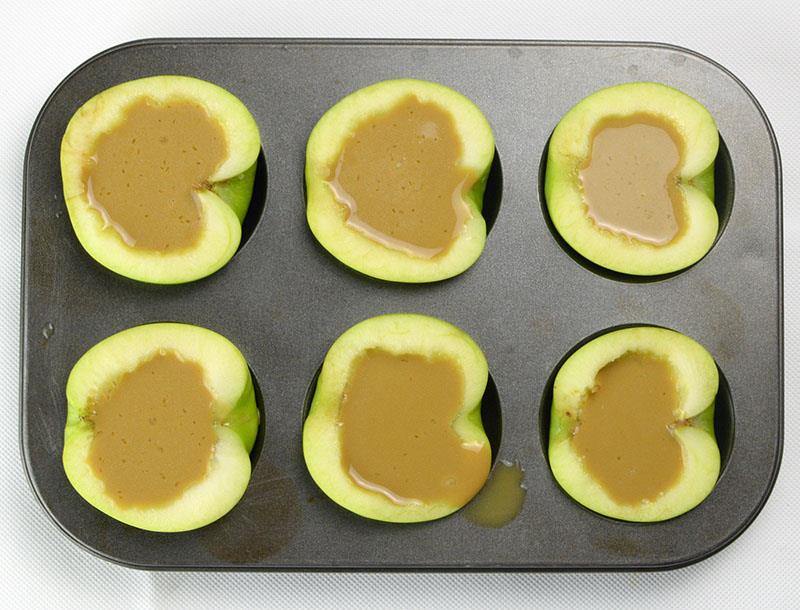 You'll have so much fun with these Halloween treat! Just don't get boozed too much!
I made a VIDEO just to show you how much fun is this. A video says a lot more than a thousand words or photos. So watch this Caramel Apple Jello Shots video recipe and the party can start!
Caramel Apple Jello Shots are so tasty and addictive, be careful, don't take too many!!!
Caramel Apple Jello Shots – make a special Halloween treat or fun dessert using apples and melted caramel.
PRINT OR PIN THE RECIPE: https://omgchocolatedesserts.com/caramel-apple-jello-shots/

Posted by OMG Chocolate Desserts on Saturday, September 24, 2016
Have a great Halloween party this year!
The credit for this awesome recipe goes to "jello shot queen", Michelle Cordero.  I made several changes and you can find the original recipe at That's So Michelle.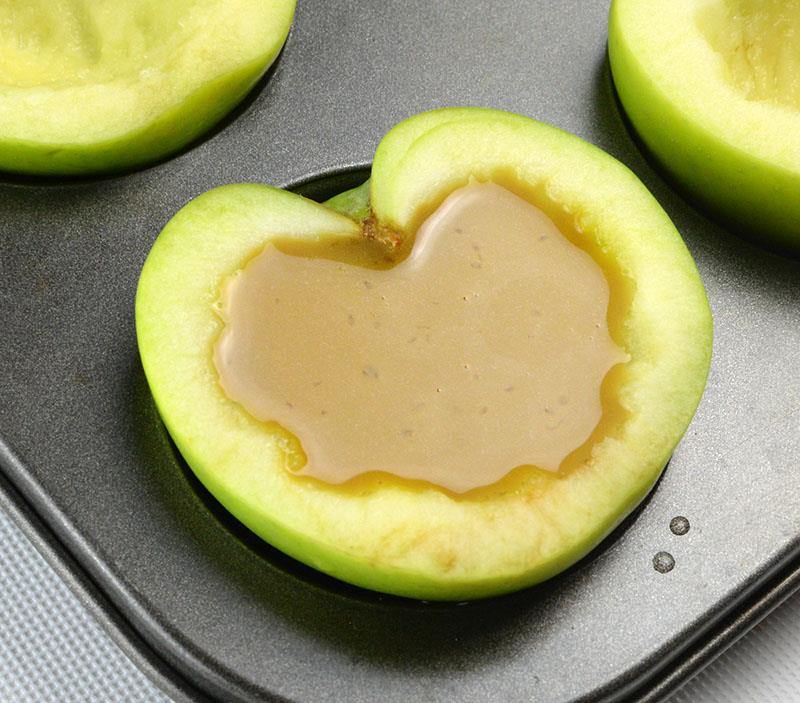 How To Make Caramel Apple Jello Shots:
Print
Caramel Apple Jello Shots
---
Description
Caramel Apple Jello Shots are super fun twist on Halloween party staples- Caramel Apples and Jell-O Shooters!
---
Ingredients
5

medium granny smith apples (have a few more on hand)
lemon juice

1/2 cup

water

1

envelope hot chocolate mix ( about

1 oz

.)

4 Tablespoon

s heavy cream

1/3 cup

caramel sauce

2 1/2 teaspoon

s unflavored gelatin powder

1/4 cup

light brown sugar
A few drops yellow food coloring

1/2 cup

vodka (or

1/4 cup

vodka+

1/4 cup

water) FOR KIDS FRIENDLY VERSION use just 1/2 cup water instead liquor!!!
---
Instructions
Cut the apples in half and scoop out the insides to make the shelves of even thickness.
Immediately brush the apples with lemon juice to prevent browning and arrange them on a muffin tin.
To make the filling in medium sauce pan over medium-low heat stir together ½ cup water with 1 envelope hot chocolate mix.remove from heat.
Add heavy cream and caramel sauce and stir well.
Sprinkle with gelatin powder on top and let it sit for a 2-3 minutes, then heat and stir over medium-low heat, until reach a gentle simmer and gelatin is completely dissolved..
Add sugar and stir until completely dissolved.Remove from heat.
Stir in a few drops of yellow food coloring
Cool the mixture to lukewarm and stir in Vodka (or JUST WATER for KIDS FRIENDLY VERSION)
Pour the mixture into apples and refrigerate for a few hours or overnight until the filling has completely set and firm.
Cut each half apples into quarters. Trim of browned edges and using a small brush apply lemon juice onto apples around the caramel to prevent browning.Serve immediately.