If you want cupcakes for dessert in these hot days, then the combination of fresh Blueberry cupcakes and the tasty lemon curd inside will be the perfect  for you. Trust me, Blueberry Cupcakes with Lemon Curd filling cooled off in the fridge will refresh you just as good as ice cream! Try it!!!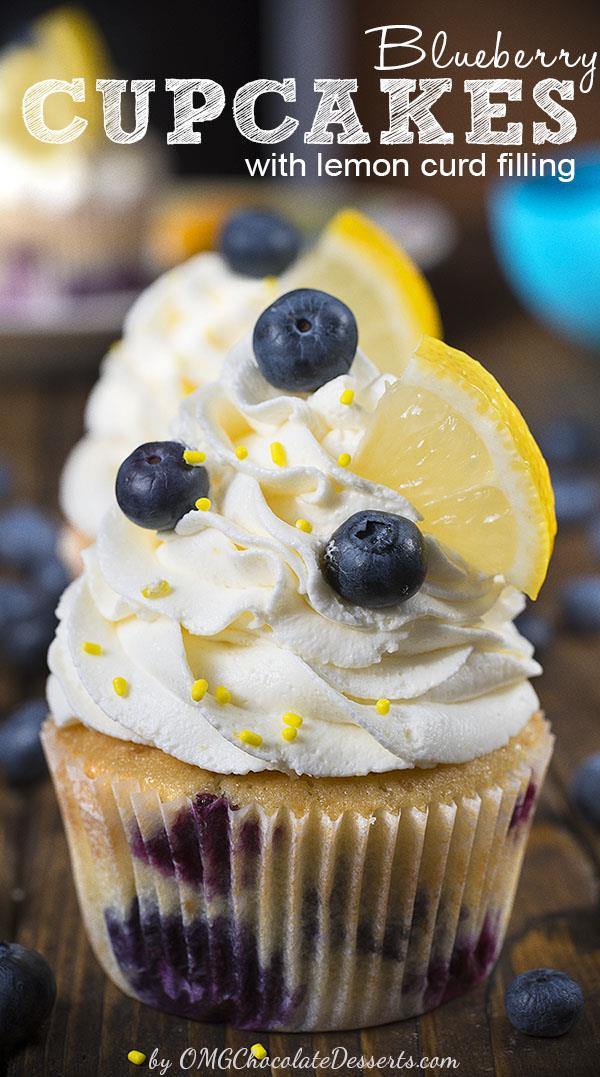 Holiday  is over and after a two week break, it's time to go back to the kitchen, the blog and everything that goes along with food blogging. Of course, when it's so unbearably hot outside, the first thing that must come to your mind is a refreshing dessert.
Hmm, if you take out ice cream at the start because it has simply become boring, well, then, the next best thing must be a frozen dessert! Well, maybe my choice will look a little weird to you but after making an analysis, I decided that, today, on my menu, there will be cupcakes 🙂  Maybe this won't look like the best idea to you for these summer days but as I had fresh blueberries on my table, and a few lemons in my pantry, I had a really refreshing idea: Blueberry Cupcakes with Lemon Curd Filling.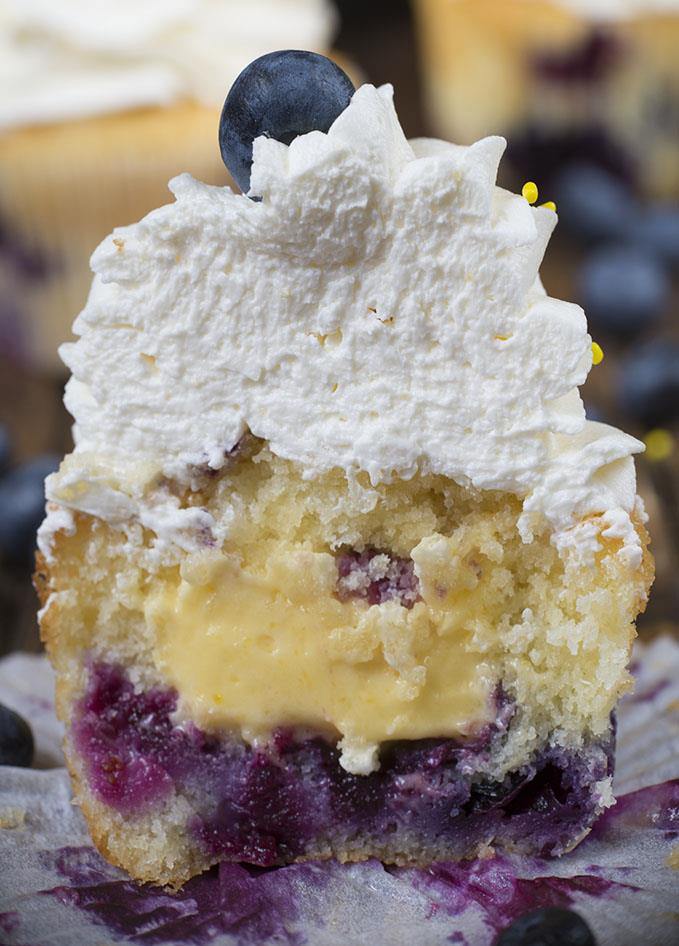 And if I still haven't convinced you that these cupcakes are the right choice, maybe the list of ingredients will change your mind. The base  of these cupcakes is the cake with fresh blueberries and lemon zest which is, after baking, filled with beautiful refreshing lemon curd. And on this delicious base, you add the mascarpone frosting topped with fresh berries.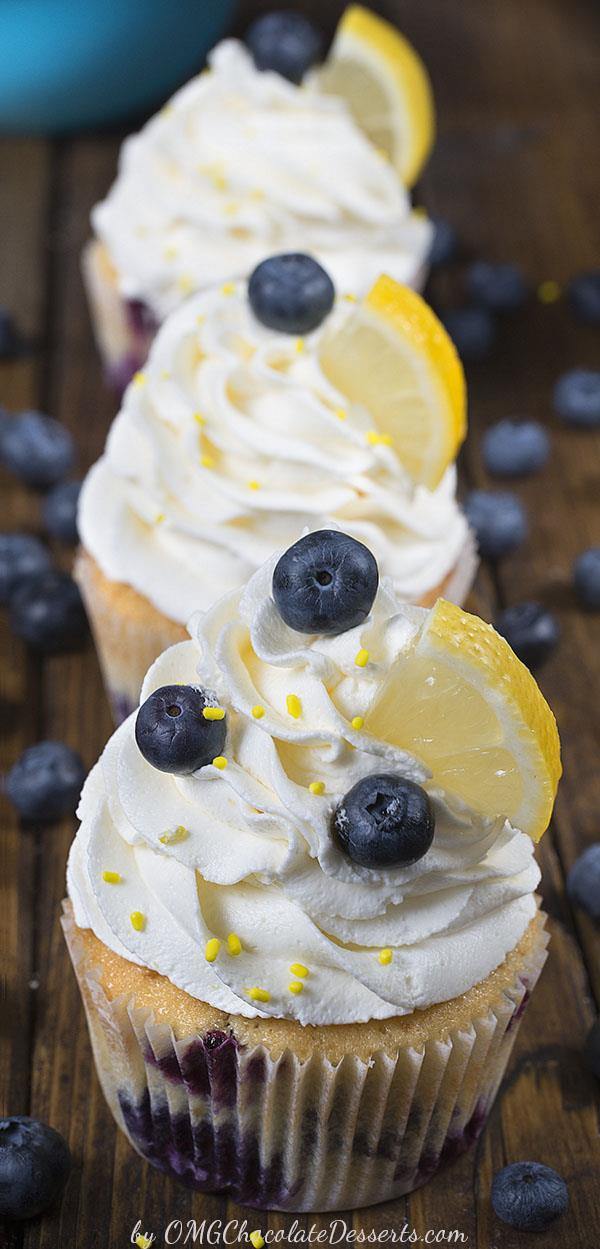 I hope that things are a little more clear now because if these fantastic Blueberry Cupcakes with Lemon Curd Filling are left to cool in the fridge, you will get  really good refreshing dessert.
Of course, the only problem in my case was that there was not much for cooling, because my family always wants one more sweet bite. They attacked the cupcakes as soon as I put the last berry on the frosting!!!

Print
Blueberry Cupcakes with Lemon Curd Filling
---
Yield:

12

-

14

1

x
Category:

Dessert
Ingredients
For Lemon Curd:
1/2 cup

unsalted butter

1/2 cup

lemon juice

1 tablespoon

lemon zest

3/4 cup

granulated sugar

1 tablespoon

cornstarch
pinch of salt

6

egg yolks
For the Cupcakes:
1 cup

and 3 tablespoons all-purpose flour

1 teaspoon

baking powder

1/2 teaspoon

salt

1 1/2 cup

fresh blueberries

1/4 cup

Greek yogurt

1/4 cup

milk

1 teaspoon

vanilla extract

1 teaspoon

lemon zest

1

stick unsalted butter-softened

3/4 cup

sugar

2

eggs
For Lemon Mascarpone Frosting:
8 oz

mascarpone cheese-softened

5 tablespoon

lemon curd

1 cup

heavy cream

1 teaspoon

vanilla extract

1/2 cup

powdered sugar
---
Instructions
To make lemon curd:
Melt 1 stick (1/2 cup) unsalted butter in a sauce pan over medium-low heat.
Remove from heat and add 1/2 cup lemon juice and 1 teaspoon lemon zest and stir well. Add 3/4 cup sugar, 1 tablespoon cornstarch and pinch of salt to the pan and whisk well. Whisk in egg yolks until smooth and return to medium-low heat. Cook 10 minutes, whisking constantly until the mixture has thickened and coats the back of a spoon (do not allow the mixture to boil!)
Separate 5 tablespoon lemon curd and reserve it for the frosting. Set aside to cool completely.
To make the cupcakes:
Preheat oven to 350 F, line cupcake pan with paper wrappers and set aside.
In a bowl mix the Greek yogurt, milk, vanilla extract and lemon zest, set aside.
In another bowl mix flour, baking powder and salt. Take 1-2 tablespoon flour mixture add to blueberries and toss to coat them well.
With a mixer, cream 1 stick unsalted butter and 3/4 cup granulated sugar until fluffy.
Add egg one at a time to the butter and sugar mixture and mix to combine.
Add alternately the milk and flour mixtures ( start and end with the flour mixture).
Gently fold in blueberries and transfer the batter into the pan(each cup should be 3/4 full). Tap the pan onto working surface to smooth the batter. Bake for 20 minutes (until toothpick inserted in the center comes out clean. Let them cool for 10 minutes in the pan then transfer to a rack to cool completely.
To make the frosting:
Beat heavy cream until soft peaks form, add powdered sugar and vanilla extract and mix until stiff peaks form. Add 1 tablespoon of this beaten heavy cream to lemon curd reserved for filling and 1 tablespoon add to to the lemon curd reserved for the frosting (stir each well with spoon to combine, set aside).
In a separate bowl combine the mascarpone and lemon curd (5 tablespoon lemon curd mixed with 1 tablespoon heavy cream) and mix to combine.
Add the mascarpone mixture to heavy cream cream and using a spatula gently fold to combine(if you do this with mixer run on a low speed).
To assemble the cupcake :
With a cupcake corer or a sharp knife cut out the center and save the tops. Fill the cupcakes with the lemon curd, then place the tops back ( you can trim the tops to make them fit onto the filling)
Piped the frosting ( I use 1M tip , but I like to close it a little at the end)
Garnished the cupcakes with blueberry, yellow sprinkles and lemon slices.
Store in the fridge.