Apple Pie Cinnamon Rolls – soft and moist cinnamon rolls  filled with apple pie filling will be a perfect breakfast in the fall or…any time of year.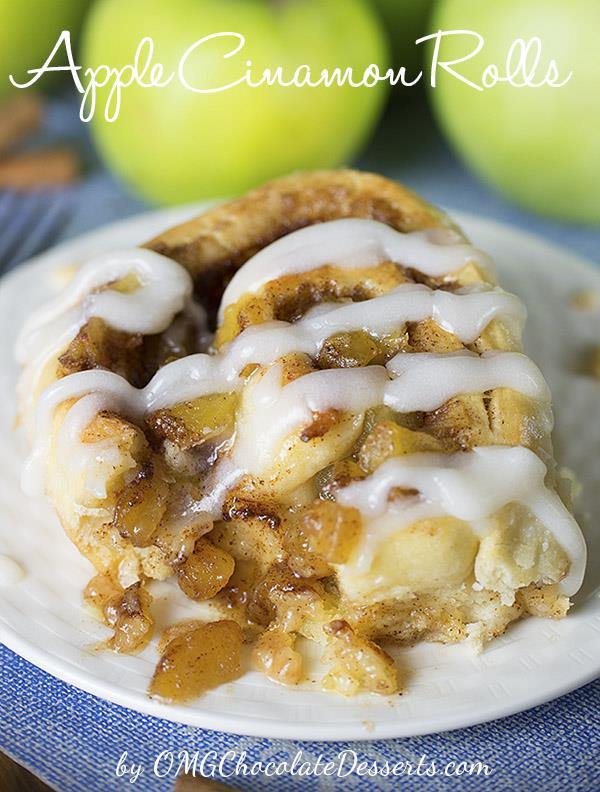 Can you imagine a better start to the day than the smell of cinnamon, brown sugar and apples which is spreading from the oven and simply luring you from the bed? Of course, there are not many people who would resist this kind of pleasure, but for Apple Pie Cinnamon Rolls to be waiting in the morning, the "houswife" would have to get up really early. And here's why!
You need time to make the dough and then you have to wait two hours for it to rise for the first time, and in the meantime, you have to make the filling and then you have to wait an additional hour an a half or two for them to rise a second time. And plus half an our for them to be baked. And if you are a blogger besides all that, and want to make a post for your blog, there is the additional time for making a few quality photos.
All in all when I counted the time necessary, there was NO WAY that my husband and son were to enjoy Apple Cinnamon Rolls for breakfast 🙂 Non the less, the decision was made and it wouldn't be the first time that my husband gets dessert instead of lunch. Well, it's his fault he married a food blogger 🙂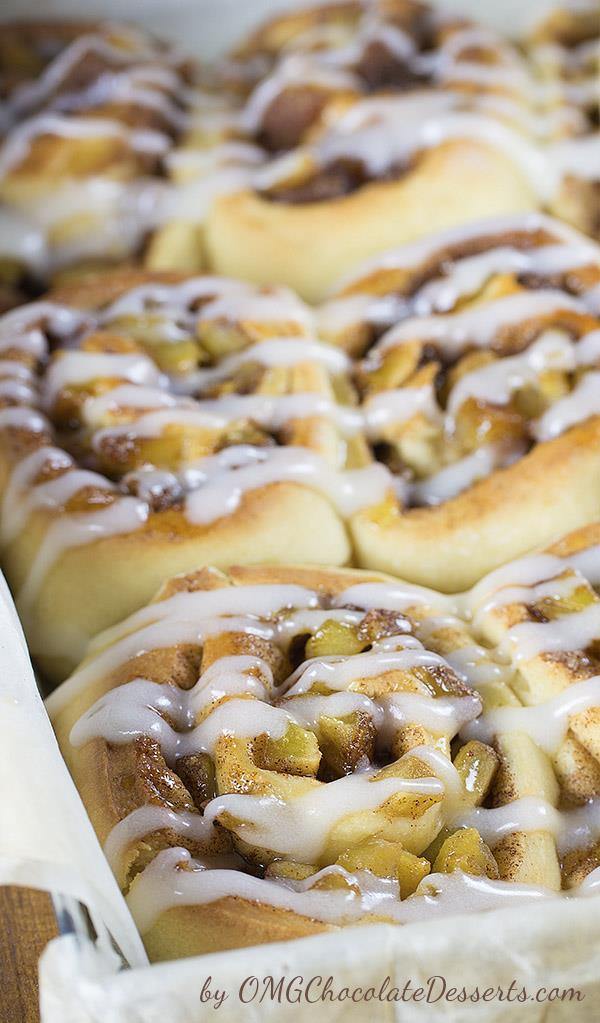 Of all the recipes on the Internet the one from Hopeless Housewife caught my attention  because it's the one of those unbeatable "grandma's" recipes. And, as in many old recipes, one of the ingredients is scald milk. That made me curious.
Is it really necessary? Or is it just one of the boring extra steps without any real function in the recipe? First I thought that everything had to be done some long time ago when you couldn't get pasteurized milk in the shop, simply for health reasons, in order to kill those evil  bacteria.
But, when I made the investigation on the internet, I found out that there is a whole science behind it. And here is the explanation: The whey protein in milk can weaken gluten and prevent the dough from rising properly. Scalding the milk deactivates the protein so this doesn't happen.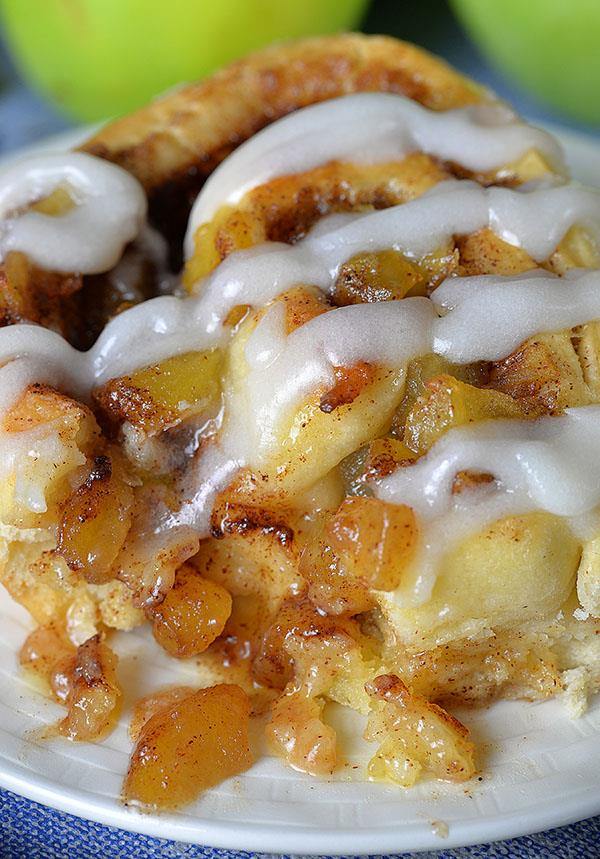 Our grandmas really knew what they were doing. And this Apple Pie Cinnamon Rolls recipe was much more successful than many that I tried earlier. So soft, tasty and perfectly gooey in the middle, these Apple Pie Cinnamon Rolls are a mix of tasty cinnamon rolls and juicy apple pie. The best from both words in one package 🙂
A tasty warm Apple Pie Cinnamon Rolls with cream cheese glaze is really a perfect autumn breakfast (or lunch in our case 😉 ).

Print
Apple Pie Cinnamon Rolls
---
Prep Time:

4 hours 30 minutes

Cook Time:

25 minutes

Total Time:

4 hours 55 minutes

Yield:

12

1

x
Ingredients
For the dough:
1/2 cup

lukewarm water

2

and 1/4 teaspoons active yeast (

1

package)

1/2 cup

sugar

1/2 cup

scalded milk (first heat milk until bubbles appear, then remove from heat and let cool until lukewarm)

2 teaspoon

s salt

1/3 cup

unsalted butter- melted

1

egg

4 cup

s all-purpose or bread flour
For the filling:
4 tablespoon

s unsalted butter- melted

5

apples-cored, peeled and diced(I used granny smith)

1/2 cup

sugar

2 tablespoon

s unsalted butter- melted

1 cup

brown sugar

2 tablespoon

s cinnamon
For the glaze:
1/4 cup

cream cheese-softened

4 tablespoon

s unsalted butter

1

and 1/2 cups powdered sugar

1/2 teaspoon

vanilla extract
Pinch of salt
---
Instructions
Combine 1/2 cup lukewarm water, yeast and 2 teaspoon sugar(take from 1/2 cup sugar listed in the dough ingredients) in a small bowl, let it sit about 10 minutes (until it dissolves).
To make the dough, in a mixing bowl combine scalded milk, 1/3 cup melted butter, egg, sugar, salt and mix on low speed to combine. Add 2 cups flour and mix until smooth, then add yeast mixture and mix on low. Gradually add remaining 2 cups flour. If it's hard to mix with electric mixer use wooden spoon to incorporate the flour and knead the dough with your hands on floured surface for 5 minutes.
Transfer the dough to a greased bowl, cover, and set aside on warm place to rise until it is double in size(it will take about 2 hours)
To make the filling in a large skillet melt 4 tablespoons butter with 1/2 cup sugar, then add diced apples, saute until softened, stirring frequently, remove from heat and set aside.
When dough has risen, sprinkle working surface with flour generously, and roll out the dough into a 16×24 inch rectangle and brush it with 2 tablespoons melted butter almost out to the edges. Combine cinnamon and brown sugar and sprinkle across the butter.
Spread the apples evenly over the cinnamon-sugar.
Roll it into a log lengthwise (the log should be 24 inches long), then using a sharp knife cut 2 inch slices but do this really gently with a sawing motion to keep the circle shape of the rolls.
Place cinnamon roll into 9×13 inch pan lined with parchment paper and greased with butter. Place the rolls close together but keep some space apart. Cover the pan with plastic wrap and let it sit for 1 1/2 to 2 hours, until they doubled in size.
Preheat the oven to 375°F and bake the rolls about 20-25 minutes, and do not over-bake them.
To make the glaze mix cream cheese, butter, powdered sugar, vanilla, and salt together on medium speed. Drizzle the glaze over baked cinnamon rolls and serve warm.