"Woow, it must be really great to try all those beautiful desserts and dishes" I thought to myself often while reading my favorite food blogs, and I still had not begun with my blogging adventure! But, now, after 40 recipes and desserts which I tried, I must admit that all those beautiful dishes have their shortcomings! Especially if you are trying to be a really serious blogger and try to post interesting things on the blog as often as possible. Of course, the biggest problem, as you can imagine, is how to eat all those treats and keep the ideal weight. As for me, I somehow manage to get the better end of this, but my husband is in a problem which is getting bigger and bigger. On one side, he adores everything sweet and can resist nothing I put in front of him. On the other side, in a blink of an eye, he has put on four pounds and is whining about not being able to put on his favorite jeans.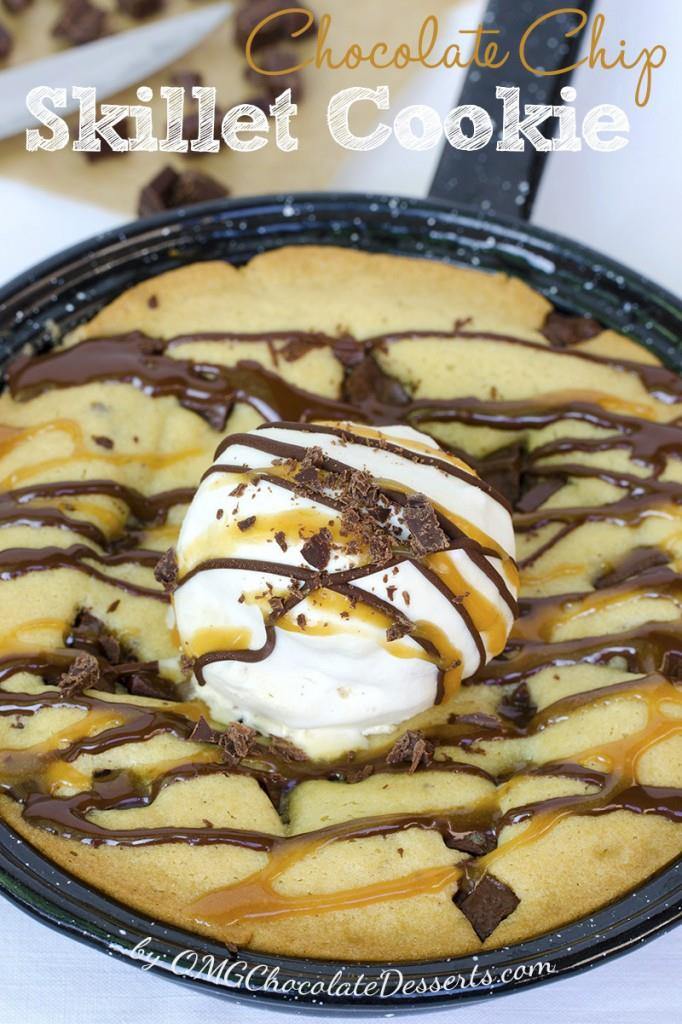 "I can't go on like this! Why a blog about desserts? You could have made a veggie blog" mumbled Darko a few days ago while he was making one by one Apple Dumplings disappear.
"Please, next time make something I will eat instead of breakfast or lunch", he was begging.
But what sweet thing could I make instead of lunch? Breakfast would be easier, but my husband has breakfast at work most often.
Seeing that I was in a problem, Darko decided to search my Pinterest boards himself and find a dish which he would eat, say, for lunch on friday.
And so, after a while, he was smiling, showing me the computer display and a beautiful photo of a Chocolate Chip Skillet Cookie on the great blog Damn Delicious!
"Here, isn't this great? That is my next lunch", he concluded happily.
"But that has so much sugar. I don't think that is the best idea for lunch, but OK. In any case, I will cook something for myself"
And so, the next day, I prepared my smaller skillet already thinking that the bigger one could be too big for one lunch. Very quickly, Darko's Chocolate Chip Skillet Cookie was baked and since he wanted one just like the one he found on the blog, I poured a lot of caramel over the freshly baked dough and put a great big scoop of ice cream over all of that.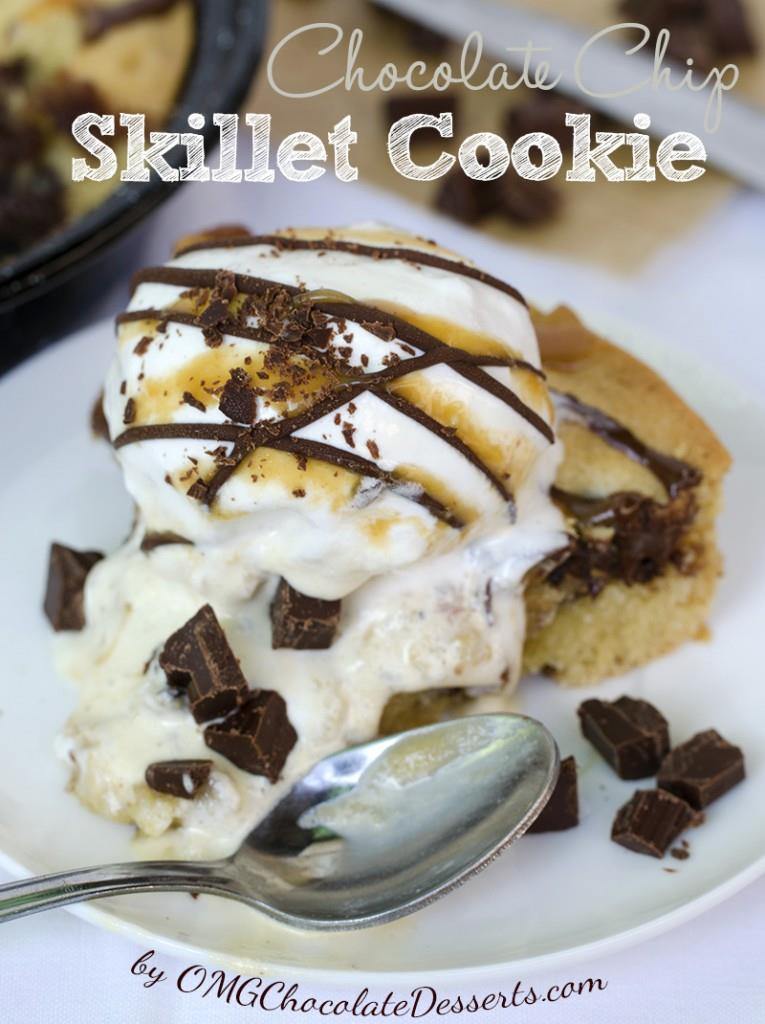 "Your sweet lunch is ready, but Marco and I will still eat something cooked", I told Darko
Of course, the skillet was empty in a blink of an eye and Darko was rubbing his tummy.
" What did I tell you? Good lunch and I don't even have to eat dessert", he was admiring himself. Still, just a few hours later, he was sneaking around the fridge looking for something salty.
"You know, skillet cookie is great, but a lunch Is still a lunch", he admitted in the end and I now have to think about how to solve this problem in the future
And so, after a while, he was smiling, showing me the monitor and a beautiful photo of a Chocolate Chip Skillet Cookie on the great blog Damndelicious!
Print
Chocolate Chip Skillet Cookie
---
Author:

Prep Time:

10 minutes

Cook Time:

15 minutes

Total Time:

25 minutes

Category:

Dessert
Description
Soft and chewy cookie with browned butter and brown sugar, loaded with chocolate chips.
---
Ingredients
8 tablespoon

unsalted butter (6+2)

3 tablespoon

sugar

4 tablespoon

brown sugar

1 teaspoon

vanilla

1

egg

3/4 cup

all-purpose flour

1/2 teaspoon

baking soda

1/4 teaspoon

salt

1/2 cup

chocolate chips
Ice cream, caramel syrup an melted chocolate for serving-optional
---
Instructions
Preheat oven to 375 degrees F.
In a medium bowl, combine flour, baking soda and salt and set aside.
In a 6-inch iron skillets melt 6 tablespoons butter over medium heat, whisk constantly until the butter begins to turn a golden brown (about 3 minutes), remove from heat and stir in 2 tablespoon butter.
Transfer butter in a heat proof bowl and whisk in sugars and vanilla until well combined, whisk in egg. (Do not wash the skillet, it should be greasy!!!)
Add flour mixture and beat until evenly combine.
Gently stir in chocolate chips.
Transfer mixture back in the skillet.
Bake until edges are golden brown and the center is still moist (12-15 minutes).
Serve warm, top with ice cream, drizzle caramel syrup and melted chocolate or chocolate syrup-optional.