Last week, my husband asked me to do him a little favor. He wanted to treat his office colleagues with something nice after successfully completing a business project. So he asked me to prepare a delicious cake for the occasion. "Why not?"- I thought . This would be a perfect opportunity for me to try out a lovely recipe for Nutella Cheesecake I meant to try for a long time. Since my husband's team was not so numerous, I got the chance to try the small springform pan that I seldom use! Thus the challenge was double!
I decided that I would use lovely crunchy Oreo crust for the base and mix cheesecake with my favorite cream- Nutella. Of course, at the end I would top the cake with a lot of delicious chocolate ganache! Just perfect! And what's even better,  it was a no-bake cake! In my mind I could already see the Darko's friends, enjoying my cake and praising the "lord of the kitchen" or that is to say me! Everything was going just fine until I poured the Nutella cheesecake mix onto the springform. The Oreo Crust was absolutely perfect, the taste of the cheesecake luscious, but there was not enough of the mix to fill up the entire cake pan. When I topped everything with ganache, I realized that I wouldn't be able to level the cake and get a perfect top! Oh, bummer!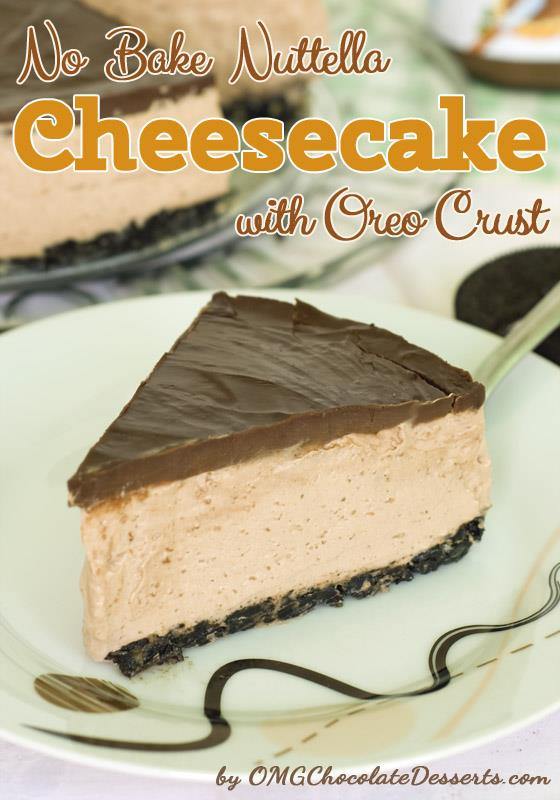 Of course, when I told my husband what's been bothering me, with a smile on his face not understanding the essence of the problem at all. He said:" Don't worry! They won't notice anything !They will only talk about soccer 🙂 !" Hmmm, maybe he was right, but this won't be happening again!  And then less than an hour later I experienced another shocking surprise!  When I got the cake out of the fridge and tried to slice it, I felt as if I got thunder-struck! Just out of the blue, the Nutella and cheesecake mix wasn't hard enough to slice it properly! It wasn't like you couldn't slice it at all, but in my mind I could see Darko's sloppy colleagues trashing this delicious piece of cake! What a total disaster!
Apparently, Darko was amused by the whole situation! "Come on, if it's that bad, I could buy my colleagues a cake in a supermarket and we could have this one for ourselves!" – said Darko teasing me. I had no choice but to try to slice the cake. I managed to retrieve two pieces for tasting.
Yummy! Absolutely delicious! I might have failed when it comes to decoration, but as for the taste, that was a whole different story! On the second slice of cake, I was already making a plan how to avoid the mistakes I'd made and the well-known sentence from the Terminator just popped on my mind- I'll be back!"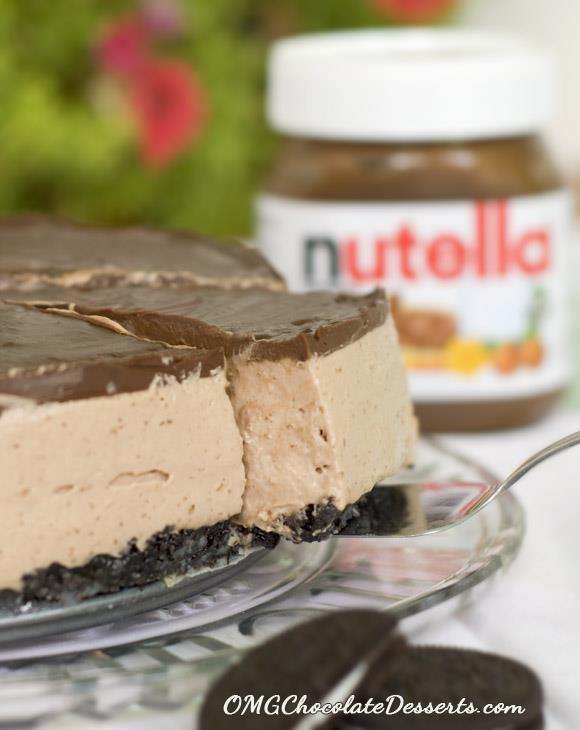 No Bake Nutella Cheesecake
---
OMGChocolateDesserts.com
No-bake Nutella flavored cheesecake, with crushed Oreo crust, topped with chocolate ganache
Ingredients
For Oreo crust:
3 tablespoon melted butter
12 Oreo (crushed)
For cheesecake filling:
1 lbs cream cheese
1 1/2 cups powdered sugar
2/3 cup Nutella
1 cup heavy cream
3 teaspoon gelatin melted in 2 tablespoon water
For chocolate ganache:
3oz chopped chocolate
1/2 cup whipped cream
Instructions
First make the crust. Mix crushed Oreo with butter, then press the mixture in the bottom of a 8" springform pan, and set it in the fridge.
Melt the gelatin in the water
Beat the heavy cream until soft peaks are formed
In separate bowl beat together cream cheese and powdered sugar until its smooth.
Add Nutella in the cream cheese and sugar mixture and mix it well, then add melted gelatin and whipped heavy cream and mix it all until it's evenly combine
Spread the cheesecake filling over the crust and set it in the fridge for a few hour
Make the chocolate ganache. Melt the chocolate and stir in the whipped cream until it's evenly combine.
Spoon the chocolate ganache over the cake, cover the top of the pan with a plate and set it in the fridge overnight
7.6.4
146
https://omgchocolatedesserts.com/no-bake-nutella-cheesecake/
Show All Comments
Close All Comments