The only thing that is really important to me when it comes to making brownies is that at the end they turn out as fudgy as possible. My husband, who likes all types of brownies, would often say: "Vera, you are exaggerating again!" But when I see that the brownies are so moist that they almost resemble chocolate pudding I know that I did the right thing. However the things don't always go as planned! It often happens that my brownies are not nearly as fudgy as I like them to be, thus I end up putting on a sad face, while everyone else is enjoying my cakes and wondering what's wrong with me.
Luckily, sometimes the destiny decides to play the card! This is what happened when the other day I was making chocolate buttercream frosting for my cupcakes and as usual I made an extra half of the required quantity for my gourmands, Marco and Darko. This is the amount that they usually eat with a spoon before I start frosting the cupcakes. But, this time was different! Marco was not in the mood to eat any food all day long, whereas Darko, who was mad about his few pounds more in the last couple of months, decided to skip his usual share.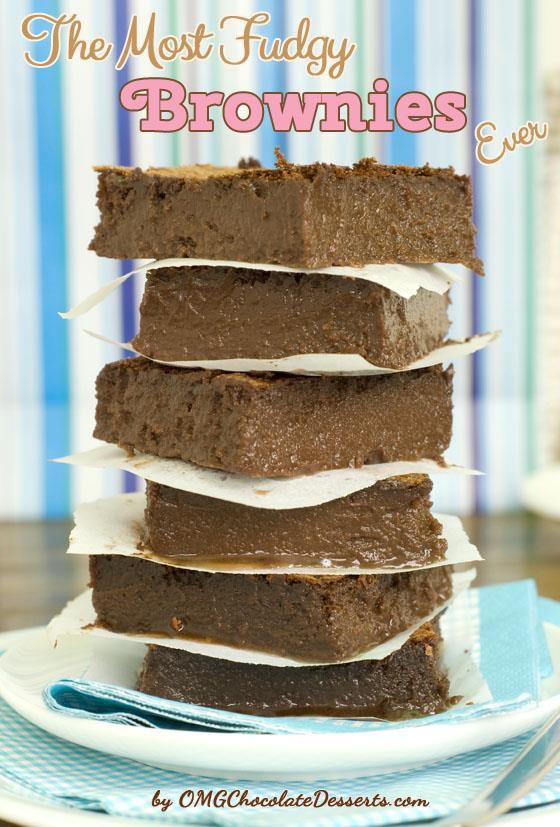 Thus, I ended up with cupcakes and a substantial amount of lovely chocolate frosting as well. "What now?" – I thought.  Soon I come up with a great idea! I would carry out a little chocolate experiment! I'd bake Fudgy brownies using the extra frosting, and if I failed, it would be no big deal at all; I would just throw everything away!
I quickly browsed through my entire chocolate board on Pinterest and found some really great fudgy brownies recipes. And after I added the necessary ingredients to the existing frosting, my little experiment begun to take shape. Since it was all just a game, I felt like playing to the full and decided that my brownies wouldn't be made of flour at all.
Later I opened the oven and poked the thin crust with the fork and there it was – a moist chocolate mixture! I decided to take the brownies out of the oven sooner than usual and after some time I put them in the fridge to cool off.
A few hours later, my husband suddenly forgot about his diet and while sneaking around the kitchen he stumbled on my brownies.  "Oh, no, first cupcakes and now brownies, are you trying to kill me with food? – He acted out while his eyes were screaming. "Come on; give me a piece of this! But, just so you know, tomorrow I'm going on a diet and I don't want to see these desserts anymore!"
When I started to slice the brownies, I realized that they turned out just the way I imagined them. The most fudgy brownies ever! Of course, they could be a bit thicker, but the way they looked and tasted was absolutely divine!
The only real problem was that my husband had to postpone his healthy diet plans for two or three days. You can guess why.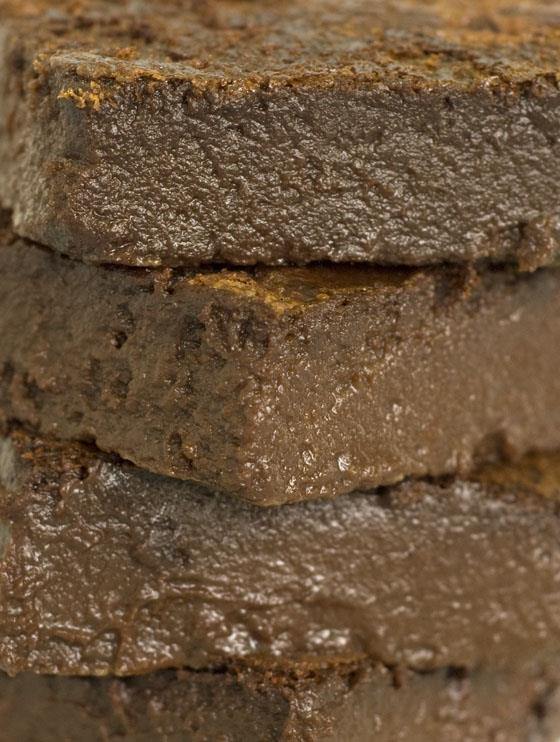 Ingredients
1/2 cup butter softened
4 oz cream cheese
1/2 cup Nutella
3 cup powdered sugar
1 teaspoon vanilla extract
4 oz chocolate melted
1/4 cup cocoa
4 eggs (beaten)
1/2 teaspoon baking powder
2 cup milk
Instructions
Grease the 10x10 inch pan and line it with the baking paper
Preheat the oven at 350 degrees F.
Lightly beat the eggs and set aside
Melt the chocolate and set aside
In the bowl beat well cream cheese, butter, Nutella and gradually add sugar and continue mixing until it's fluffy.
Add vanilla, cocoa and melted chocolate, baking powder and salt and mix well.
Add beaten eggs and mix on low speed.
When it's well incorporated add the milk and whisk well.
Spread the batter in the prepared pan (the batter will be very runny)
Bake for about 35-40 minutes.
Let it cool completely, than chill them in the refrigerator for a few hours, cut and serve.
7.6.4
150
https://omgchocolatedesserts.com/fudgy-brownies/
Show All Comments
Close All Comments