Chicken Taquitos with Avocado Cream are a quick, healthy and a tasty meal with chicken and fresh vegetables, rolled into crispy tortillas.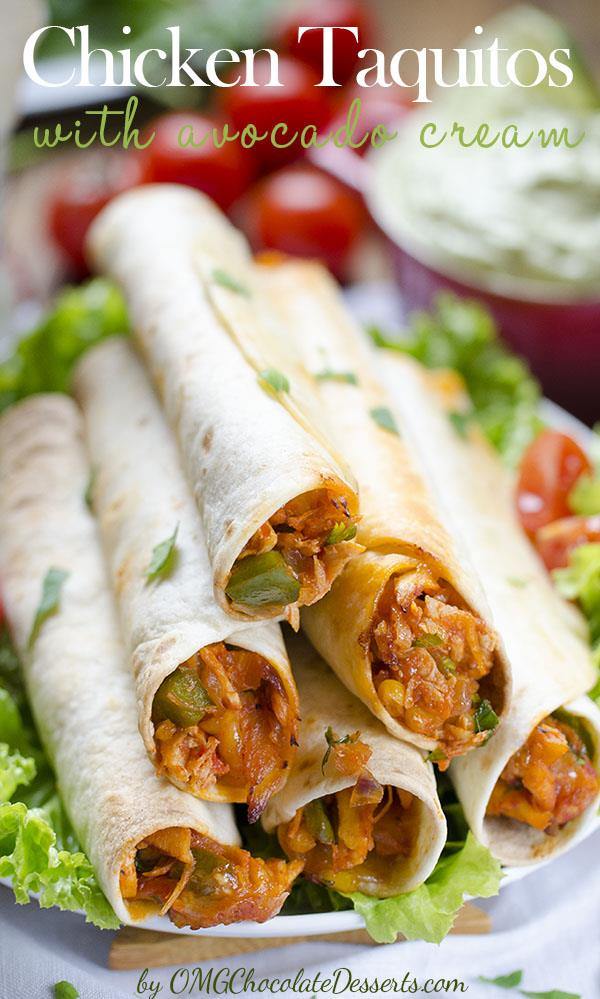 Hmmm, tortillas, my favorite food! I love them so much that I could eat them for every meal, even empty as chips. Maybe you have already understood how much I love tortillas, since my blog was first imagined as a collection of chocolate desserts, tortillas have already made a few successful guest appearances. You surely remember my Chicken Avocado Burritos, and how deep my obsession with tortillas goes, you can also see with the Strawberry Cheesecake Chimichangas. Yes, tortillas are on my menu really often and not just as a main dish but as a dessert. What will I do when I love them.
By your comments, I noticed that many of you share my love for burritos, chimchangs, tacos and other dishes made with tortillas. And why wouldn't you, you can always have them on hand if you need a quick and a tasty meal. You can roll meat, vegetables or cheese into them, and you can't go wrong with any combination. The possibilities are endless, whatever comes to your mind, you can fry them in oil, bake them in the oven…whatever.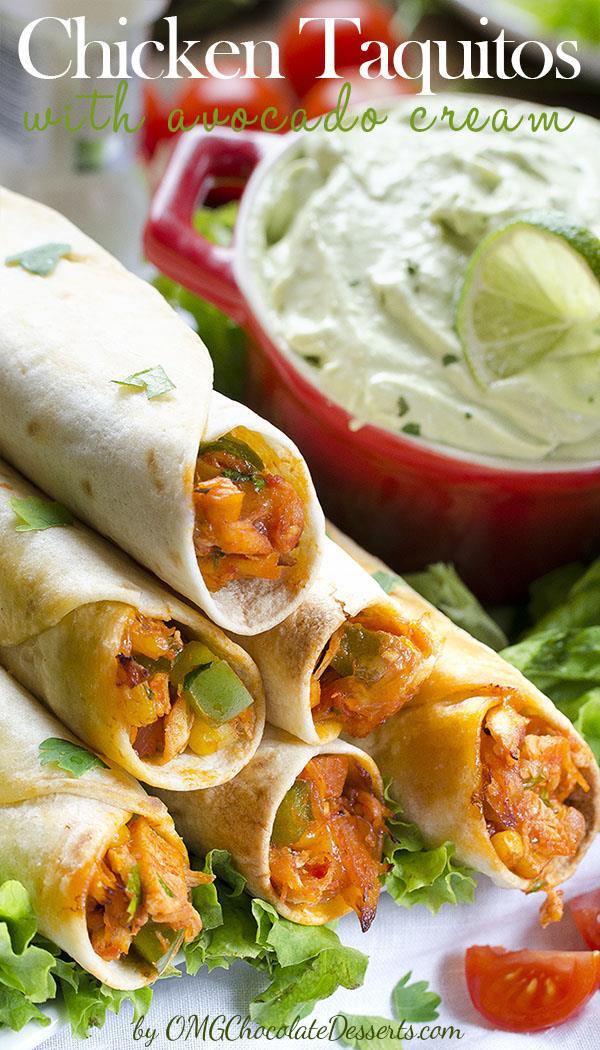 As my last recipe for burritos, I hope that these Chicken Taquitos with avocado cream will be an inspiration for us all. You don't have to follow the recipe blindly, you can add your own touch. Last time, I was very excited by the number of your ideas and suggestions and the different additions you have tried with my Chicken avocado burritos.
This time, I decided for cooked chicken breasts with green bell pepper, corn, cheese, salsa of course, and a few spices, and as a sides, I served lettuce, cherry  tommatoes and crème from mashed avocado mixed with sour cream and freshly squeezed lime juice. I really liked this combination and wouldn't change a thing. But, if you have any ideas, you are free to post them. I look forward to hearing your favorite combination.

Chicken Taquitos with Avocado Cream
---
OMGChocolateDesserts.com
Yields 8
Chicken Taquitos with Avocado Cream are a quick, healthy and a tasty meal with chicken and fresh vegetables, rolled into crispy tortillas.
Ingredients
1 tbsp olive oil
2.5 tbsp red onion, diced
1/2 cup green bell pepper-diced
1/2 cup corn- canned and drained
1 garlic clove-minced
1teaspoon ground cumin
1⁄2 teaspoon cayenne pepper
1 cup chicken breast, cooked and shredded
1/2 cup +1 tablespoon cup salsa
2 tablespoon chopped fresh cilantro leaf
1 cup shredded cheese (you can use cheddar, mozzarella or your favorite)
Salt to taste
8 6-inch flour tortillas
3 tablespoon butter-melted
iceberg lettuce and cherry tomato for serving
For avocado crème:
1 ripe avocado
4 ounce sour cream
2 tablespoons fresh lime juice
salt to taste
Instructions
In a large skillet over medium heat cook olive oil, red onions and green bell pepper until tender(about 5 minutes). Add corn, garlic, cumin, and cayenne pepper and cook until fragrant (another 2-3 minutes). Add cooked shredded chicken and salsa; stir to combine. Remove from heat and stir in cilantro and cheese.
Preheat oven to 400 F degrees and butter baking dish with some of the melted butter.
Evenly divide the mixture onto 8 tortillas, roll them tightly and place it in the baking dish, brush with melted butter and bake for 15-18 minutes until tortillas become golden brown.
To make the avocado creme in a small bowl mash avocado with sour cream and lime juice until smooth. Season with salt, to taste.
Show All Comments
Close All Comments